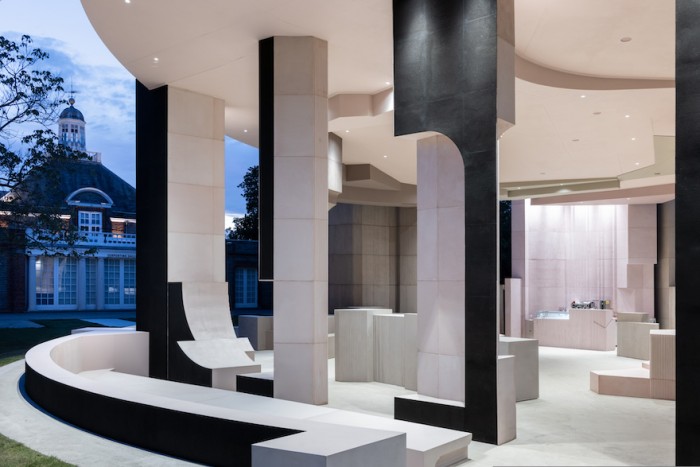 Originally planned for 2020, but postponed due to COVID-19, the 20th Serpentine Pavilion in London finally opened to the public on 11 June 2021. It was designed by South African firm Counterspace and directed by the firm's principal architect Sumayya Vally. The pavilion is not only a landmark moment for South African design and architecture, but an unprecedented move for the renowned pavilion itself.
Vally is the youngest architect to have been commissioned in the pavilion's history. This TIME100 Next List honouree has a passion for Johannesburg, where she is based. Her work revolves around narrative, identity and memory and she is committed to finding expression for hybrid identities and contested territories in the city. She has participated in a host of conceptual projects, was assistant curator and film producer for La Biennale di Venezia 2014 (South African Pavilion), was a Rolex Mentorship and Protege award finalist for 2018/2019, and is a 2021 Graham Foundation Grant recipient.
Counterspace was selected to create the pavilion by Serpentine Artistic Director Hans Ulrich Obrist and CEO Bettina Korek, along with advisors Sir David Adjaye OBE, Professor Lesley Lokko and David Glover, and the Serpentine team comprising Julie Burnell (Head of Construction and Buildings) and Natalia Grabowska (Curator). Vally has brought a fresh approach to the pavilion and for the first time in the history of this commission, she has located 'Fragments' of the Pavilion at sites across London. These have been placed in partner organisations as a gesture of decentralising architecture to include a multitude of voices.

The main pavilion structure is built of reclaimed steel, cork and timber covered with micro-cement. The varying textures and hues of pink and brown are drawn directly from the architecture of London and reference changes in the quality of light. The forms are a result of abstracting, superimposing and splicing elements from architectures that vary in scales of intimacy. In this way Vally has translated the shapes of London into the Pavilion structure.
The design also references past and present places of meeting, organising and belonging across several London neighbourhoods significant to diasporic and cross-cultural communities. The pavilion pays homage to existing and erased places that have held communities over time and continue to do so today. These are places like the first mosques built in the city, cooperative bookshops, and entertainment and cultural sites.

"My practice, and this pavilion, is centred around amplifying and collaborating with multiple and diverse voices from many different histories; with an interest in themes of identity, community, belonging and gathering. The past year has drawn these themes sharply into focus and has allowed me to reflect on the incredible generosity of the communities that have been integral to this pavilion. This has given rise to several initiatives that extend the duration, scale and reach of the pavilion beyond its physical lifespan. In a time of isolation, these initiatives have deepened the pavilion's intents toward sustained collaboration," explains Vally.

Here's more:
Visit serpentinegalleries.org and counterspace-studio.com.
Counterspace investigates the meaning of lost and found spaces in South Africa's city of gold
Counterspace Studio's investigation into the reappropriation of Johannesburg's mine dumps led the group to discover how abandoned spaces are being used.
Recycling the Serpentine Pavilion.
Award-winning Burkina Faso architect Francis Kéré to design the 2017 Serpentine Pavilion.
Celebrating 15 years of Serpentine Pavilions.
Credits:
Iwan Baan, Justice Mukheli (portrait)