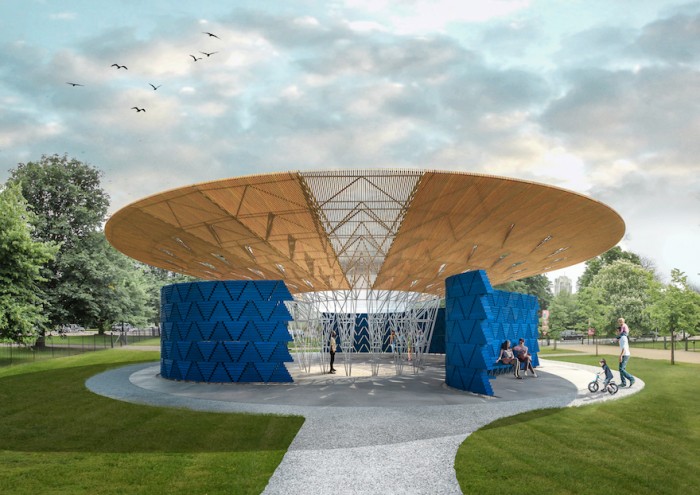 Burkina Faso architect Francis Kéré has been chosen to build the 2017 Serpentine Pavilion. Kéré spoke at Design Indaba Conference in 2011; it was his major first international talk and he left almost the entire audience teary eyed and inspired. As an architect, Kéré is committed to socially engaging and ecological design. His award-winning primary school in Burkina Faso, pioneering solo museum shows in Munich and Philadelphia, and his immersive installation in the 2014 exhibition Sensing Spaces at London's Royal Academy showcase his particular design philosophies. Kéré will build on these ideas in his Pavilion and host a series of events exploring questions of community and rights to the city.
"My design for the Serpentine Pavilion has a great over-hanging roof canopy made of steel and a transparent skin covering the structure, which allows sunlight to enter the space while also protecting it from the rain. Wooden shading elements line the underside of the roof to create a dynamic shadow effect on the interior spaces," says Kéré. "This combination of features promotes a sense of freedom and community; like the shade of the tree branches, the Pavilion becomes a place where people can gather and share their daily experiences.
Fundamental to my architecture is a sense of openness.
The Serpentine Galleries state that Kéré responded to the Pavilion brief with a bold, innovative structure that brings his characteristic sense of light and life to the lawns of Kensington Gardens.
Kéré is the seventeenth architect to create a temporary Pavilion on the grounds of the Serpentine Galleries, in the middle of London's Hyde Park. The annual invitation is always extended to an international architect who has not yet built a structure in London. It is a highly anticipated and well respected event in the global architectural year.
Inspired by the tree that serves as a central meeting point for life in his home town of Gando, Burkina Faso, Francis Kéré has designed a responsive Pavilion that seeks to connect its visitors to nature and to each other. An expansive roof, supported by a central still framework, mimics a tree's canopy and allows the air to circulate freely while offering shelter from the London rain and summer heat.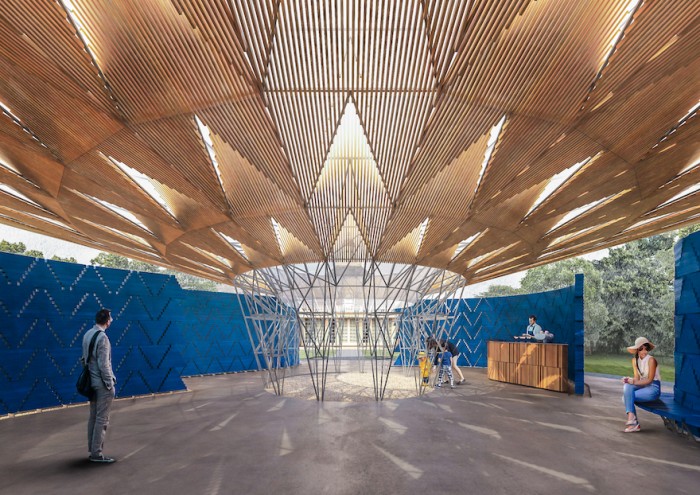 Kéré has embraced the British climate and will create a structure that engages with the ever-changing London weather. In sun, visitors can sit and relax in the open air or in pools of dappled shade. In the case of summer rain, the roof collects water into a spectacular waterfall.
Watch the Talk with Francis Kéré
Talks
• Duration: 00:32:02
•
30 Jun 11