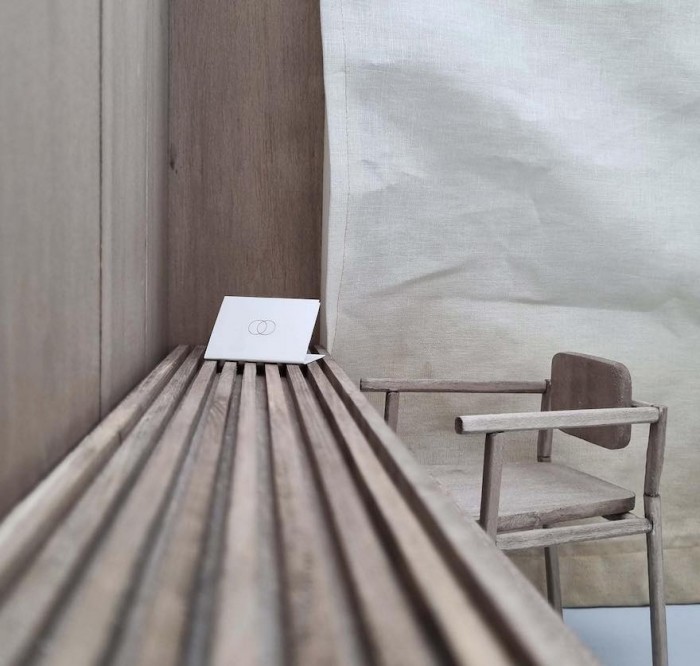 Spatial designer Hedwich Hooghiemstra and social designer Aline Gerards, who coincidentally share a studio in Eindhoven in the Netherlands, collaborated on an intriguing research project, titled 'A Moment of Quietude', which was presented at Dutch Design Week in 2021. They're now approaching future clients to collaborate with.
Subsidised by the Creative Industries Fund NL and in collaboration with Vitalis, a group of care homes in the Netherlands, the duo set out to design serene 'silent rooms' for care homes in which the inhabitants can experience the full spectrum of grief. "In 'A Moment of Quietude', we look into what these rooms could offer the residents of care homes when we approach grief from a broader perspective," Hooghiemstra and Gerards say. They set out to create spaces in which people can contemplate more than just the loss of a loved one. "They are confronted with the loss of their old lives, of their independence, and sometimes a part of their dignity," the pair explain.
The designers approached a variety of stakeholders to understand what these more inclusive silent rooms might look like – including residents themselves, caretakers, nursing staff and psychologists. "Through these findings, we create a space that not only offers the residents a place to remember their lost loved ones, but that gives space for reflection," they say. "Most such silent rooms in care homes either have a specific religious focus or do not pay attention to how spaces affect us on a subconscious level. Most importantly, it shouldn't feel like a space for healthcare."
Hooghiemstra researched Dom Hans van der Laan's theory of the plastic number, which influences how people feel in the religious spaces he designed. "Essentially, they feel peaceful," she asserts. "Churches are effective, not only because of the acoustics, but because there is no contact with the outside world," explains Hooghiemstra. "It's a timeless, in-between space."
The cocoon-like rooms have discreet yet inviting entrances, and the focal point of each room is a gently glowing structure consisting of two overlapping glass circles. "The colours overlap to create a new shape," explains Gerards. "As with stained glass, these colours are significant – red denotes earth or flesh, while blue symbolises the sublime or holy."
Below the object is an altar-like structure where visitors can light a candle. "Rituals give guidance in a time of emotional turmoil, even when people are not religious," the duo explains.
While most rooms are full of cards and photographs – a memorial to friends and loved ones – there is little space for reflection. The designers propose storing memorial cards in a cabinet close to the entrance, with visitors able to remove them, sit with them, and commune with or write to their loved ones before returning the cards to the archive.
While these rooms have been designed specifically for care homes, the designers say such rooms could find a place in hospitals, mental health facilities, or any structures in which people need a refuge to sit in quiet contemplation, if only for ten minutes. A post-pandemic world is ripe for such spatial disruption, especially as there are few places where people can contemplate loss, grief or depression outside the home.
For Hooghiemstra and Gerards, the pandemic has made it easier for people to express grief. "Death has become a shared experienced as most people know someone who has died of Covid-19," says Gerards. "We have seen people lining the streets for funerals. Grief is becoming less of a taboo – and ritual has made a comeback."
If the pandemic has given us insight into how we'd like to live, it's surely also given us a glimpse of the kind of spaces we'd like to inhabit as we process painful emotions.

Read more:
Tableau's Post Service creates a safe space for mental health, grief, and mindfulness.
Can architecture help us heal from loss?
This Ain't a Eulogy: A Ritual for Remembering.
Credits: Aline Gerards