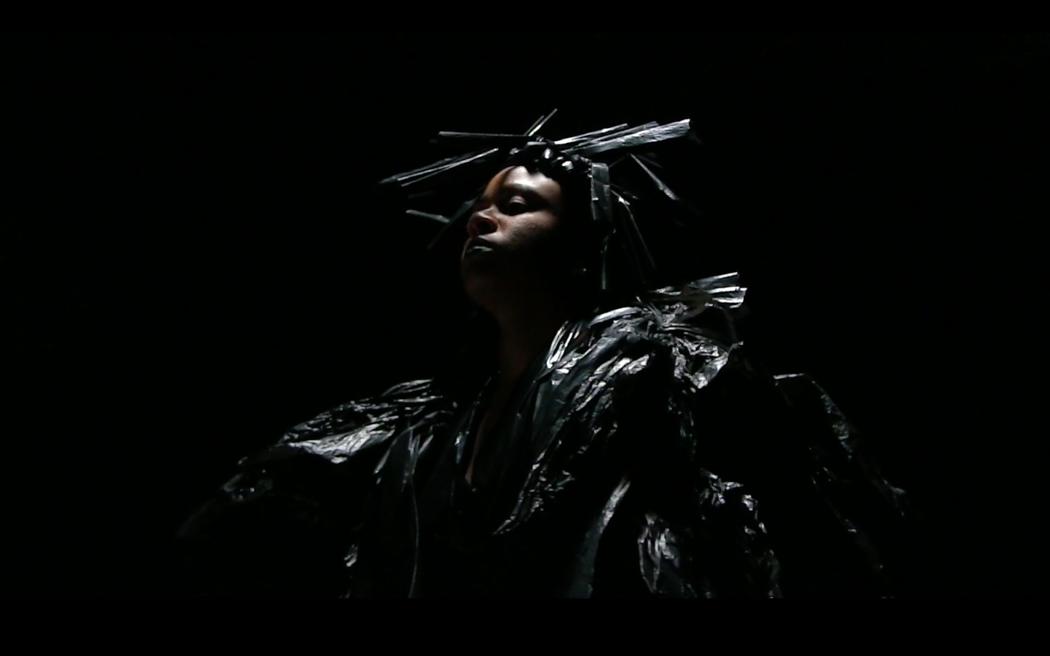 After hitting play on artist Taja Lindley's This Ain't A Eulogy, a series of plastic bags discarded across city streets float across the screen. Shot in black and white, the plastic bags feature the names of some black lives lost to police violence in the United States. The names Rekia Boyd, Sandra Bland, Tamir Rice and more flash before the viewer, setting the tone for a bold and unflinchingly honest film about remembrance as a tool of healing and resistance.
Based on Lindley's solo performance ritual that debuted at La Mama's SQUIRTS in 2015, This Ain't A Eulogy was inspired by the non-indictments of the police officers responsible for the deaths of Eric Garner and Michael Brown. Once she began drawing parallels between discarded materials and the violent treatment of Black people in the US, she made the decision to produce a body of work that used these materials and articulated this metaphor.
Casting herself as The Bag Lady (an ode to musician Erykah Badu's track of the same name about women who carry mental and emotional baggage), This Ain't A Eulogy sees Lindley clad in a garbage bag dress, performing amongst piles of bags and inflatable balloons. Amidst calls for silence and cries of 'Don't Shoot!', Lindley puts forth a performance that powerfully conveys the emotional message of the piece. What she is doing, she says, is asking people to remember.
In an interview with Open House, Lindley explained why the piece is so meaningful to her:
"What I love about this "This Ain't A Eulogy" is that it not only illuminates the tragedy of Black death, but it also features The Bag Lady who demonstrates what we need to do to heal, to transform our fury, our rage, our pain, our grief and shape it into a kind of life, into a world where our lives are valued while simultaneously honouring our ancestors through memory."
You can watch This Ain't A Eulogy a below: