In the many international offices of Snøhetta, an architecture and landscape design studio founded in 1989 by Craig Dykers and Kjetil Thorsen, ideas and inspiration move smoothly and continuously between the imagined, analogue and the digital world. Over the last 25 years, Snøhetta has designed some of the world's most notable public and cultural projects including thought-provoking installations and treetop bedrooms underneath the Nordic sky. Each designer in the 150-or-so-strong company is encouraged to explore their own individual process, but many of the design studio's projects are led or inspired by co-founder Thorsen himself. At Design Indaba Conference in March 2017, Thorsen's co-founder Craig Dykers will be sharing some of the thoughtful work produced by Snøhetta. And in the meantime, we'd like to introduce you to their creative process and projects.
Snøhetta's progressive attitude to design is perhaps typical of a company with headquarters in both Oslo, Norway and New York, USA. With an outstanding (and multi-award winning) approach to sustainability, the work created by the studio shows commitment to humanism and good stewardship of our planet. Through collaborations such as Powerhouse and The Research Centre on Zero Emission Buildings, Snøhetta has already completed several energy-positive buildings. Projects are both poetic and pragmatic, and designers with different strengths and proficiencies ensure that the projects are built and designed with sustainability in mind. The staff include architects, visual artists, philosophers and sociologists.
If you aren't familiar with the expressive work of Snøhetta, here are three exemplary projects.
Treetop cabin for the Treehotel
In a tall pine forest in Northern Sweden, a new addition to the canopy-height Treehotel has just opened. At 10 metres above the ground, Snøhetta's The 7th Room allows its occupants a breathtaking view of the Lapland tree tops and Lule River. Designed to celebrate the surrounding natural beauty, the room has immense windows (including a north-facing floor-to-ceiling glass wall) and a netted terrace where you can lie and watch the northern lights dance in the Nordic sky. Guests can even sleep in the net. A tree stretches through the centre of the room, which – combined with the views – blurs the boundary between the interior and exterior worlds.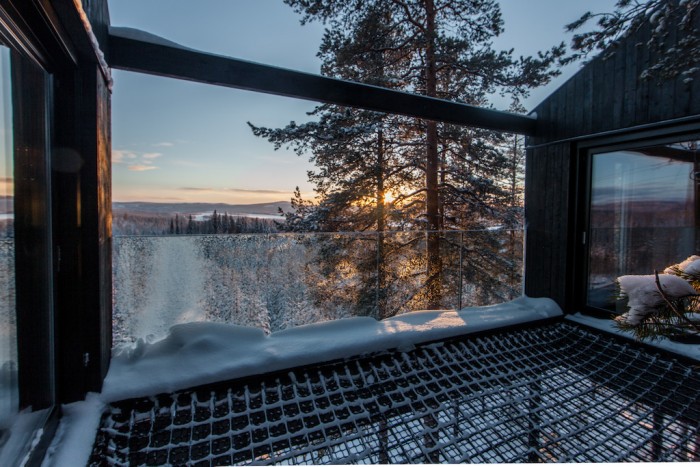 Twelve long columns support the burnt-wood floating cabin and reduce its impact on the surrounding forest. The interior of The 7th Room is made of lighter wood "a blonde Nordic contrast to the dark exterior", and features two bedrooms, a social area, a bathroom and an open terrace. The base of the cabin is covered with a sheet of aluminium that reflects the surrounding space and helps integrate the cabin into the forest. The whole space is aimed at bringing people and nature closer together.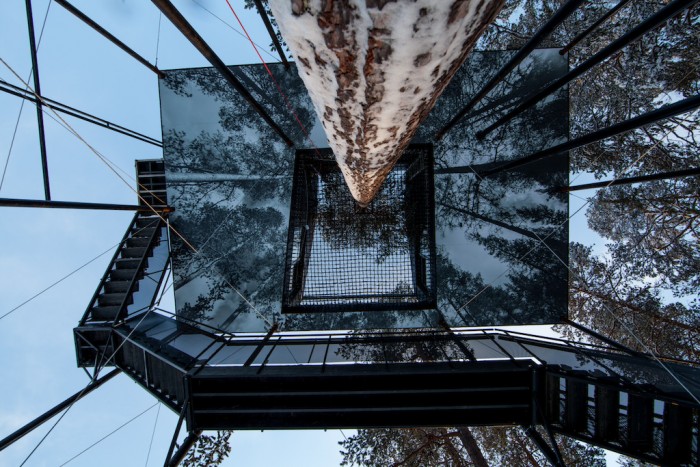 Photography by Johan Jansson
Norwegian Wild Reindeer Centre
The Norwegian Wild Reindeer Centre Pavilion is located at Hjerkinn on the outskirts of Dovrefjell National Park, overlooking the mountain Snøhetta. The area is home to Europe's last wild reindeer herds and is an area of rare natural beauty. The 90 metre-squared building is open to the public and serves as an observation pavilion for the Wild Reindeer Foundation educational programmes. A 1.5 kilometre hiking trail leads visitors to this spectacular site overlooking the Dovrefjell mountains.
[Snøhetta Viewpoint 4K from Alejandro Villanueva on Vimeo.]
The Dovrefjell mountain range forms a barrier between the northern and southern parts of Norway. It holds a unique place in Norwegian consciousness through a wide range of tales and myths connected to the mountains, and has a long history of travellers, hunting, mining and military activities has left its mark on this landscape.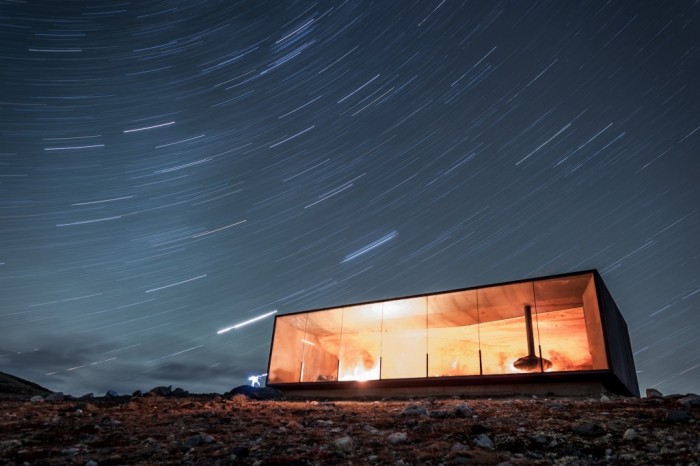 The building design is based on a contrast between ideas - a rigid outer shell and a soft, organic inner core. The wooden core is shaped like rock or ice that has been eroded by natural forces like wind and running water, and is placed within a rectangular frame of raw steel and glass. Visitors sit in a protected gathering space, warmed by a suspended log fire, enjoying the spectacular views.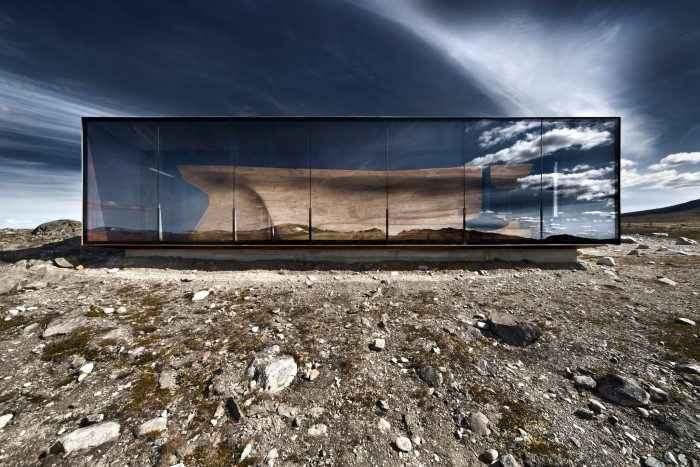 Stillspots, a collaboration between composer Arvo Pärt and Snøhetta
In 2011, Snøhetta collaborated with composer Arvo Pärt on a series of Stillspots around Lower Manhattan that explored the relationship between space and sound. Pärt's concept of tintinnabuli, "little bells" in Latin, which forms the basis of most of his work, was born from a deeply rooted desire for an extremely reduced realm of sound measurable only in millimetres. His thought was that humans don't appreciate the ever-changing subtle differences in the sounds around us that our ears are absorbing, but that on some level we are affected by them.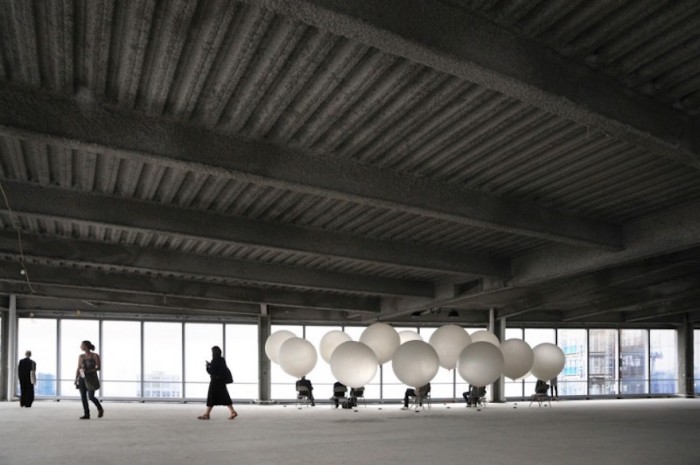 An urban environment, especially one like New York, is full of dynamism, stimulation and a cacophony of ever-present noise. This can enhance anxiety and a relentless need for speed of movement, communication and experience. The Stillspots provided moments of mindfulness and calm, where passersby could find a pocket of peace in the "city that never sleeps".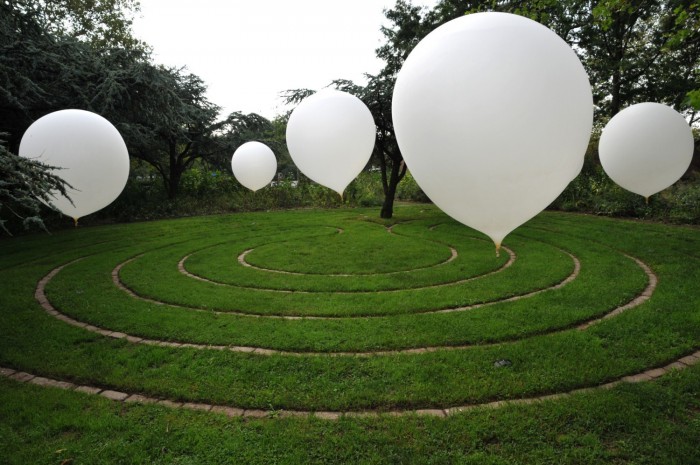 Images by Kristopher McKay
Watch the Talk with Craig Dykers
Talks
• Duration: 00:51:55
•
22 Sep 17