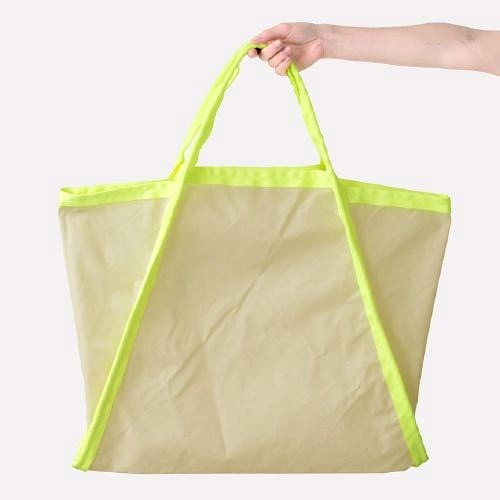 THREE bag by Konstantin Grcic.
Konstantin Grcic takes a hands-on approach in designing three bags for US textile company Maharam.
The three bags, THREE, FRAME and TUBE, are simple in construction and the materials used ensure durability. "There is not much to each bag, but the way it is constructed will ensure it to last forever," says Grcic.
Grcic first designed the THREE bag, which led him to design FRAME and TUBE.
We didn't really design the bags, we just made them on the old Singer sewing machine, which we have at the office, Grcic said.
Made from waxed, water-repellent cotton canvas, the THREE bag is trendy thanks to its contrasting neon trim. "Learning from the THREE bag, I became intrigued by the idea of making bags as soft geodesic structures," he said. And so the FRAME bag was born. Made from orange or dark blue ripstop nylon, FRAME was initially meant to be a simple tote bag, but by adding a zipper to it, the bag turned into a perfectly functional travel bag.
The TUBE bag was conceived while Grcic was in the process of making the FRAME bag. TUBE takes its name from the simple structure of the bag itself. A tube of fabric is divided into two separate pockets by sewing across its length, then folding both halves up and connecting them with a shoulder strap. The bag's shell is made from polyurethane with a slightly padded interior.