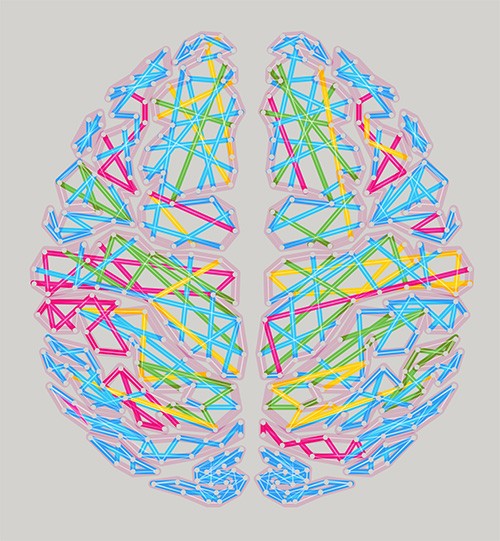 Eddie Opara's cover image for the Atlantic's annual Ideas issue, which explores creativity.
How do you capture the complexity of creative activity in the brain in just one image? Pentagram partner and graphic designer Eddie Opara has been commissioned by The Atlantic to illustrate a collection of covers for the magazine's annual "Ideas Issue" (July/August 2014). This year's edition focuses on creativity and "how genius happens".
Opara uses a network of simple lines joining points in the brain to create a colourful web of activity. His image presents the brain as a complex organism of neural networks contained within a simple, visually appealing framework. His cover illustration takes inspiration from neuroscientist Nancy C. Andreasen's feature, "Secrets of the Creative Brain", which examines the specific neural processes involved in ordinary and extraordinary creativity.
Opara, Shepard Fairey and Geoff McFetridge were all commissioned to create covers. His design for the cover (above) recalls subway maps and molecule models, while the opening illustration for Andreasen's interior feature resembles string art.
The Atlantic's Ideas Issue is available online here.
Watch the Talk with Eddie Opara