The emotive quality and artful subtlety of illustration has always captivated the human imagination – for millennia we have captured the world around us by hand, from the time that ancient man created worlds on stone walls. Today, the discipline has taken on new dimensions with technology allowing artists to push the boundaries of what's possible technically and stylistically with their art, and the handmade meeting digital in a new era of illustration.
Hilde Franzsen
Photographer and illustrator Hilde Franzsen uses mixed media to hand-craft layered maps and illustrations. After extensive research and location planning – she often chooses locations that have personal significance - the elements of her maps are hand-painted, illustrated or written using inks, paints, pens, pencils and found items to create texture. Then they're scanned and compiled into digital artworks – a beautiful layering of old and new techniques. Follow @wednesdayandoctober.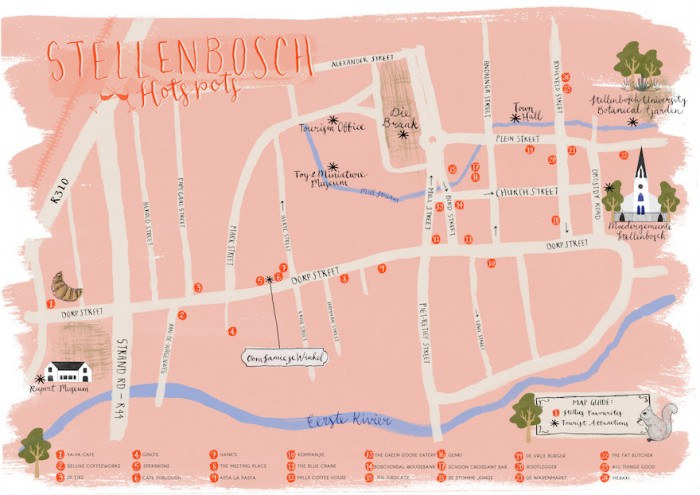 Illustration Map of Stellenbosch hotspots, Hilde Franzsen. Image: Supplied.
Buhle Qabaka
Buhle Qabaka is a self-taught illustrator and part-time photographer who harnesses his creativity in abstract ways. He edges towards the periphery of what is 'acceptable' and uses his art and vibrant colour as a mode of expression. In his illustration, he gives form to 'out-of-the-box' thinking, offering the viewer the room to find their own meaning. He draws inspiration from local and international artists breaking down barriers, as well as everyday life. He is a member of the Apeshit Youth Collective - a gathering of creatives who explore 'aggressively progressive' ways to produce art. Follow: @apeshit_blxck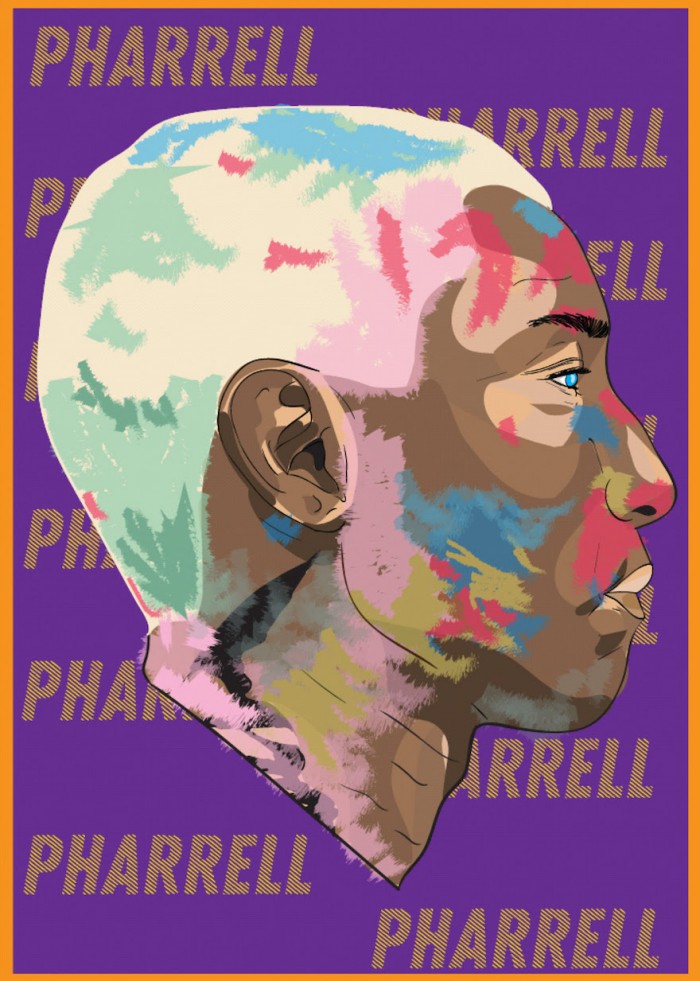 Pharrell by Buhle Qabaka. Images: Supplied.
Tebogo Lethuba
Tebogo Lethuba is a digital illustrator who has created a series of illustrations grouped under the title Phambili all featuring people and a sci-fi, Afrofuturism inspired slant. He has applied these illustrations to merchandise such as T shirts, allowing for a cross-pollination of his work. Lethuba has also written and illustrated a comic called The Amazing Bhuti Afro. Follow: @tebogo_lethuba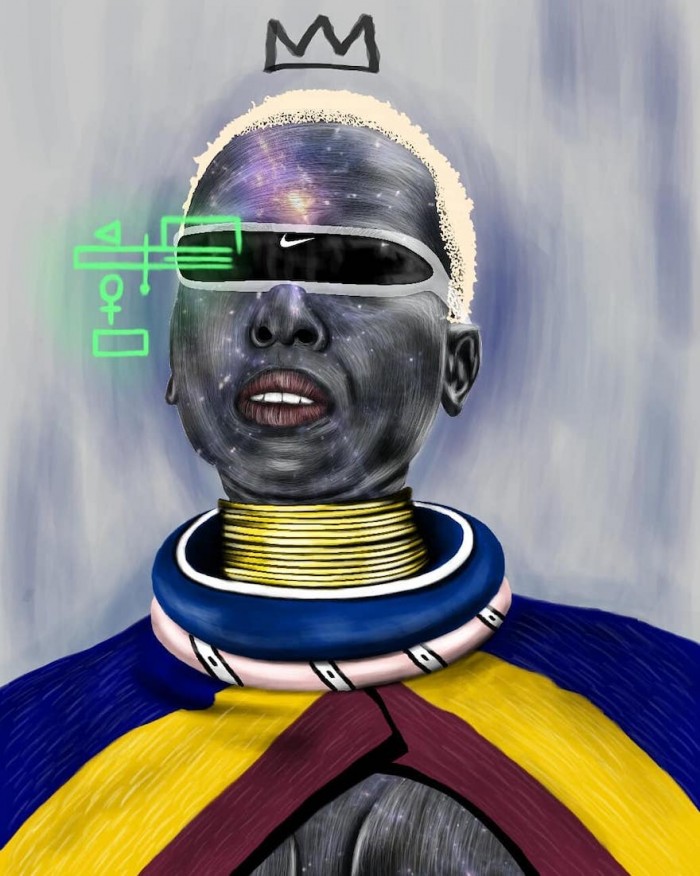 Afrofuturistic illustrations part of the series titled Phambili by Tebogo Lethuba. Images: Supplied.
Lethabo Mmalerato Huma
Digital illustrator Lethabo Mmalerato Huma focuses on portraiture. Her expressive brushwork lends her work an otherworldly feeling, which she describes as digital painting. She overlays depictions of people's faces with constellation grids and star charts, with the goal of evoking an emotional response in the viewer. Her ethereal work has been exhibited in South Africa and overseas and she has been featured in a number of publications. Follow: @lethabohuma_art
OUCH! by Lethabo Huma. Images: Supplied.
Watch this space
Every week we'll introduce you to a new group of our talented Emerging Creatives class of 2021 – whose skills span the spectrum from jewellery design to photography and everything in between. Get to know them and their work and support the next generation of South African creators!
EC graduates making waves
Heather Moore of Skinny laMinx, who was part of the Design Indaba Emerging Creatives Class of 2006, has launched a collaborative collection inspired by the mid-century gems of the Sea Point Promenade. She tells #DI why these icons are worth preserving.
What's new from the #DI Speaker community?
Francis Kéré wins 2021 Thomas Jefferson Foundation Medal for architecture [link to new article]

Tin & Ed on their latest interactive project in partnership with the Rockefeller Center [link to new article]

Annabelle Selldorf contributes to the Luma Arles creative campus
Fresh thoughts on our portal:
"Archiobiotect" Vincent Callebaut generates a VR project on pollinators. Get the buzz…