Urban-Think Tank (U-TT) turn their attention to improving Sao Paulo's culture of mobility by designing a creative strategy for integrated mobility in the city. The interdisciplinary design practice showcased their research on urban mobility systems at the 2012 Audi Urban Future Initiative, as part of the Istanbul Biennale recently.
Urban Parangolé
Gridlocks, lack of space and air pollution are just some of the arguments in favour of car-free cities within the context of the rapidly-growing city of the future.
As our cities are expanding at a phenomenal pace, it becomes ever more important to seek out more efficient forms of urban mobility, and gradually reduce our reliance on the private car.
This scenario is particularly true in the megacities of the Global South, such as Sao Paulo in Brazil.
Some years ago trend research and media analyses by automobile manufacturer Audi highlighted the need for a new way of looking at mobility. Asking what this might mean for the car industry Audi launched the Audi Urban Future Initiative, a programme that promotes dialogue around the synergy of mobility, architecture and urban development.
One manifestation of the initiative is "Urban Parangolé" by Urban-Think Tank (U-TT), a mobility research project that considers the human need and desire for movement and investigates alternative creative strategies to make it easier.
As such, Urban Parangolé creates loops of connectivity throughout the city of Sao Paulo, using multi-scalar mobility systems and other forms of digital communication technology.
More than making movement in the urban space easier, U-TT endeavours to turn movement into a dymanic activity.
Urban Parangolé proposes a three dimensional mobile system that consists of new transportation and interaction hubs, which makes connectivity easy and seamless. These multi-functional hubs then serve as access and connection points for improved mobility and social interaction.
Furthermore, the proposal sees each hub developing organically to implement programmes and initiatives that are relevant to the needs of each community.
This connectivity happens through the activation of under-utilised space within the city, such as rooftops, underground parking lots, air space, vacant buildings and at ground level. Mobile systems - public, private and shared - form an interface with the above-mentioned hubs, including subways, cableways, cars, bicycles, small-scale drones, mobile workstations, markets and restaurants.
U-TT proposes to include innovative user-customised technologies to help residents navigate their city, while paying heed to safey and other factors that influence quality of life.
In U-TT's words, "mobility and people replace infrastructure". The way people move, as indivduals and collectively, is redefined as a infinite loop of productive movement – engaging with each other and their urban environment.
Watch the Talk with Alfredo Brillembourg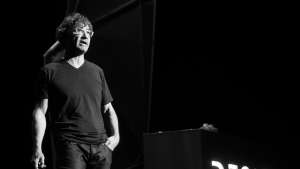 Talks
• Duration: 00:43:27
•
11 Nov 16