LG Electronics has unveiled a new 'Life's Good' global campaign, showing off its digital, physical and social overhaul designed by creative design consultancy Wolff Olins. 'We've rejuvenated the brand, bringing it to life with a smile and a wink,' said Tom Carey, senior creative director at Wolff Olins. 'We've helped set it up to speak to multiple audiences, from fashionistas to gamers to global tech partners.'
Alongside a new typography and the introduction of a vibrant new shade, the iconic 'LG' symbol also got its own exciting refresh. The brand's logo, composed of the letters 'L' and 'G', now comes to life with a series of unique motions, including nodding, spinning and winking. 'With its new capabilities, the brand symbol can greet customers with a friendly smile or move along with background music on digital platforms in a variety of witty ways,' writes LG.
Wolff Olins partnered with emerging South Korea-born illustrator Jungmin Ryu on a set of LG characters named Joy and Rider which pay homage to LG's Korean heritage. Adorned with clothing and accessories, Joy and Ryder – designed to feature in social stickers and campaigns for the brand – embody LG's newly optimistic and youthful essence. London-based animation studio Animade was commissioned to develop a series of dance moves for each character, as well as the motion design for Joy to fly around billboards.
LG's new direction comes after a rigorous evaluation set to redefine the company's values and philosophy under three core pillars: uncompromising customer experience, human-centred innovation and warmth to power a smile. LG hopes that the new, more dynamic brand direction and visual identity will resonate more deeply with consumers across all global backgrounds and generations, and 'shed more light on the value of Life's Good, with a more dynamic and youthful look across all physical and digital customer touchpoints'.
Design Indaba alums Michael Wolff and Wally Olins co-founded Wolff Olins in 1965. The company has since become one of the most recognised global brand consultancies in the world, with clients including the London 2012 Olympics, the BBC, Google, The Economist, TikTok and Uber.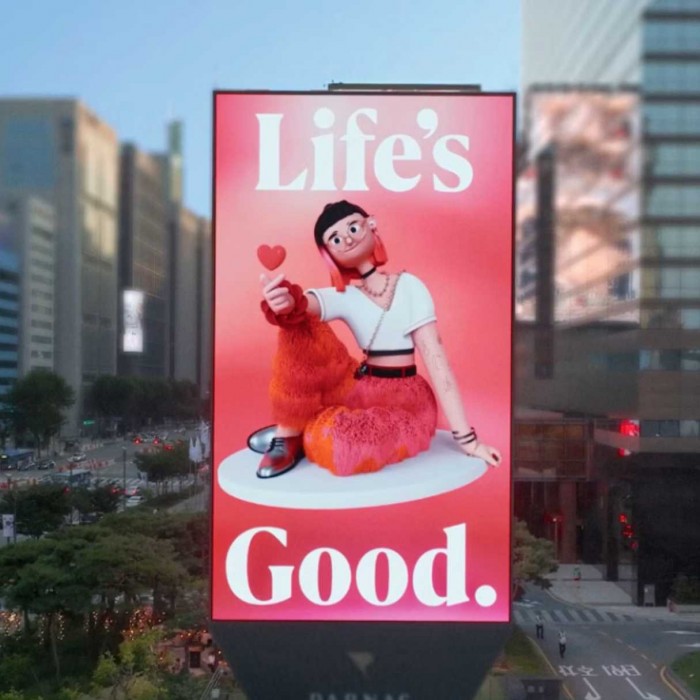 Read more
Michael Wolff on keeping ideas disposable
Photographs: LG Electronics, Wolff Olins.