Five journalists in five repressed countries have found a way to bring otherwise censored news to the people with the help of Reporters Without Borders Germany.
In China, Egypt, Thailand, Uzbekistan and Vietnam, there are strict protocols controlling the information that can and can't be shared with the public.
The risk for the citizens of these countries is that, as US free press advocate Trevor Timm explains, free press has always been "the bulwark against secret government, against authoritarianism and against tyranny."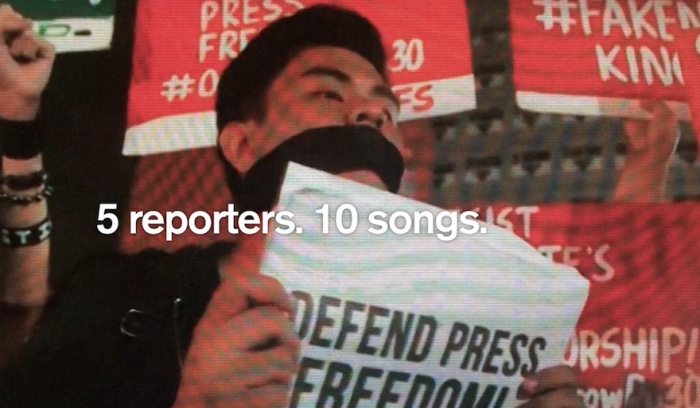 According to Reporters Without Borders, atrocious deeds are stopped with the help of free reportage all over the world. "If journalists were not free to report the facts, denounce abuses, and alert the public, how would we resist the problem of children-soldiers, defend women's rights, or preserve our environment?"
To challenge censorship in some of the most repressed countries in the world, the international NGO found a loophole: music streaming.
Watch: Ekene Ijeoma combines data and design to tackle pressing global issues
In most countries, strict laws govern the flow of information in mainstream news but these same laws do not apply to music streaming sites like Spotify, Apple Music and Deezer.
Teaming up with Musical Director Lucas Mayer, five acclaimed independent journalists from China, Egypt, Thailand, Uzbekistan and Vietnam turned 10 articles that had previously been censored into 10 uncensored songs called The Uncensored Playlist.
These songs were then uploaded onto freely available music streaming sites. "Allowing truth to be slipped back into the countries where it had once been forbidden," they say.
Speaking to Pitchfork, Bianca Dordea of creative agency DDB Berlin says the project hopes to raise awareness, funds and spread crucial information that would have otherwise been kept in the dark.
"More than a fundraising or awareness effort, we're happy to have landed on a unique way—music as a Trojan Horse, of sorts—to allow these censored stories to reach the world," Dordea was quoted as saying.
There is currently a general decline in press freedom around the world, making projects like the Uncensored Playlist all the more important. Reporters Without Borders points to a general erosion of media freedom in English-speaking, democratic countries including the United Kingdom and the United States.
"Donald Trump's rise to power in the United States and the Brexit campaign in the United Kingdom were marked by high-profile media bashing, a highly toxic anti-media discourse that drove the world into a new era of post-truth, disinformation and fake news," RSF said in a statement to which it's director, Christophe Deloire, added:
"The rate at which democracies are approaching the tipping point is alarming for all those who understand that if media freedom is not secure, then none of the other freedoms can be guaranteed."