For International Women's Day this year, South African advertising agency Joe Public brought out a hard-hitting campaign that aims to increase awareness of intimate partner violence and bring to light the work done by POWA (People Opposing Women Abuse).
After learning the alarming statistic that South Africa has the most intimate partner violence deaths in the world, Joe Public created a series of print adverts highlighting the harsh reality that many South African women feel safer on the streets than in their own homes.
One ad depicts a woman seated in front of her dressing table on the corner of a dark alleyway, while another shows a woman reading a book on a couch beside an abandoned railway station. Each image has the tagline "Many women feel safer here than at home".
The ads include the helpline telephone number of POWA, which is dedicated to improving the lives of abused women through support, shelter, counselling and legal advice.
The print campaign was also launched on social media with #SafeAtHome and #POWA and is still being shared widely today.
The creative team responsible for the campaign include Design Indaba Conference speaker Pepe Marais (chief creative officer), Roanna Williams, Robert Storom, Thina Zibi, Rob Frew, David Prior, Manuel Lopes, Palesa Mosweu and Kerri-Ann Stanton.
Watch the Trailer with Pepe Marais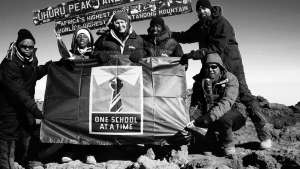 Trailers
• Duration: 00:01:35
•
1 Sep 15