Molori Safari, an exclusive lodge that's part of the Rora Private Collection, recently underwent an interior update thanks to design team Hesse Kleinloog, who expanded the five-star accommodation's contemporary art collection to include breathtaking rugs adapted from contemporary South African artworks.
As part of their redesign, which began in 2020, Molori collaborated with globally acclaimed local artists to create woven interpretations of their famous pieces that serve as large, colourful floor decorations. "Some of South Africa's most provocative contemporary artists agreed to have their artworks interpreted and woven into these magnificent rugs," explains Molori's owner, Ivor Ichikowitz.
The six artists whose rugs feature across the lodge are Design Indaba alumnus Athi-Patra Ruga, Maja Marx, Nabeeha Mohamed, Cameron Platter, Jody Paulsen, and Koos Groenewald. Groenewald, one half of Jana + Koos, also skillfully interpreted the artworks and created digitised patterns that then enabled South African weavers Brabetz Rugs to produce the grand rugs to be used for decoration.
Each of the lodge's five enormous suites feature an artist's rug, like Cameron Platter's psychedelic rug which takes centre stage in the Ngwedi Suite and Koos Groenewald's textured beauty that sits in the master bedroom in the Sephiri Suite, while the main lodge area features Jody Paulsen's 'Eat Me (Bananas)' rug interpretation. The suites, which have floor-to-ceiling glass retractable doors that blur the distinction between inside and out, have been painstakingly decorated by Hesse Kleinloog to work with the rugs and the surrounding natural vistas.
Molori's interiors stray away from the expected, bringing an eclectic, bold, high-fashion aesthetic into the neutral bush environment. Some of their iconic furniture pieces which have been around since the lodge's inception, such as Fendi Casa chaises longues, Philipp Plein swing beds, antique Chinese cabinets and vintage Louis Vuitton bars, still feature prominently despite the interior upgrade.
The lodge's expanded art collection does not only feature the rug collection, but also pieces from artists like Norman Catherine, Lady Skollie and Edoardo Villa.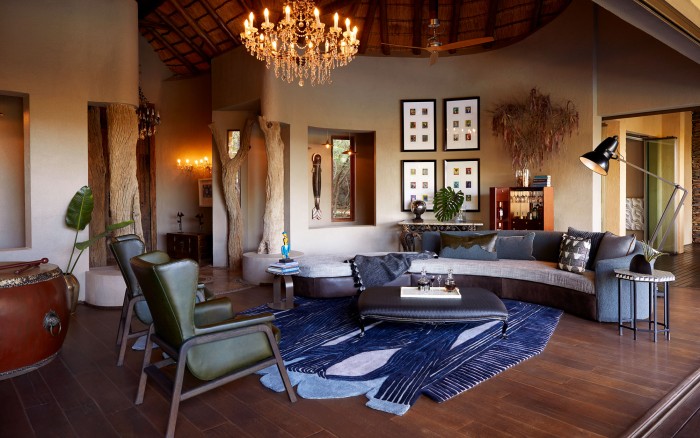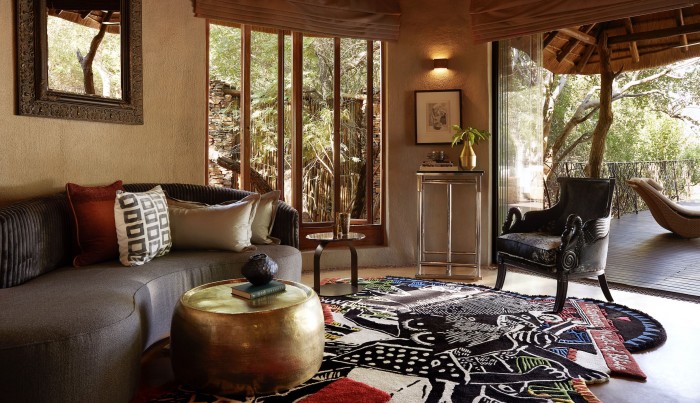 Read more:
Angolan visual artist on opening up the conversation about a new African identity.
Credits: Molori Safari