Vincent Callebaut Architects are known for their sustainable, utopian designs. Unlike the angular lines of the modern, concrete city, the Belgian firm's projects work to harness the natural environment, from the existing landscape to sustainable technologies. Their latest project, a new ferry terminal in South Korea, is inspired by the manta ray.
While there are no immediate plans to build it, the floating ferry is an example of the way architects could reimagine their role in the fight against climate change. The project was designed for an international competition and is envisioned for Seoul's Yeouido Park, which is on the bank of the Han River.
For energy sustainability, the ferry would be completely self-reliant, drawing power from rooftop solar panels, rooftop turbines shaped like trees and biomass (organic and biodegradable waste). The fourth core energy source draws power from oscillating turbines in the water beneath the floating structure, harnessing the river's kinetic energy.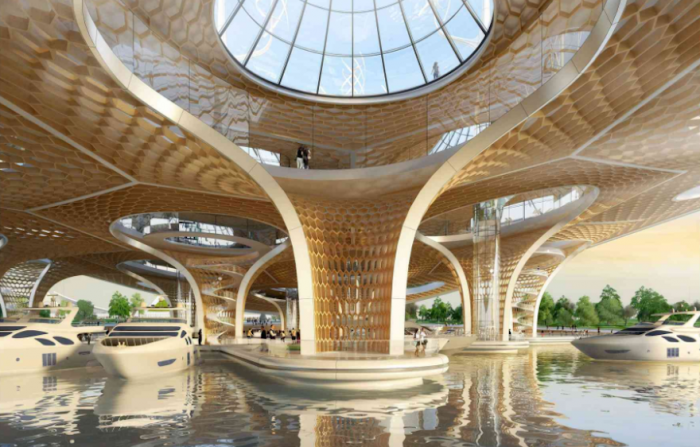 To adapt to the unpredictable currents and frequent flooding in the Han River, the structure is made up of three levels. The lowest level houses a large pier for ferries and a marina for small boats. The second level, above the danger zone, houses the reception and leisure areas. Finally, the topmost layer is the rooftop observation deck, garden and a pedestrian bridge which links the structure to land.
The key to the futuristic project is the natural landscape that surrounds it. "The project's ambition is to turn Yeouido Park into a genuine cultural hub, where nature progressively asserts its rights over the concrete city again to better protect it," says the firm.