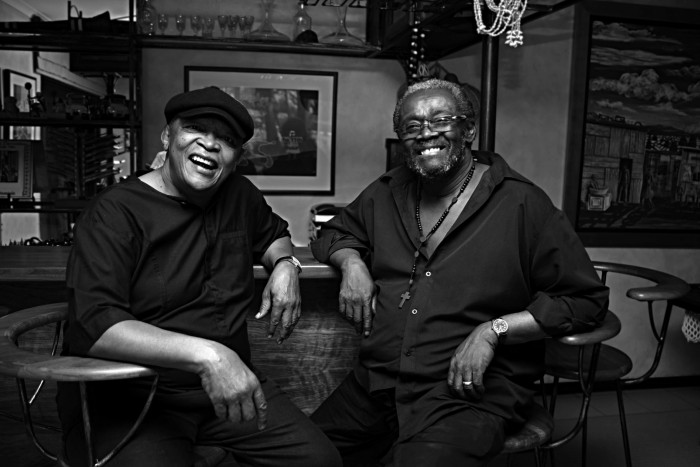 Friends is the newest album by local legend Hugh Masekela, featuring American pianist Larry Willis – a collaboration that serves as the long-awaited sequel to Almost Like Being in Jazz. Premiered in Cape Town at the Mahogony Room in April 2012, Friends is a four-album, 39-track boxset reworking of American jazz standards, released on Bra Hugh's new record label, House of Masekela. Twenty-seven of the tracks are duets and 12 are with a full band. It was also launched at the Jazz Standard in New York in May 2012.
The two met at the Manhattan school of Music in the early '60s and spent every night in clubs watching and learning from talents like Miles Davis, John Coltrane, Thelonious Monk, Charlie Mingus and Max Roach
"We became buddies, us two and a couple of other African-Americans," said Masekela in an interview with The Revivalist.
"We were the only black kids in some of the classes and those were the days of the civil rights movements and hangings, so we tended to stick together.
"The first time I saw Larry was when he was practising for an opera and he was dressed like George Washington in a blue velvet tunic, with buckled shoes and a white wig. We were sitting on the balcony giggling. We had just finished smoking some grass and when he came off we were like: 'What you doing, man?'"
By the time they finished music school they had formed a quartet that played live at the Village Gate as the opening act for stars such as Sarah Vaughan, ­Aretha Franklin, Ella Fitzgerald, Nina Simone and Miriam Makeba.
Bra Hugh's career took off following the success of his 1965 album, The Americanization of Ooga Booga, and he subsequently moved to Los Angeles. He and Willis continued to record together, notably on 1972's Home Is Where the Music Is. In 2005, Almost Like Being in Jazz flew in the face US jazz critics who used to write "that Masekela can't play no jazz".
In 2011 Bra Hugh's nephew, Pius Mokgokong, presented him with a fully equipped studio that he had built east of Pretoria on his Boschkop farm. It seemed fitting that the first recording in this studio, and the first release under the new House of Masekela label should involve the dear friend and collaborator who had shared so much of Bra Hugh's education in jazz; to return, in some ways, to the beginning of his career.
Larry flew in for a 10-day recording session that resulted in Friends — 38 American standards including Herbie Hancock's "Cantaloupe Island", Thelonious Monk's "Ruby, My Dear", Duke Ellington's "Day Dream" and Cole Porter's "Everytime We Say Goodbye" as well as two tunes from the French composer Michel Legrand.
Bra Hugh credits Larry with bringing the "jazz" out of him on this album.
"Larry taught me all of these songs because he knew them better than I did. All I had to say was 'I like that song.' 'You like it?' 'We're gonna play it!'"
Friends is available at Musica stores and can be ordered online at www.kalahari.com.
See friends Bra Hugh and Larry Willis perform together live at Cape Town's Mahogony Room on 1 March 2013, as part of Design Indaba Music Circuit. Tickets are just R200 and each set is limited to 50 tickets. Buy tickets online here.
Watch the Talk with Hugh Masekela