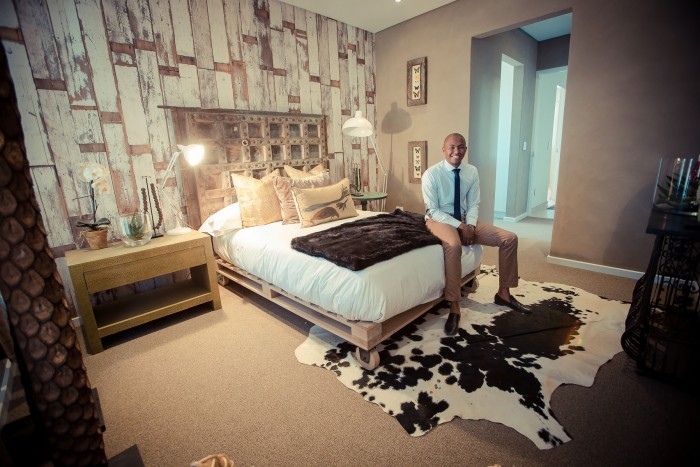 2015 Emerging Creative Jason Sandows pictured alongside his interior design for an apartment on the luxury economic estate of Steyn City. The project was part of SABC 3's "Win a Home" competition.
Jason Sandows was born to an athletic family in Johannesburg. From a young age his parents urged him to express himself creatively, either through music or drawing. "Creativity has always been a part of who I am, so when I wasn't competing in sporting events, I was partaking in poetry slams and designing clothing."
His love for creativity led him to set up a multidisciplinary design studio, House of Shiloh, which specialises in fashion, furniture and interior design. The studio's work is influenced by the earth and is an exploration of the South African aesthetic.
Sandows is one of 40 up-and-coming designers to take part in the Emerging Creatives programme at Design Indaba Expo 2015. We took this opportunity to get some insight into his creative process, inspiration and hopes as a rising talent in South Africa's design scene.
When did you first discover that you wanted a career in design?
It was when I watched Alexander McQueen's 1999 autumn/winter runway show called The Overlook that I realised I wanted to be a designer. The way Alexander captivated his audience by using different creative mediums was the ultimate example of creative expression. I knew I wanted design to be a part of my life in some way. However, up until that time I never thought of it as a career.
What is your main inspiration as a designer?
My main inspiration as a designer is to design work that is timeless, engaging and inspiring. I want to design work that transcends the trends of this generation, but will be relevant for future generations.
You work across furniture, fashion and interior design. Do you have a favourite sector?
My first love will always be fashion design; it was fashion design that ignited my passion for design. It was also fashion that led me to discover my love for design as a whole. I have always had creative ideas that have crossed over into various design disciplines, so when I started studying fashion design I would sneak into my friends' classes who were studying a different design discipline – one of the classes I sneaked into was interior design. However, it was on an interior design reality show on SABC 3 called Win a home that my passion for it really began to develop. On the show the creative bug hit me again and I decided that instead of buying furniture I was going to buy the tools and make my own. My aim is to show how these sectors are related and form part of our everyday lifestyle.
Are there recurring themes in your design work?
I love movies and theatre therefore storytelling is always a part of my work. I also love history and the aging process, which I translate into most of my creations.
Tell us about your design studio House of Shiloh.
House of Shiloh is a multidisciplinary design company that specialises in fashion, furniture and interior design. We believe that design forms a part of every aspect of our lives – it is often what we use to express ourselves. For instance, what we wear and how we wear it tells people a story about us. Therefore, we aim to create products that are not only aesthetically pleasing but reflective of our clients' personalities.
Your work aims to create connections between what is designed and whom it is designed for. Can you explain this in more detail?
Often a designer will design something that is beautiful and creative but the design never becomes successful or is able to be sold. I believe that this happens when the designer ignores who he/she is designing for and focuses only on trends. Design has to connect with its audience in some way. For example, the first time I saw the Alexander McQueen fashion show, it changed my life forever. That is the kind of connection I want to create with my audience: one that challenges them to think differently.
How do you define a South African aesthetic?
For me the South African design aesthetic is rich in authentic storytelling – we are such a diverse people with a rich history. If you look at our artwork or our design, we are often drawing attention to something. This makes for design that is relational and has substance.
What do you hope your work achieves?
I hope that it creates platforms for other aspiring designers. One of my goals is to open a school of creativity where students can have access to different design mediums and where they can express themselves however they see fit.
Tell us a bit about your creative process.
Firstly, I will decide what the story is that I would like to tell. I then conduct research on that story. I test the design with some trusted friends and family to see if the theme translates well and if the design looks good. I then go ahead and manufacture the range or begin with the interior.
What has been your greatest achievement this far?
My greatest achievement this far has been starting my own business and being able to present it to the world. I'm a slight perfectionist so it has taken almost six years to get started. The fact that my business is up and running is a major achievement.
Do you have a favourite design? If so, which one and why?
I love design that changes how we look at things. So my favourite designs are Mart Stam's Cantilever chair, which was the first of its kind. I also love Yves Saint Laurent's suits for women. Suits were historically only worn by men but he changed that with his designs.
What do you believe the biggest benefit of design is?
The biggest benefit of design is being able to influence popular culture. Designers determine what is trending and what isn't.
What are you currently working on?
I'm doing a lot of private work for clients but most excitingly I am currently working on an exhibition range for a show later this year. I will be showcasing part of that range at the Design Indaba Expo.
What is it like being a designer in South Africa?
Being a designer in South Africa is definitely exciting. The design industry is growing everyday and grabbing the attention of the rest of the world, so there are more opportunities to showcase your work. Although design is growing, it is still challenging getting support from people and big businesses. However, I have no doubt that will begin to change.
Why did you apply to be part of the Emerging Creatives programme?
I love the platform the Emerging Creatives programme gives young designers. It's difficult to make a name for yourself when you are starting out, and this is a perfect platform to do so.
What do you hope to get out of the programme?
I'm looking forward to learning from other designers and seeing the work that they produce. I'm also hoping to go home with some contacts and hopefully meet people that can help propel my business.
Where do you sell your design?
My designs are sold privately on our website.