She calls herself an accidental designer
Born in South Dakota and raised in Kentucky, Ane Crabtree studied fine arts at Harlaxton College in England and fashion design at the Fashion Institute of Technology in New York. However, she did not complete a degree because of the high cost of education.
Nothing had prepared her for life in the film industry but she was drawn to it anyway. From growing up with a multi-racial family to her voracious appetite for research and history, the 54-year-old costume designer's work rings with depth and nuance.
"There's nothing in my childhood that would say that I would go on to influence fashion, politics and film," she said during a talk at Code Media earlier this year.
"All of that I attribute to having this rather abstract, alien experience as a mixed race kid growing up in the projects in Kentucky and sort of rethinking and sort of re-seeing things in my own way."
Using her own unique vision, Crabtree has created the look for The Sopranos original HBO pilot, Justified's FX pilot, Rectify's Sundance Channel's pilot, and Cinemax/HBO/Fx's Outcast pilot.
Now, with 28 years in the industry, she's known for creating the worlds of award-winning pop culture titles like Masters of Sex, Westworld, and most notably, The Handmaid's Tale.
In the latter, the series adaptation of Margaret Atwood's dystopian novel takes on a surreal, modern edge in Crabtree's adept hands. Women, taken as slaves for their reproductive abilities in the post-apocalyptic world of Gilead, are unmistakable in their blood-red cloaks and white hoods.
Women have adopted her red-cloak as protest gear
Like several other dystopian works, many of Atwood's speculative imaginings have found a mirror in modern-day politics as the United States veers towards extreme conservatism. In the heightened debate over women's reproductive rights, Crabtree's red cloak is more than just a book brought to screen.
Women worldwide have adopted the cloaks to conduct silent protests inside government buildings. The cloak has come to represent the silencing and oppression of women – becoming part of the world's visual vocabulary and global struggle for equal human rights.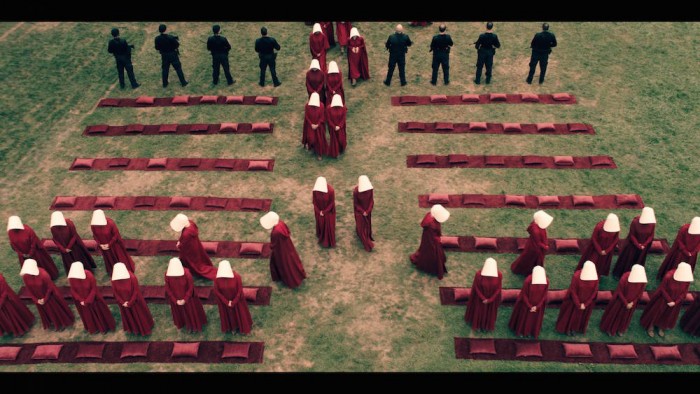 She looked at 50 shades of red before finding the right one for the costume
Before choosing blood-red, Crabtree sifted through 50 shades. She eventually decided on one that would look most natural on every woman's complexion.
She later realised she'd chosen the colour of blood. The striking cloak juxtaposed with the crisp white bonnet worn by the Handmaids is reminiscent of old Amish attire but its sleek lines give it a modern edge that allows the viewer to see a future in which it could be worn by a mother, sister or friend.
She's been nominated for several awards
Crabtree has been nominated for a Costume Designers Guild Award for PanAm in 2012, Masters of Sex in 2015, Westworld in 2017 and she won the award for The Handmaid's Talk in 2018. She was also nominated for an Emmy for her work on The Handmaid's Tale in 2017 and 2018.
She works 20 hour days, 6-7 days a week
The costume designer recently told Fast Company that she works 20-hour days, six or seven days a week by choice - often working on weekends for free. But she gives her team the Saturday off to think, research and come up with new ideas.
Tickets are on sale now for Design Indaba 2019 where Crabtree will join the likes of some of the most successful, innovative and interesting international designers in Cape Town, South Africa.