The Boschendal Wineland Estate, South Africa, wanted to create a family-friendly exhibition space that would be diverse enough to cater to both young and old.
William Vaesen, who is the manager of the garden, says that they had to be incredibly mindful of the range of Boschendal visitors when they were conceptualising the space. He adds that being sensitive towards context and the role of art in our current society means that they had to ensure that they had a healthy mix of curators and artists.
Gordon Froud, who is the exhibition's inaugural curator, says that he didn't want to replicate what was already on offer at other sculpture gardens. "I needed to strike a balance between two main aims: the aim to present an interesting and diverse exhibition that reveals the depth of talent in South African contemporary sculpture, and the aim to include a variety of work, so as to provide something for everyone," he says.
Ranging from child orientated dogs to figurative and abstract pieces, the sculptures blend beautifully with the Boschendal estate surrounding, while also standing out enough to encourage visitors to explore lesser-visited parts of the estate.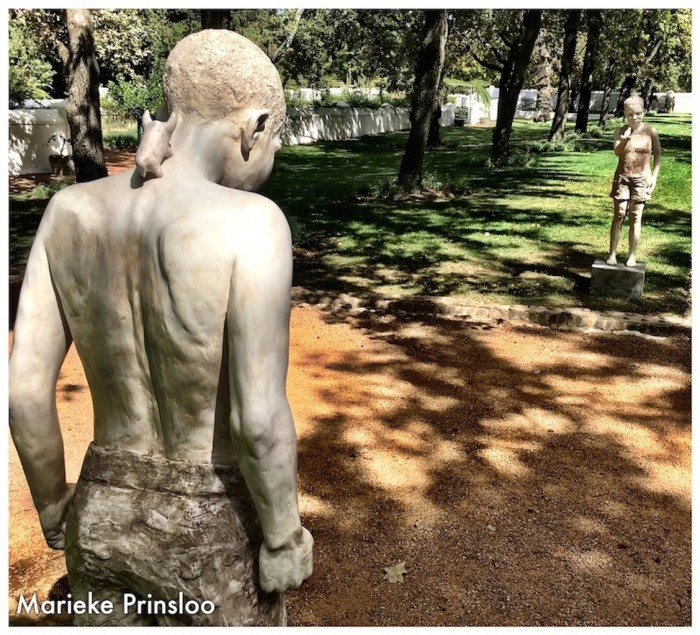 The Boutique Gallery, on the estate, also came up with an initiative to use sculptures as an opportunity for the youth to engage with arts. Starting today, the gallery will be using school grounds as exhibition spaces for artworks of the country's top artists. The aim of this initiative is to inspire future generations and spark their interests in the arts. A percentage of the proceeds from the sculptures will also be donated to the schools. This initiative will start with the Bridge House School in Franschhoek and expanding to the rest of the country over the next year.