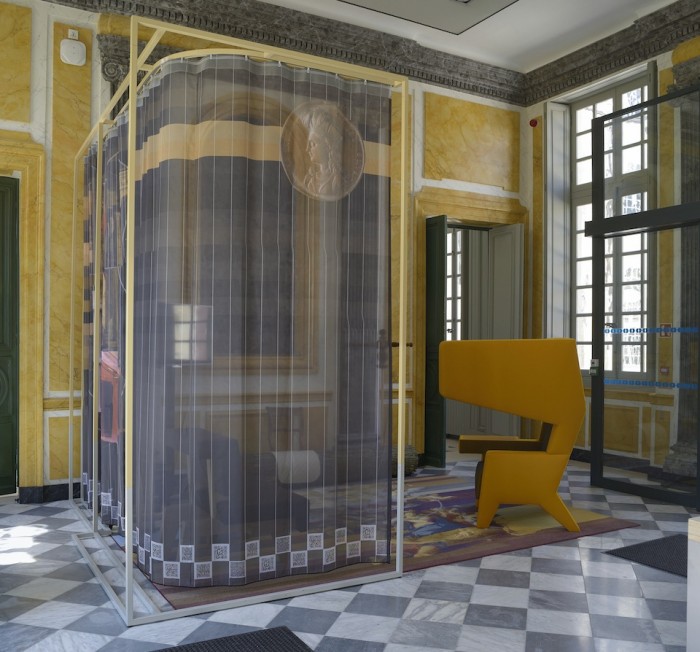 International Research Centre for the University of Orléans interior design by Studio Makkink & Bey.
Studio Makkink & Bey is transforming the historical interiors of Hôtel Dupanloup, a 17th-century building in Orléans, France, which is being converted into a research centre.
Partners Rianne Makkink and Jurgen Bey were commissioned by The French Artistic Nationale Commission to furnish the centre's main area and 23 meeting rooms.
The building was once home to a notorious bishop before being reconstructed to serve as the International Research Centre for the University of Orléans. It now reveals a modern and contemporary aesthetic thanks to Makkink & Bey's three-dimensional "collages" of furniture.
Arranged in spatial installations, the furnishings include the Dutch studio's PROOFF Worksofas, EarChairs and SideSeats in new colour schemes and a Dupanloup chair and table specifically designed for the project. In keeping with the historical influence of the building, the designers are integrating antiques into the interiors, alongside their contemporary design pieces.
In addition, Makkink & Bey tasked design students from the School of Higher Education of Art and Design in Orleans to rework a series of Ikea furniture, which will also be included in their eclectic assemblages.
The project will be finalised in September 2014 with the opening of the building and launch of a publication about its development and renovation.