The Swedes have a reputation for designing furniture characterised by its simplicity, minimalism and functionality. At the 2018 Stockholm Furniture and Light Fair, the works on display echoed this standing, displaying an emphasis on elements of performance, and simple, clean lines.
Funnily, it was exhibitor Anton Karlsson's misshapen, slightly odd bathroom furniture that seemed to grab and hold most visitors' attention. Heads turned and people swarmed his exhibition space at the event, curious about these unexpected creations in what was otherwise a sea of considered minimalism.
"In terms of hardcore design, it was quite ugly," the designer admits. "It's not really commercially viable, and has kind of a morbid humour to it. But it's not stuck up."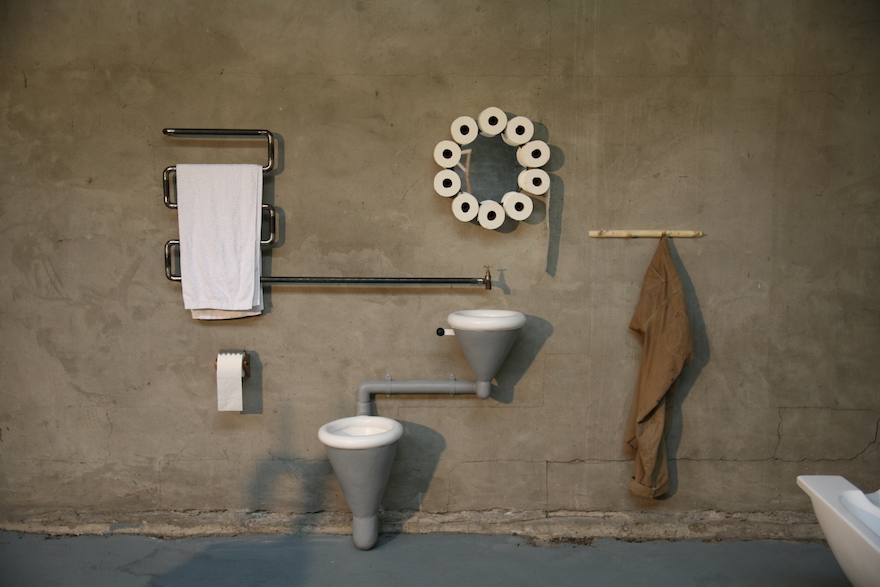 Whatever you call it, the stand out range won Karlsson the title of Rising Star of this year's Greenhouse exhibition, the Furniture and Light Fair's presentation section for emerging independent designers and design schools. A 2016 Art and Design graduate of Gerrit Rietveld Academie in Amsterdam, Karlsson is a designer, painter and artist who's become known as something of a provocateur since his biomorphic and tactile Playground vignette debuted at the 2015 Salone Satellite in Milan.
"It's quite an eclectic mix of inspirations," he explains of his Greenhouse range, "all of which fall under the bathroom umbrella. I produced quite a number of different objects and ideas which I imagined as something that could work as a whole."
To create this vision, Karlsson arranged the toilet, sink and towel rack to resemble a digestive system, the shapes of which he says were based upon the aesthetics from enameled tin funnels. The inspiration for the tub, he says came from traditional, old Dutch butcher benches that would collect the blood from slaughtered pigs.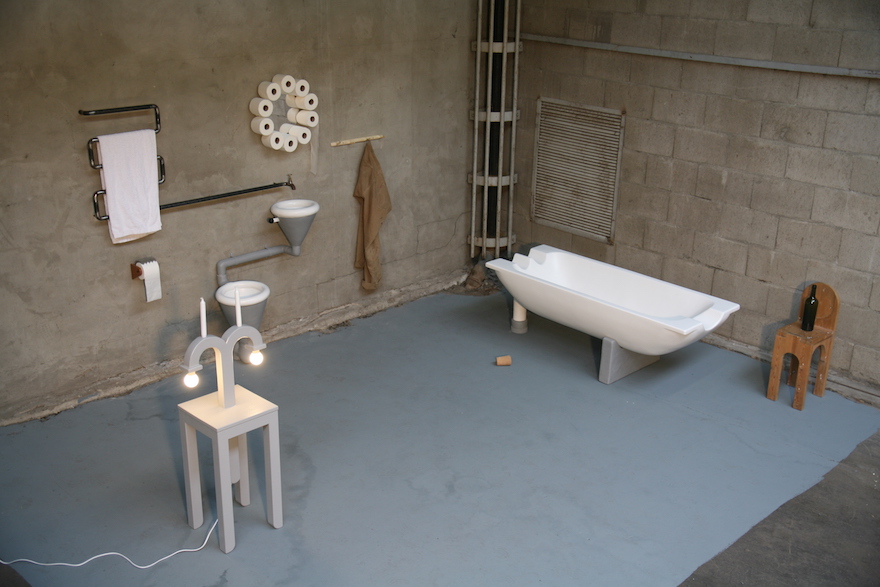 "In general everything in the bathroom is heavily focused on topics of bodily fluid and activities close to our biology, which aren't really considered too sexy in the realm of design and Western culture. I saw a lot of potential humour in taking this approach. The purpose was to make people laugh and then think."
Working largely with materials like styrofoam, fiberglass, plaster and acrylic, Karlsson sees himself as an autonomous "maker" of series' unique objects, and his next project will see him leaving behind the bathroom to tackle another intimate area: the gym.
Distinctly nonconformist and a challenge to viewers' ideas of beauty, Karlsson's work is fearless in its refusal to take itself too seriously. "I hope that the red thread people pick up on in my work is my sense of humour," he says.