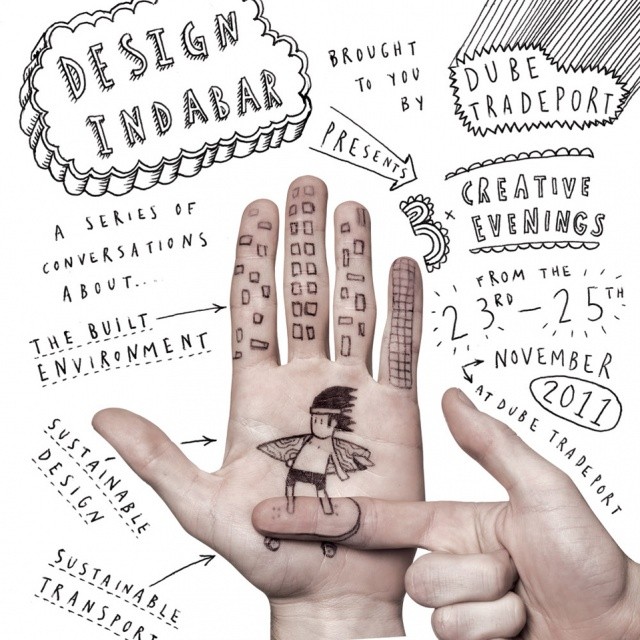 Poster designed by Richard Hart.
Speaking about sustainable design tonight at Design Indabar in Durban:  Christien Meindertsma, ThingKing, Tsai, Andries Botha and Heath Nash. 
Very limited space left so RSVP now to attend. RSVP to Meagan at 021 465 9966 or admin@interactiveafrica.com. 
Leading up to 17th Conference of the Parties (COP17) in Durban from 28 November to 9 December 2011, a spectacular series of evenings will highlight how a better world is possible through creativity.
Design Indabar presented by Dube TradePort is a traveling capsule version of the prestigious Design Indaba Conference, which celebrates creativity, innovation and design.
Over the course of three evenings, a superstar cast of speakers will entertain you with short presentations focusing on creative work under the following themes:
Built Environment, Sustainable Transport and Sustainable Design.
Guests will be inspired by the likes of South Africans Heath Nash and Andrew Makin, and visitors Assaf Biderman from MIT and Christien Meindertsma from The Netherlands.
THEMES AND SPEAKERS FOR THE EVENING:
BUILT ENVIRONMENT
Wednesday 23 November 2011
Featuring: Andrew Makin, Strijdom van der Merwe, Heinrich Wolff, Mokena Makeka and more.
Guests can also come early to attend the opening of Ugqozi Lwentambende, spirit of the song rope from iSimangaliso at 17h30.
SUSTAINABLE TRANSPORT
Thursday 24 November 2011
Featuring: Assaf Biderman, Mattias Goldmann, Per Egstam, Kobus Meiring and more.
SUSTAINABLE DESIGN
Friday 25 November 2011
Featuring: Christien Meindertsma, ThingKing, Tsai, Andries Botha and Heath Nash.
Watch the Talk with Christien Meindertsma