From 28 April to 15 May 2011 designSALON/, in collaboration with Organisation in Design, presents the Design Route in Amsterdam. Showcasing the work of 25 designers, all of whom exhibited at the Milan Furniture Fair recently, designSALON/ presents creative talent by displaying designs and works in museums, style rooms and other culturally inspiring locations in Amsterdam.
Launched in 2010, SALON/ is the private initiative of Gijs Stork, Manon Schaap and Cathal Mckee that aims to connect fashion, design and art by presenting it to the public on an inspiring stage and encouraging discussion about it.
Hosted at locations that include the Museum van Loon, Moooi, Magna Plaza, Droog and the Museum Geelvinck, designSALON/ 2011 features the work of Dirk van der Kooij, Ineke Hans, Marcel Wanders, Stefano Giovanni, Laikingland, Studio Drift and more.
The organisers explain that "SALON/ creates a dialogue between designer and public, between space and cultural event, and the cross pollination between different disciplines".
Watch the Trailer with Stefano Giovannoni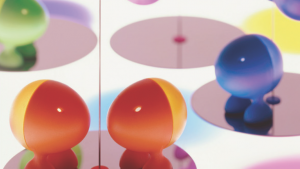 Trailers
• Duration: 00:01:22
•
9 Jul 15