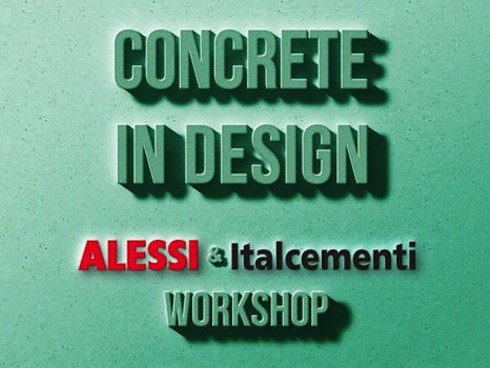 "Concrete in Design" competition by Alessi.
Following on the success of Alessi's online competition "Alessi in Love" earlier this year, the Italian design factory has launched a new competition, "Concrete in Design".
"Concrete in Design" is a contest dedicated to all creatives interested in researching and experimenting to create a new design highlighting the properties of i.design EFFIX. This mortar was specifically studied and conceived for addressing the decorative and style needs in the world of design.
The competition is an initiative sponsored by Italcementi in collaboration with Alessi and calls for the design of a decorative centrepiece made using i.design EFFIX. For the decoration of the object, creatives are encouraged to employ texture, graphics, patterns and other relevant aesthetic properties. An important part of the brief is that the object must be designed for both indoor and outdoor use, making it versatile and of appeal to a broader audience.
The chosen designer will attend a workshop organised by LPWK Design Studio at i.lab, the new Italcementi research and innovation research centre, where the project submitted for the contest will be further studied and fine-tuned in order to introduce a new product into a future Alessi collection.
See more information on "Concrete in Design" here.
Watch the Talk with Alberto Alessi