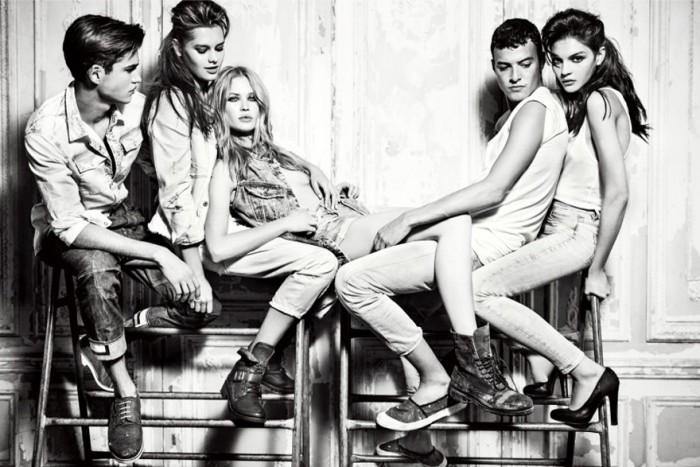 G-Star Raw's latest campaign targets a female audience
G-Star Raw is preparing to launch a marketing push to engage female consumers with the brand, an audience which largely has "no comprehension" of the denim retailer's products.The new campaign, featuring images captured by photographer Ellen von Unwerth, were shot in black and white to reflect a "raw elegance" and will launch simultaneously next month with new pocket designs on G-Star Raw women's jeans.
Speaking to The Drum at the Indaba Design Festival in Cape Town, global brand director Shubhankar Ray said the marketing push, which will play out on social media, marks a new direction for the brand."It's a change from what we've historically done," he said. "It's much younger, much more fun. Sexy is such a terrible word but [it is] something a bit lighter and sexier and not so heavy as the campaign we previously shot."
The aim of the campaign is to close the gender gap at G-Star where womenswear sales remain less than a third of the business. Ray said he hopes to shine "a different perspective" on the brand to entice women who "don't know G-Star's breadth of fits".
"There's no comprehension of G-Star's design handwriting particularly for women," he said. "It's quite a masculine, industrial brand and so it doesn't easily translate to women. The new product features a range of fits where the positioning of the pockets have been moved around to change how the shape of a woman's bottom looks.
Ray is keen to "create a dialogue" with the campaign, which will feature the hashtags #tight or #wide to create a debate about the best shape.
"Hopefully this will stimulate a dialogue," commented Ray. "Eventually you want the designer's adaptation of the women's jean to be in that dialogue."
Over time as the campaign gains momentum Ray said G-Star Raw will look to have its various designers reply directly to consumers to advise the best pair of jeans for their body type.
Watch the Trailer with Shubhankar Ray
Trailers
• Duration: 00:02:09
•
11 Jun 15