Crystal Birch's sparkle shines through her work from the minute you meet to the actual point when you encounter her work as a hat designer.
Her company The Real Crystal Birch has been specialising in unique wearable art headpieces for just over 10 years.
"Hats are a thing people see immediately when they look at you. It's a conversation starter. It's a dot on the I," says the Pretoria-born designer.
It was her deep love for fashion that first attracted her towards a career in styling where she worked with brands like Coca-Cola, Nikon and Mercedez Benz. She then moved to London to study millinery. This was followed by an apprenticeship with bespoke hat designer, Piers Atkinson.
"It's always been my signature thing to put something on people's heads. So people would book me on a job and would ask me to make the hat as well," she says when asked about her earliest memory of working with headpieces.
Watch the whole interview below:
Design Indaba first met Birch in 2006 when she was chosen to exhibit as part of the Design Indaba Emerging Creatives programme.
The programme, presented in collaboration with the Department of Arts and Culture, was started in 2005 to provide support and mentoring for South Africa's future designers.
Of her experience on the programme, she said: "My mind was blown by how many creatives there are and how many ways people are thinking differently. I just feel like I found a community."
She was invited back to Design Indaba this year where she exhibited as part of our Capsule Collection. The collection included limited edition items from Design Indaba collaborators and former Design Indaba Emerging Creatives.
The hats she made sold out on the first day of our three-day conference.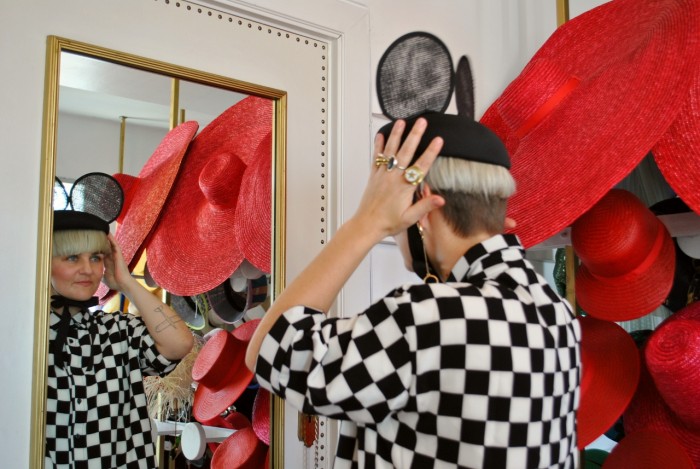 Birch, who is now the creative director at Parisian Milliners in Woodstock, says what she loves most about her new role is that she gets to learn from 85-year-old milliner, Harry Faktor.
His family founded the company in 1936.
"I have the privilege to not only resuscitate an older factory but learn from the person whose family started it," says Birch.
Applications for the 2020 Design Indaba Emerging Creatives programme are now open! APPLY NOW!
Read more:
Mzukisi Mbane's imprint on African fashion
Primrose Chimhanda on nature as inspiration for her textile designs
Durban students initiate a space to foster more interaction between students