Design Indaba Festival 2019 was host to the official launch of the IKEA Överallt collection, a project that merges modern Africa with Scandinavian design. It was three years ago at the same event that Design Indaba would begin the process of bringing together designers from across the continent to work alongside in-house IKEA designers to realise the collection.
With the express intention of producing items that celebrate everyday rituals and embrace a sense of building bridges as opposed to walls, the limited edition range encourages openness, curiosity, sharing.
"Working with an eclectic group of top level creatives across great distances gave us new perspectives on what you can achieve if you dare to listen, stay open and set a clear direction together," says Mathias Worbin, Creative Leader at IKEA.
"I learned from this journey to be even more curious and embrace diversity, because that way you will find the things that are truly interesting and relevant for all. The fun funnel works!"
Spanning homeware, sustainable fashion and furniture, these are the results of the cross-continental collaboration, and the designers behind them:
Cape Town-based designers Sindiso Khumalo and Renee Rossouw worked together to dream up a textile that merges their signature styles. Inspired by the Zulu and Ndebele tribes and harking back to nature, the final product is bold, bright and playful.
"Throughout the design process it's been interesting seeing how many more similarities we have than differences, even when our approaches are opposites," says Khumalo.
Mariam Hazem and Hend Riad are the women behind Reform Studio. They founded their brand alongside creating a new material that uses discarded chips packets and other waste as its base, giving it a subtly shimmering finish.
For the collection they used this technique to create the Överallt tote bag, a carpet and scatter pillows.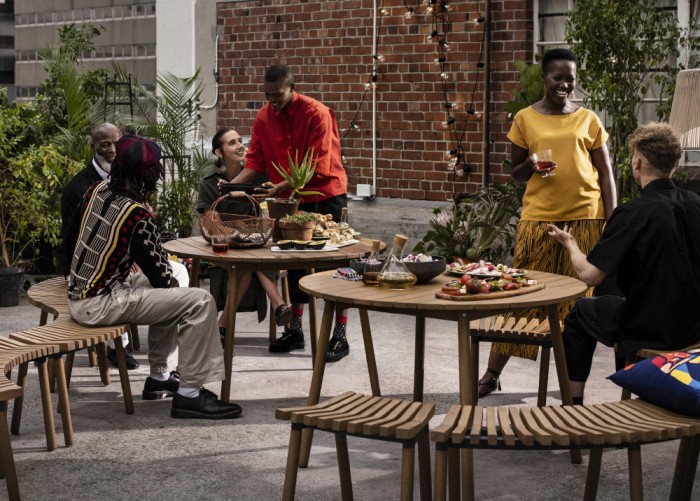 Studio Propolis, founded by Kenyan Bethan Rayner and Naeem Biviji, expand on the idea of sharing in both their large furniture items and smaller homeware items. The round Överallt table invites people to gather around conversation and food while the accompanying benches take inspiration from the Kenyan ritual of bringing your own chair to engage.
"We are interested in ideas that are not only good for Africa but may be relevant anywhere," say the wife and husband duo.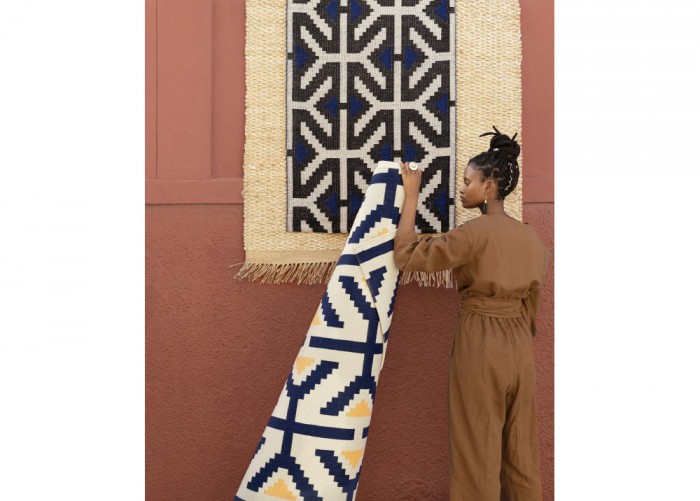 Former Emerging Creative and Design Indaba alumnus Laduma Ngxokolo contribution to the collection took the form of carpets in the signature Xhosa-inspired geometric prints his brand has become known for.
Maxhosa specialises in fashion knitwear items this was an interesting means by which the South African designer explored his signature style in different applications.
"The patterns are inspired by where I come from, and by the journeys I've made. I hope it will bring comfort and pride to people," he says.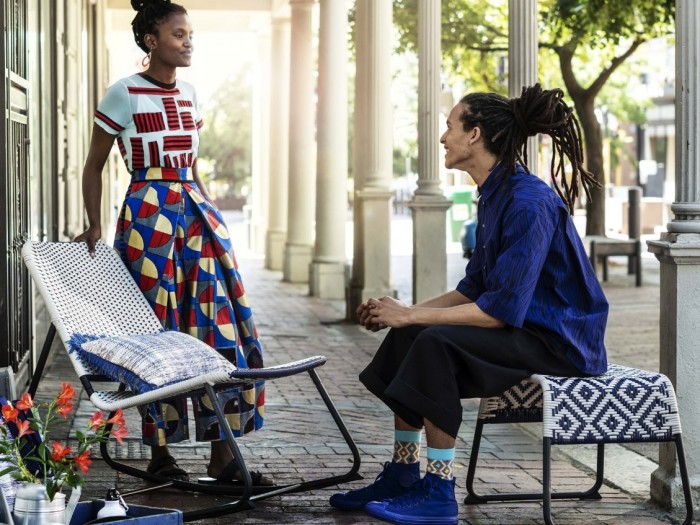 Taking his cue from the speed at which we're moving through our lifestyles today, Bibi Seck looked to his childhood growing up in Senegal. It is in his home country where he says there is a more reflective attitude towards time.
This was translated in the form of a rocking chair, incorporating a metal structure and woven elements, which he's implemented often in his body of work.
On the importance of a project like this, Seck said: "This is how design makes the world smaller and brings people from different cultures closer together."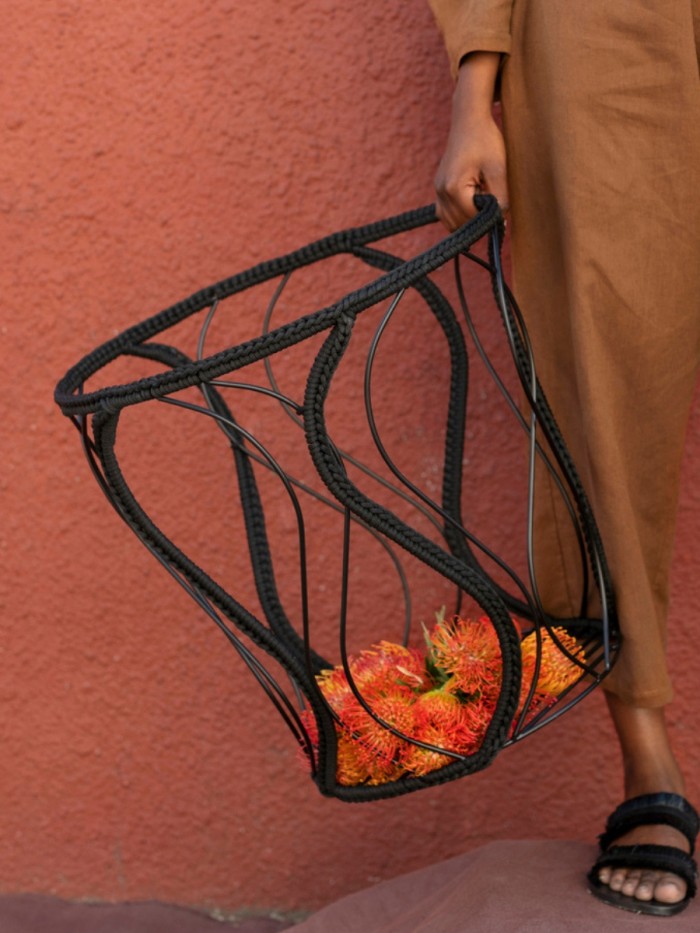 Fellow Senegalese fashion designer Selly Raby Kane took her inspiration from hair braiding rituals practiced across so many African regions and beyond. One look at the Överallt baskets and this influence is clear.
"These baskets are mainly inspired by the ritual of hair braiding. It's this shared moment when your head either ends up on a family member's lap for hours and hours, or you lean back in a chair in a cool salon, listening to the latest Dakar and foreign pop," explains Raby Kane.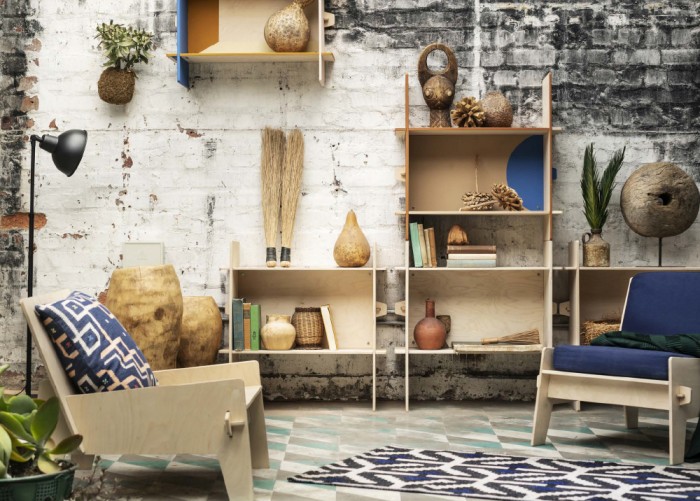 Ikea itself has long been associated with stylish furniture that is easy to self-assemble at home. Architect Issa Diabate, who comes from the Ivory Coast, had also been working on a chair that wouldn't require screws and glues, an idea he expanded on for the Överallt collection.
The chair and shelves he designed are made from plywood and he hopes its simple, clean lines will encourage people to make it their own in different ways.
Överallt is expected to hit IKEA stores worldwide in May this year.
Read more about the designers:
Sindiso Khumalo on the love affair with ancestry in her textiles
Renee Rossouw on finding her own identity through design
Laduma Ngxokolo on his Xhosa fashion line
Studio Propolis on beautiful designs under tough constraints
Selly Raby Kane on otherworldly fashion in Dakar
Issa Diabate on designing the future of urban Africa
Ayse Birsel and Bibi Seck on the different stages of product design
Watch the Talk with Issa Diabaté