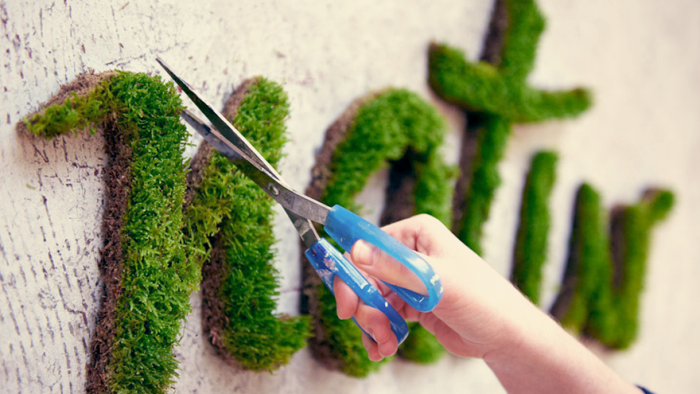 Anna Garforth is a designer based in East London, England with a unique approach to her craft. She is currently a member of The Plant, a design firm that specialises in brand identity and digital media. Undefined by a single medium, Garforth integrates typography and organic matter in unconventional spaces to create a new kind of living art.
Perhaps demonstrating Garforth's approach most clearly are her plant-based graffiti artworks which are the results of a number of individual design projects. She creates carefully sculpted vertical garden designs as living art. While a few cans of spray paint will get your message across more speedily, could Garforth's topiary typography herald in a new age of mossy, oxygen-producing street art?
The growth, sprouting of flowers and the grooming required to keep these grass sculptures in shape form part of their conceptual impetus as living, breathing designs. Speaking to DesignBoom, Garforth explains that she was inspired by the earthy moss that crept over different headstones at a graveyard that caught her eye while on holiday.
"I was fascinated by the beautiful script of moss that covers the grave stones. One stone had moss growing inside the carved-out letters and it looked amazing. I collected moss from the surrounding gravestones and started to experiment and moss typography was born!" says Garforth, "I enjoy the tactility of working with organic mediums and learning how to craft it into something else… but a computer is never far behind. Mixing technology with the handmade makes for a great synthesis. Often one can enhance the other."