An exhibition called The Book of HOV is an homage to a native Brooklynite born Shawn Corey Carter, and his influence on culture, music, business and social justice. Better known to the world as Jay-Z, he would often refer to himself as 'the god of rap', or 'Hov', a shortening of a play on his name, 'Jay-Hova', sounding similar to 'Jehovah'.
The free exhibition, extending over two floors of the Art Deco Brooklyn Public Library, not far from the Marcy housing projects where Jay-Z was raised, includes recordings, clothing, awards artefacts from his career, audio tours and tons of video. The exhibit is divided into seven distinct zones, each inspired by lyrics or phrases from Jay-Z's songs, such as 'Hov Did That', 'So Fly' and 'Already A Work of Art'.
Lyrics from his songs 'Sweet' and 'Encore' are splashed across the building's façade, which is designed to look like an open book, alongside quotes from Jay-Z himself, while a blue LED cube plays songs from the rapper's career as a greeting to fans.
Inside, visitors can marvel at noteworthy artefacts, including American artist Daniel Arsham's 'Hov's Hands' (2023), a sculpture crafted from Jay-Z's own hands forming the iconic diamond-shaped symbol of the music mogul's Roc Nation label, and an array of framed multi-platinum CDs, autographed footballs and master recordings.
Over and above the exhibits, visitors can head to a library of turntables to play vinyl studio samples used in Jay-Z's music, and a lending library where they can check out one of 300 books from his own personal collection.
The entire retrospective was secretly assembled by the library, the musician's Roc Nation enterprise, General Idea agency, and Bruce and Shelley Rodgers, the producers behind the Emmy-nominated 2023 Rihanna Super Bowl Halftime show, which Jay-Z co-directed. Jay-Z saw the exhibition for the first time at its opening event.
The Book of HOV is part of New York's 50th-anniversary celebrations of hip-hop. A party in the Bronx on 11 August 1973 is widely considered to have been the birth of hip-hop, and the art form has since touched every corner of the world and evolved into one of the most significant cultural forces today.
Check out an interactive online version of the exhibition here https://www.thebookofhov.com/.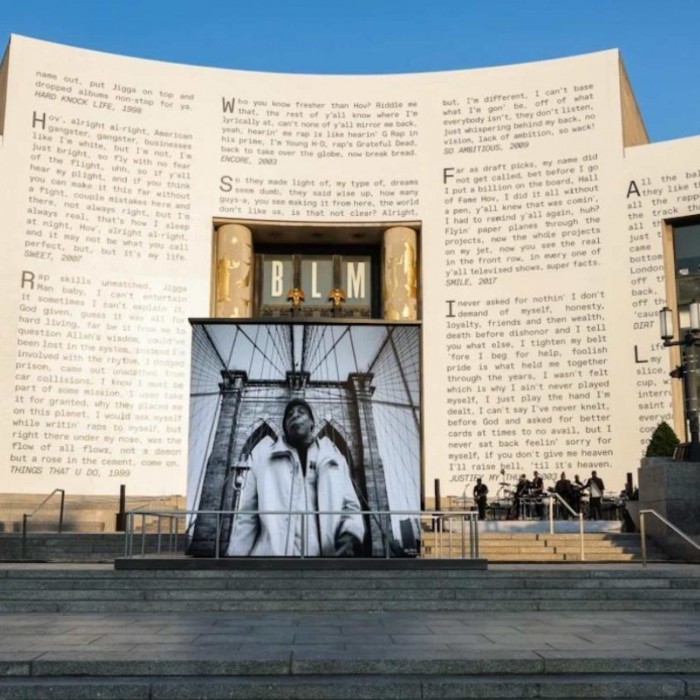 Read more
Photographs: Kevin Manzur, Amir Hamja.