The Bosjes Chapel might be the next reason why Instagrammers might soon be hopping from Cape Town to a wine farm about two hours out of town. This is because the chapel, situated on a wine farm outside of Worcester, is something out of the ordinary.
Designed to look like a majestic bird taking to the air, the attention-grabbing design by London-based architecture group, Steyn Studio, was inspired by a Bible verse. It has made the shortlist for ArchDaily's 2018 Building of the Year Award.
According to head designer of the project Coetzee Steyn, the owners wanted the architecture to reflect a specific verse, namely, Psalm 36:7 – "How precious, O God, is your constant love! We find protection under the shadow of your wings."
The Bosjes compound comprises a number of buildings of which the chapel is the centrepiece, reflecting the "manor house with surrounding outbuildings" approach which was a popular way to configure farmhouses in the area traditionally. Construction of the Bosjes Chapel started in 2011 and it was completed in 2016.
The chapel is flanked by a restaurant named Bosjes Kombuis, also designed by Steyn Studio, and the two in combination is used as a scenic wedding venue, function hall and wine tasting location.
While the Bosjes Kombuis and its dining area are clearly a homage to the shape of traditional chapels with pointed ceilings and linear wooden slats that draw the eye upwards, the actual Bosjes Chapel seems more like something out of a science fiction setting. The distinctive roof is a pearly white concrete structure with sweeping, futuristic curves.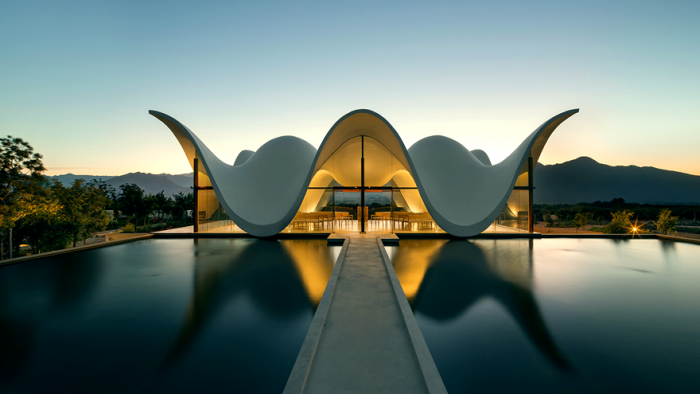 The architecture of the chapel is meant to become the place of haven and tranquillity as described in scripture. Inside, the designers adopted a minimal approach. Interior furniture and features of the building have slim brass and oak finishes with little adornment otherwise. It was a deliberate choice on behalf of the designers to give the space a sensible, dressed-down feel to leave the curvilinear look of the chapel ceiling foremost in the design.