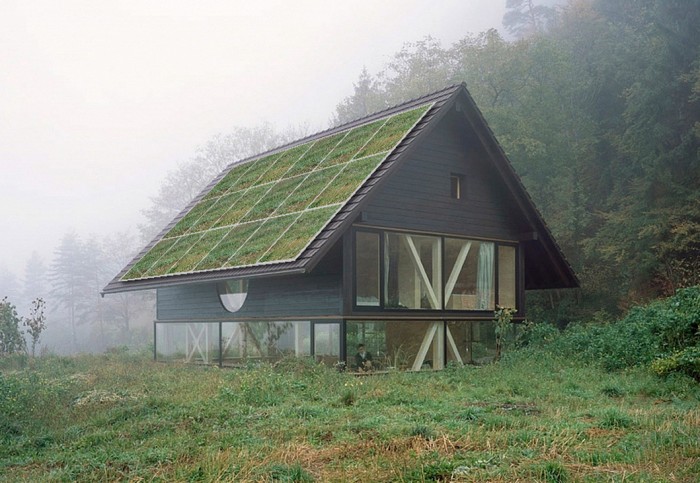 In just 60 minutes the sun produces enough energy to power the earth for a whole year. Astonishing isn't it? So, why does solar power only make up approximately 1 per cent of the world's global energy production then? How can mankind make massive strides to convert the planet to 100 per cent clean energy? These were some of the questions that two MIT students reflected on while watering the campus grass one day, "What would the world look like if solar energy were truly beautiful". The short answer they arrived at: Elegantly marry form and function for every surface of every building. They then set out on a clean energy mission conducting research and enlisting a PhD candidate at MIT's Photovoltaic Research Lab to produce aesthetically appealing designs and an award-winning Italian artist to achieve the desired result.
SolarSkin seamlessly blends into your roof meaning that the solar panels could resemble slate shingles, grass, or even clay tiles – depending on your roof covering. A truly elegant design with revolutionary technologies that still offers an energy-efficient solution.
At the core of the innovative SolarSkin panels is a patent-pending approach to the integration of durable art or graphics while not compromising on the renewable energy aspect. The end result is an optimised energy distribution in any shade or pattern. In 2015 Sistine Solar was awarded one-million US dollars from the US Department of Energy's SunShot Initiative to further unroll and develop the SolarSkin panels. "We envision a world where solar energy is iconic and inspirational," said the Sistine Solar team. And, it appears that the world is sitting up and quietly taking notice. In 2013, Sistine Solar won the MIT Clean Energy Prize in Renewable Energy and blue-chip clients such as Starwood Hotels and Resorts and Microsoft have already expressed a keen interest in the SolarSkin panels.
The artfully designed SolarSkin panels boast an efficiency of 15 to 17 per cent – a noteworthy start. Said the team on their website, "We at Sistine Solar are on a mission to showcase the innate beauty of solar energy through stunning design, captivating the world's imagination and ushering in the era of clean energy. We passionately believe that by designing beautiful products that generate electricity more elegantly, we can capture the hearts and minds of the world, driving the mass adoption of clean energy."
A clean future
Sistine Solar sees beautiful design that has a huge capacity to inspire cleaner living for every person across all walks of life. They aim to power up beyond the challenges of ordinary solar powered design.