Alejandro Aravena has done it again. As the executive director at Elemental, the award-winning Chilean architect has added yet another trophy to his repertoire. This time London's Design Museum has recognised his Anacleto Angelini UC Innovation Centre in Chile with its industry-renowned Design of the Year Award in architecture.
Designing structures that are underscored by a social, environmental and contextual conscience, Elemental's architecture is recognised by its signature style, which could be described as pragmatic and unaffected. The acclaimed UC Innovation Centre, built on the Pontifical Catholic University of Chile campus, is no exception. Its pared-down concrete monumentalism stands out amongst Santiago's distinctive landscape of futuristic skyscrapers, colonial city centre and snow-capped Andes mountains.
Standing 11 stories high, the building demands attention. From the outside, the concrete tower is inverted with open recessions and protruding plazas that almost resemble a Jenga tower, mid-play. Inside lies a heart of glass, as transparent windows, doors and walls hide within the concrete to not only provide natural ventilation and light, but to reduce radiation levels as well.
Commanding yet tranquil, primitive yet pioneering in its originality, the UC Innovation Centre refuses to be pigeonholed as merely one thing. Aravena envisioned his design to transcend fleeting modern trends and be timeless in its character.
Picked out of a group of strong contenders, such as Sydney's One Central Park, the Chilean design is described by London's Design Museum as "an open and eco-friendly university building".
Watch the Talk with Alejandro Aravena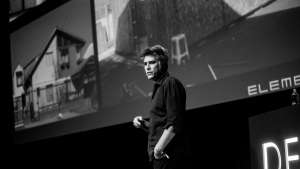 Talks
• Duration: 00:53:50
•
9 Jul 18