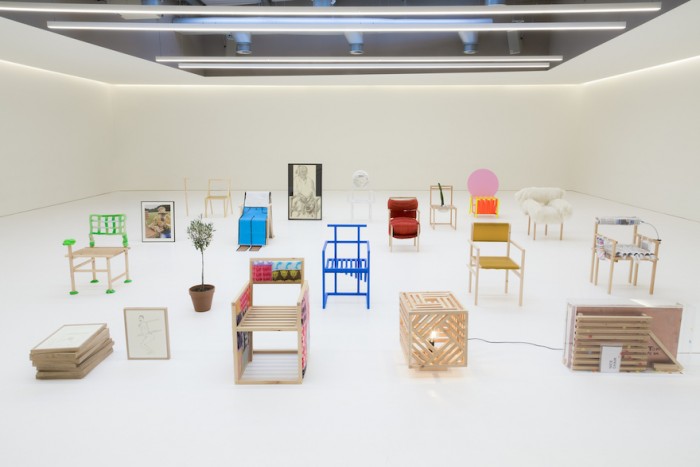 19 Chairs is a project that was seeded in 2020 as a response to the need for charity interventions prompted by COVID-19. The project sees a simple wooden chair reinvented by artists and makers. Initiated by London designers and brothers Tom and Will Butterfield, the project began with the fraternal duo creating 19 simple wooden chairs in 19 days using only 27 x 27millimetre square section timber and wood screws.
"We became drawn to and inspired by the stable, sturdy and decisively not 'unprecedented'. We eventually found solace in the most predictable and humble of objects, the chair. We learnt two things: the bare essentials are all you need to create a unified collection… and our 27 Times Table," says Tom.
The next phase saw the chairs being sent off to 19 innovators, designers, makers and artists for reinvention. The goal was to auction off these soon-to-be-transformed pieces in aid of raising funds for charity. All proceeds will be split equally between Age UK, a charity for the elderly, and Resourcing Racial Justice. Both charities are dedicated to supporting communities disproportionately affected by the COVID-19 pandemic.
Among the all-star lineup are a few former Design Indaba Speakers, including set and experiential designer extraordinaire Es Devlin, product design icon Tom Dixon and installation maestro Morag Myerscough. The remaining designers and creatives are Harry Grundy, Max Siedentopf, Benjamin Edgar, James Shaw, Antony Williams, Wilfrid Wood, Isabel + Helen, Brandon Carlton, Sabine Marcelis, Jean Jullien, Helmut Smits, Ashley Williams, Henry Gorse, Joe Lycett, Emma Brewin and Nicole McLaughlin.
"We asked them to reinvent, reimagine or redesign their chair with an older person in mind," says Tom. Some participants have taken the brief literally. Gorse has clad his chair in Werther's Original sweets, which many English people associate with visits to their grandparents. Others have taken a more conceptual or humorous approach. London-based Harry Grundy's piece, for instance, has a cactus installed in the seat to encourage less sitting.
Dixon adapted his piece for one specific person – retired astronaut Buzz Aldrin. Panelling the backrest, he clad the chair in tin foil and aluminium tape as a nod to Apollo 12's Lunar Module Intrepid. Devlin took hers apart and turned it into a revolving lamp, an homage to her love of light play and kinetic art. While Myerscough's is instantly recognisable for her hallmark colour and playfulness.
The final stages of the project are the open-bid auction and exhibition. All 19 Chairs were reunited in April 2021 and can be viewed together at Protein Studios in Shoreditch, London from 20 to 23 May 2021.
The online auction runs until 31 May 2021. Each customised chair is listed, allowing anyone with an internet connection to acquire a one-of-a-kind collectable. Bidding will close on 31 May 2021.
Learn more:
Visit 19chairs.co.uk.
A new public pavilion by Es Devlin creates a glimpse into the future of electric travel.
Es Devlin on creating visual voices for stars like Kanye West, Beyonce and Adele.
Tom Dixon wins 2021 Wallpaper* Design Award.
Tom Dixon works across lighting, furniture as well as accessories.
Morag Myerscough on transforming spaces with colour and embracing the unknown.
Morag Myerscough turns concrete jungles into spaces of belonging.
Credits:
Alecio Ferrari