Faith XLVII's career as a street artist spans 15 years and her work adorns walls in major cities around the world. Since then her practice has evolved from the street and into the studio where she works across different mediums including graphite, spray paint, oil paint, ink, photography and collage.
A believer in the value of collaboration, the artist used her Design Indaba Conference 2019 talk to speak about how it's affected her practice and the immense power it holds.
"I moved to Los Angeles two years ago and this happened during a three year period of turmoil in my life. It was as if the floorboards of existence were shifting and creaking beneath me. Unseen turbulent forces charged and furiously defeated me. A form of psychological exhaustion, anxiety, apathy and depression took hold."
She continued: "The growing sense of separatism and conservatism in the political climate, our disregard for nature, for my own inner struggle of maintaining the effort needed to function, excel and constantly be inspired. I scratched the surface of the night and the void swallowed me. During this dark night of the soul, part of me died."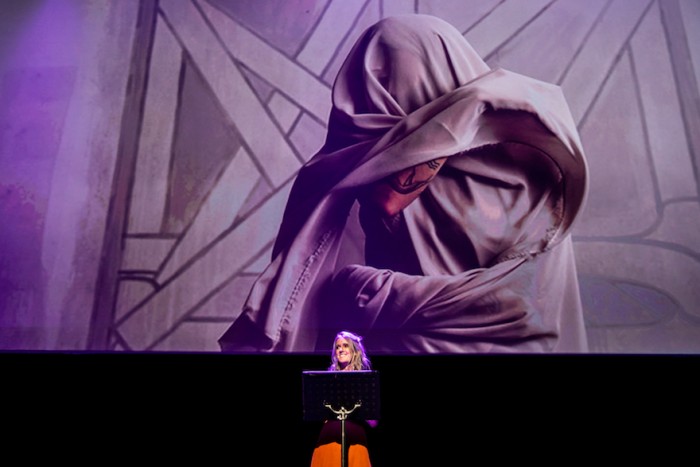 It was last year after Faith XLVII completed a project in Moscow that she found herself on a raw island where she was forced to dig deep. Gradually she began to find power deep within.
From these experiences, and others, she learned the importance of other people in her artistic practice, people who have "been like mirrors and teachers" to her. The artist says that these people have also given depth and meaning to her life.
"Entering into collaborations with key people in my life has helped me rediscover my root inspiration. I see my artistic path as an integral part of my artistic journey," she says.
She took the audience through her collaborations with other artists including Dane Dodds, Inka Kendzia, Simone Rademeyer, Imraan Christian and more.
Towards the end of her talk she also debuted Aurum, a collaborative performance between the artist and Inka Kendzia and Pure. The project was first launched in Berlin with Manthe Ribane.
For the South African debut of the work, she worked with Pure (above) instead of Ribane: "This week we've been working with Pure, who has embodied and added her own voice to Aurum. And we're very happy to bring this to home soil."
Watch the full talk below:
More Design Indaba 2019 talks:
Kagiso Lediga on the power and importance of telling your own story
Wanuri Kahiu on her banned film Rafiki and why the need to also hold audiences accountable
Watch the Talk with Faith XLVII