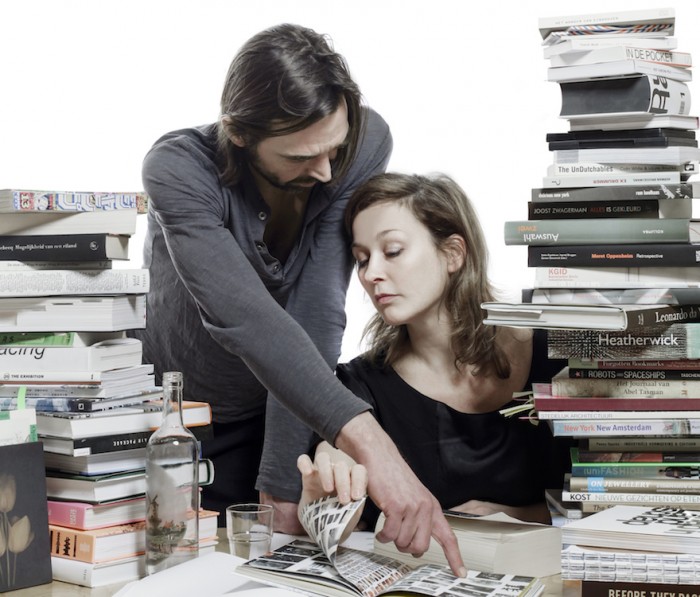 "It's a very tricky business developing an idea into something that is real," says Dutch designer Miriam van der Lubbe, who together with her partner, Niels van Eijk, heads up Van Eijk & Van der Lubbe. The make-or-break criteria for the Geldrop-based designers, whose home-based studio is set in a converted restaurant, is whether their work questions the user.
Recently the studio created Experience in Motion, a concept car for the future in collaboration with luxury car manufacturer Volvo. Their design looked at cars becoming a social domain for the traveller and resulted in a self-driving car with new features that make it one of the safest cars yet.
We chatted to van der Lubbe, cofounder of Dutch Design Week, about the changing landscape of Dutch design and the rewards and frustrations of being a designer.
What is your design mission?
For us, it doesn't really matter what topic we are working on, but that an idea we want to achieve resonates with those involved in the project. I think currently there is a new way of looking at design. A project can be big or small, but it needs to question the user; it needs to provide some kind of experience for whomever it is intended. So basically, our mission is to add extra value in all of our projects.
You are enthusiastic advocates of Dutch design. What do you see as its defining characteristics?

It's difficult to define Dutch design because it changes a lot. I believe at the moment Dutch designers are very experimental, while rejecting conformist ways of working. I also believe that Dutch design is expanding into the realm of social design and we, as designers, are very good at adding real value to everyday living. There is also a growing awareness of young designers and their needs, leading established designers to make use of young talent by either buying their products or inviting them to collaborate.
What is the most important element in your design process?
Creating engaging experiences is key. If a design does not engage its user then it isn't right. There are so many products out in the world and so much production happening on a daily basis, that I think a design shouldn't exist unless it has an added value for its user. You need to make sure your design makes sense; otherwise you just shouldn't design it.
What is the most rewarding thing about being a designer?
Personally for me the most rewarding thing about being a designer is seeing your client's eyes light up. When I can see that we are triggering thought and challenging our clients then I am at my happiest.
What is the most frustrating thing about being a designer?
When people don't see the full potential of a design and therefore shut it down. It's a very tricky business developing an idea into something that is real. When this process is cut short I find it extremely frustrating.
Tell us about your partnership with Niels.
He is my partner in work and in love. We were introduced to each other while studying at the Design Academy Eindhoven. When we first met we were convinced that we would never work together because we are such different people. But as time passed, we started asking each other for guidance on our individual projects. We began valuing each other's opinions and input so much that we started working together. The fact that we are so different is crucial to our design studio. If we are not able to convince each other of a project then we know that it is not yet what it could or should be.
How do you juggle running a successful company with being creative?
It's a very difficult task. I think the most important thing for us was deciding never to be a huge company. By staying small we are able to be selective about our clients and also see and interact with them 80% of the time. We sometimes find that we spend too long on a project, which is difficult for the business side of things, but we are aware of this and working on it. I think the tension between being a creative and running a successful business is the hardest part of our job.
Van Eijk & Van der Lubbe will be speaking at Design Indaba Conference 2016. Book now.
Watch the Talk with Van Eijk & Van der Lubbe
Talks
• Duration: 00:35:31
•
22 Nov 16