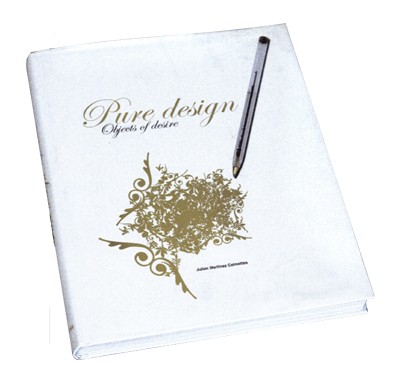 "Pure design proposes a cocktail of sensations," writes author Julien Martinez Calmettes in the introduction to his Pure Design: Objects of Desire. Published by Monsa, this collection examines industrial design concepts that serve new functions, as well as some that improve on existing uses.

The ingenious design ideas are brought to life in simple and inventive ways to create fun and striking design objects. The selected objects explore the diversity of design, its technological progression and broader aesthetic trends, and conjure up pure emotional responses, delighting in their creative expression.

The designs are by and large uncluttered, utilising clean lines and often adventurous notions and abstract shapes. Pieces that have incorporated detail do so on an integral level, not purely decorative in nature but actually of practical value to the piece. Some of the objects blur the distinction between what is considered design and what is classified as art, offering a fresh perspective on visual interpretation.

The technology section in particular presents some stunningly pure and pleasing design innovations in electronics, with room for plenty more. Also, the jewellery pieces in the precious section are particularly bold and eye-catching, taking the bling trend to the next level. My personal favourite is any font-loving princess's dream – a diamond tiara consisting of the names of the marrying couple "Maxima and Willem-Alexander" in more than 100 different fonts.

Pure Design is printed on a tactile, silky paper, tastefully presenting works that reveal a wide array of contemporary design achievements by various international designers, both emerging and established. The layout is spacious and light, drawing one's focus to the interesting and alluring pieces featured in its pages.