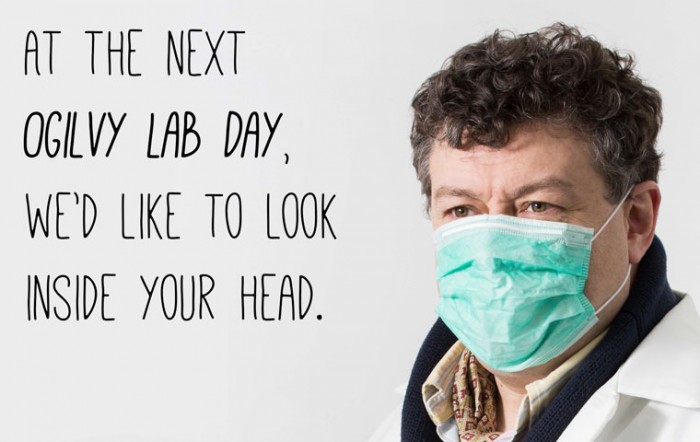 Ogilvy Labs
It must be considered that there is nothing more difficult to carry out, nor more doubtful of success, nor more dangerous to handle, than to initiate a new order of things. – Niccolò Machiavelli, The Prince
Nicole Yershon has what many in the advertising world would consider the dream job. Ogilvy (London) hired her 14 years ago to "bring Ogilvy into the 21st century". She went on to found the Ogilvy & Mather UK Group Digital Innovation Lab (Ogilvy Labs) and runs the department as an experimental, self-funded arm of Ogilvy that acts as a force unto itself, with no clients – bar Ogilvy – to answer to.
"Technology is changing the future," says Yershon, and "to change course we need to see what's possible. The labs are built to explore and break new ground."
Director of innovative solutions at Ogilvy (London), Yershon calls herself an "intrepreneur". Just as an entrepreneur develops new ideas and works with innovative technologies, Yershon does just that for Ogilvy – with the benefit of scale: a budget and a powerful brand to back her experiments, ultimately giving her the freedom to test and learn.
The term "intrepreneur" hasn't made it into the dictionary but has been coined by various sources. It refers to someone with the business savvy of an entrepreneur who opts to stay within a powerful organisation, as opposed to creating one, because of the perks of the environment and its resources. One of the ten commandments of intrepreneurs is "it's easier to ask for forgiveness than to ask for permission". Intrepreneurs tend to fly under the radar and go against the corporate grain but often ultimately reap major success for the company – usually despite it, if not because of it.
Yershon operates in this way.
Her Twitter profile reads, "as director innovations at ogilvy london, i get shit done" [sic].
And her mantra at Ogilvy Labs is "educate, inspire, innovate".
Innovation is key. As Rob Stokes has pointed out, a major downfall of companies can be their lack of innovation, often because of their size, legacy and inflexible corporate systems. So to have an independent division focussing on innovation could very well be a way around this Achilles' heel.
Yershon keeps the labs division lean, functioning as an ideas and back-office hub whose core focus is research and development. She gets "the Ogilvy people" to work on implementation, using their various expertise to bring her team's ideas to life. Her R&D projects are more often than not extra-curricular for Ogilvy staff, and so she's learnt to work with "the hunters" not "the farmers".
"Not everyone is interested in this kind of stuff," says Yershon, "and there are people that are happy to just do the day job. I'm not trying to convert them. I'm trying to convert the hunters."
Because of her department's independence and, significantly, the fact that it rarely has its own revenue, KPI's are crucial to measuring success. Yershon's "6 R's" are her KPI's: revenue, reputation, recruitment, retention, relationships and responsibility. In this instance revenue is indirect as her projects often form the basis for bigger campaigns for Ogilvy clients, but it is nonetheless measurable and no less important for the company.
It's telling that some of Ogilvy's most successful campaigns emerge from the renegade projects she runs. An example is the campaign for Beyond Dark chocolate that originated with a "Measure of Pleasure" – a series of tests run by Ogilvy Labs to gauge how chocolate rates on people's pleasure scale. Ultimately, an experiment in R&D turned into a brilliant piece of content marketing for the brand, capturing how 21st-century marketing is more about storymaking than self-promotion.
Yershon's key takeouts for thriving as an intrepreneur based on her 16 years at Ogilvy Labs are as follows:
To have the freedom to test and learn R&D needs autonomy and budget

Define your measurement of success (with the 6 R's)

Collaboration and relationships are key

Get our of your comfort zone

If you can see it and touch it, it feels real

A little success leads to attention

The art of giving is worth mastering

Put money behind non-traditional advertising events

Educate, educate, educate (to avoid myopia and fear of change)

A successful company needs an 80/20 split – spending 20% of clients' money on R&D

Prove by doing

Hire hunters
Stay up to date with the latest technology trends with Ogilvy Labs' trend report app for iOS.
Nicole Yershon spoke at the Net Prophet conference in Cape Town in May 2014.