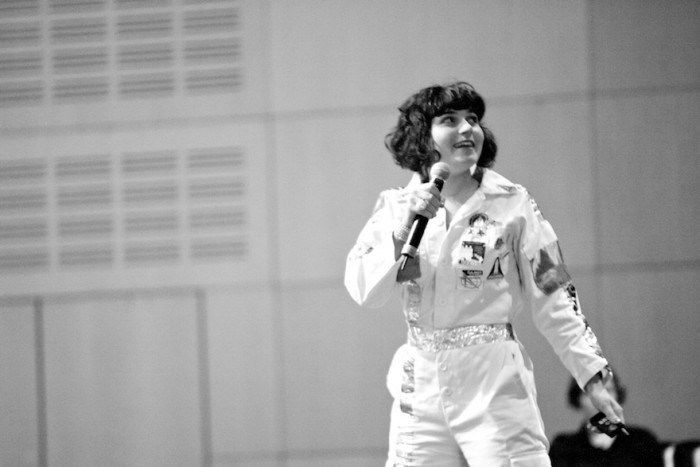 Nelly Ben Hayoun at Design Indaba 2011
You're becoming a Design Indaba regular - what do you think of our platform? What have your experiences been like at DI?
Design Indaba is simply unique. As a designer and keynote speaker I have had the opportunity to speak in a lot of places, they always have been welcoming to me too, but with Design Indaba it is different, unique, 'magical-fantastic' really is the world. Everything can happen at Design Indaba.
I have, like you mentioned, a real history with the platform.
The first time I got on the DI stage I was just two years after graduation from the Royal College of Art. My boyfriend at the time, Thomas Thwaites, (who made a toaster from scratch and now is trying to become a goat) got a book deal out of his talk the year before. I was real nervous and I knew I needed to try and find a way to overcome my anxiety in order to truly share my passion. So, I turned up on stage in my astronaut outfit. I don't think that Michael Beirut and Ravi [Design Indaba founder and CEO Ravi Naidoo] had been informed, and I will remember their surprised facial expression for as long as I will remember DI.
Before my talk, during the rehearsals, I became friends with the sound engineer. Together we tried variety of levels on the sound speakers in the room, in order to really give a bombastic blast to the audience.
So... when finally came the time of my presentation, and as I was walking in my astronaut outfit to the stage and introducing the audience to my project Super K Sonic Bouuum (that give you the experience of a sonic boom), I nearly burnt two of the main speakers out. That made legendary trumpeter Hugh Masekela laugh real hard. I remember his very distinctive laugh, coming from the first row. Close to him, a lady lost her top to the low frequencies of the speakers.
It was absolute chaos! hahahah! I have since stayed friends with Hugh Masekela and his manager Josh. I have seen them a few times after in London, and of course Michael and Ravi and all the team, who have always supported me and never doubt that the mad french astronaut will make it in space and back!
Then in 2013, I came back. At that point, I was just returning from NASA and doing the International Space Orchestra. An orchestra of space scientists who performed with the likes of Beck, Bobby Womack, Savages, Sigur Ros and many others. Again, I literally just finished the first round of the project and released a feature length film about it "The International Space Orchestra". At that point, unless you had seen the film, nobody believed that this, the International Space Orchestra, even existed. Nobody – not even my family – could believe that I actually did this thing.
Nobody that is, except DI and Ravi. Ravi, Michael and the DI team never doubted that this project was happening and they wanted to give me a platform to talk about it and show the film to the design and artistic community. So they invited me again to Design Indaba. They showed the film and after this, it went viral. The International Space Orchestra was recognised by my creative peers. And this was once again a very important moment for me and my studio. And I owe it 100 per cent to the team at DI.
What are you bringing to the stage this year?
This year, we are going 11 kilometres underwater and to the greatest depths of the universe. We are talking of an expedition at sea with Vikings and NASA, SETI Institute scientists. We are talking outer space colonisation, extremophiles and bacterias etc... with one of my studio's latest project: The Life, The Sea and the Space Viking. We have shot some of the scenes and have our collaborators joining on Skype and video formats. We are hoping to set sail this year and so hoping too that the creative community will help us make the next phase of the project happen.
Not only this, we have just launched a postgraduate underground university. The University of the Underground for the Willy Wonkas and Marie Curies of modern times, supporting deviance in creativity and challenging power structures in institution through the design of experiences. We will talk about it with some guests too!
What do you think of the word "impossible"?
Hahah! Nice question. Impossible can't exist without the word possible, that is what I think. Everything is possible if you really want to make it happen. We are all connected after all; that is the six degree of separation theory. Let's not forget what sociologist Stanley Milgram already proved in his small world experiment in 1967. Six degree, that is nothing! For each task and project, I just develop plans to unravel these six degrees and then here we are: On the road making the impossible happen!
What motivates you?
The fact that humanity is not eternal. Therefore, as a human, I only have a limited amount of time to pour these projects into the world and effectively modify power structures in institutions so that patriarchy does not exist anymore. So there's no time to be wasted, the task is endless.
I also believe that social dreaming can only be provided by culture, the arts, design and all other artistic forms. Social dreaming, social actions and critique in itself should become a human right.
So the experiences I design with my studios work at this level, social dreaming, social actions, performance of politics and democratisation of the institution.
Who inspires you?
Everything inspires me, everything. I literally eat life, like a real parasite I suck up our everyday and digest it.
I can get inspired by a fire extinguisher and spend two weeks learning about the technicality behind it, the main contractors etc....and make a project from it. I can get inspired by a love letter and make an expedition about it. It is a combination of things, never the same. They collage themselves and bring sense to the project.
Of course, this can't formulate itself into a meaningful outcome without the correct cultural references and acknowledgement of peers. So here comes the importance of learning, hard work, experimentation and education, tutors who guided me through my creative choices, family members (my grandparents, sister, mother ), role models like scientist Marie Curie and so many more.
Watch the Talk with Nelly Ben Hayoun
Talks
• Duration: 00:47:34
•
26 Jul 17