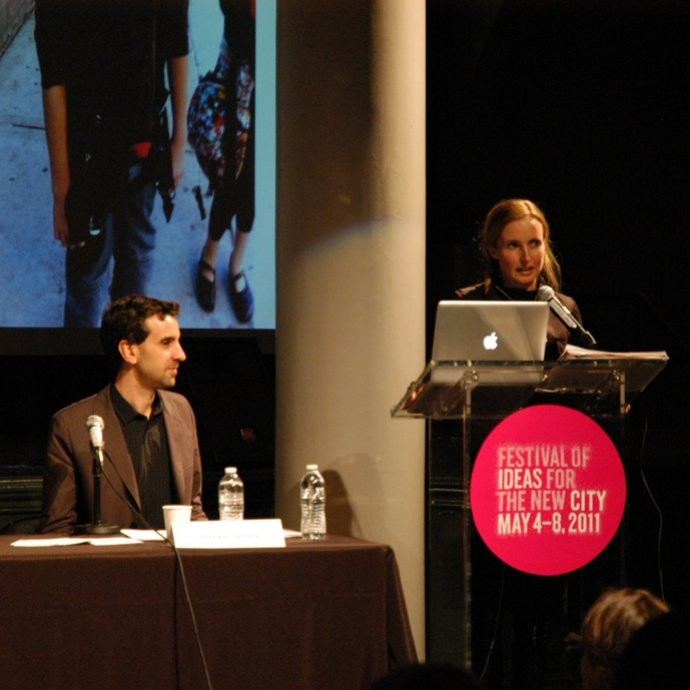 The Networked City, a panel discussion with Joseph Grima, Adam Greenfield, Natalie Jeremijenko, Anthony Townsend, McKenzie Wark.
Joseph Grima, editor-in-chief of Domus magazine and moderator for The Networked City started out the panel discussion on a positive note, complementing the Festival of Ideas conference as a networked city in itself. This panel discussion started off a bit more negative than previous talks, mainly looking to how technology is being used to collect data off products, which in this case is us humans.
Eye spy
Anthony Townsend, research director of the Institute for the Future, gave examples of technology as a city spy. He explained to the audience how Israel used what seemed to be American technology to hack into the nuclear power systems of Iran, stating that the "bugs in a smart city are debugging a century long project for Iran". In Beijing, the government is using 17 million cellphones to track traffic patterns.
Townsend stated that "a surveillance society is a smart city that becomes merely instruments of control". He ended on a more positive note, looking to the future of networked cities that "will be green, safe, convenient and possibly fun". He also showed technologies that support this idea, including a phone application that allows the user to track anything from potholes to parking spaces.
Babylon, re-imagined
McKenzie Wark, chair of culture and media studies and associate dean at the New School's Eugene Lang College, took us into new world appropriately titled "New New Babylon". Yes, that is not a typo. As we watched his video we read the scripts passing across the screen. "If you walk through a town that lies in ruin, then the first thing you naturally think of is building... when you rebuild you think if life will be the same or different?" Wark stated that New New Babylon is not a town planning project, but rather a way of thinking, of imagining or looking at things and at life."
Smart city
Adam Greenfield, managing director of Urbanscale, presented five keystone technologies in New York, Helsinki, Seoul, Barcelona and Tokyo. One project, which he called "prima facie unobjectable" was traffic sensor in Helsinki, Finland, that shines a bright blue LED to notify drivers during dark times that someone may be crossing the street. Greenfield stated that the technology "is local and is being used locally...not connected to any other systems".  In Seoul, Korea, a Nikon advertisement uses sensors to flash real lights from the cameras on their printed wall, giving the consumer a feeling of stardom. To me, the guy in the picture just felt interrupted. Greenfield said it is "a disrespectful and disruptive technology" and "lacks the element of social, as it is commercial".
A vending machine in Tokyo, Japan, incorporates a touchscreen with cameras embedded that is then hooked up to a facial recogniser which sees if you are male or female and estimates your age. That was a lot to absorb. With this information, it recommends a drink for what it thinks you would want. This is claimed to help with stocking efficiency. In general, Greenfield really gave good insight to what we do not know and how as we are still not affected. It is all changing the way we live everyday.
Urban health
Natalie Jeremijenko, associate professor in visual art/computer science/environmental studies at NYU talked about "health as a networked phenomenon". She has created a central clinic that, instead of consulting health problems, consults environmental health concerns. "Health is an environmental issue" and vice-versa, and how we make things can change this.
Jeremijenko's students at NYU document how one thing is made and post it for their final project to her website, titled How stuff is made and how it can change. She suggested that if every student around the world was required to document how one thing was made, "we could radically change how things are made".  Jeremijenko ended by stating that it is "not responsible consumers, but creative innovators" we need.