Design Indaba Emerging Creative for 2022, Riyaadh Ismail is the founder and creative director of Riyaadh's Yaad, a streetwear fashion house that focuses on inclusivity, culture, sustainability, and tailoring. The young designer also works as a freelance stylist, costume designer and creative director, and has worked with the likes of Pearl Thusi, AKA, Costa Titch and Kwesta. He tells Design Indaba how he got started, why he dislikes fast fashion, and who some of his key influences are.
1. You're a self-taught fashion designer – what drew you to fashion?
My journey into fashion – and my love for it – came out of nowhere. My childhood dream was to be a professional sportsman, and, up until the age of 14, that was the path I was on. When my parents divorced, my siblings and I moved in with my dad, who didn't have time to provide me with all the opportunities to pursue my dreams as he was too busy working and raising three children. I became depressed and started partying with older kids – but my years spent as a sportsman had taught me the importance of fashion and the confidence you get from what you wear.
During high school, I started researching brands associated with my style, like A Bathing Ape, Yeezy and 90s Nike. In grade 10, I learnt about resell culture and began reselling sneakers so I could afford the clothes and sneakers I desired. My grades were good, but I shocked my family by applying to study fashion design. My dad didn't think this was a viable option for me, so I was enrolled in a private university in Midrand so I could work in the corporate world. I was extremely depressed and often skipped lectures to watch YouTube interviews with designers like Issey Miyake and Rei Kawakubo, as well as artists like Takashi Murakami and Nigo, and sustainability enthusiasts like Sean Wotherspoon. I was obsessed with fashion history.
Towards the end of my second year, I began exploring and designing upcycled garments and accessories, using packaging and polyethylene plastics, then learning to screen-print, dye and manipulate fabrics. In December of my second year, I began having panic attacks and was diagnosed with anxiety disorder. I realised it was caused by never having had the ability to speak up about my dreams, even though they were all I thought about. I dropped out of university – my dad was sympathetic – and linked up with a friend, Luvolwethu Tokwe, who had started a brand called Cuffedboyzclub. Up until then, he had just designed T-shirts and hoodies, and wanted to move into complete garments, as did I.
We collaborated and created a menswear and womenswear corduroy two-piece made from upholstery because I loved the quality, and corduroy is my favourite material. I designed it on my sister's A3 notebook! We shot it, dropped it on Instagram, and watched as it blew up on South African social media. I was overjoyed because people were seeing my work and their reactions gave me the confidence to pursue my dreams. Lockdowns gave me to time to learn how to run a business and capitalise on the hype. The collaboration sold out in a month, and I used the money to do further research and kick-start my own luxury streetwear label.
2. You're also a freelance stylist, costume designer and creative director – tell us a bit more about this.
I never knew anything about styling, let alone directing and costume design. It was something I just found myself doing to fund my designs, and I fell in love with styling because it allowed me the ability to make someone else feel confident in their appearance. Directing allowed me to explain ideas, products and stories in visual form – to bring what I see in my head to something tangible.
Costume design was more unexpected. I had been commissioned through a friend to create a Halloween look for Pearl Thusi a week before a party. I accepted the job because it was a good opportunity for me to network – I didn't really have a clue about costume design. Within three days I created the sample, we had a fitting, and I remade the entire costume in 24 hours. Pearl loved it and I fell in love with the ability to bring to life a concept that seems impossible.
3. How do you define your fashion items, and how would you like them to be perceived?
I couldn't give a single definition for my designs because they're always developing, always different. I'd say my work is sustainably timeless – timeless because the quality of craftsmanship is my main focus to ensure it lasts a lifetime, and sustainable because I never waste material, and always manipulate fabric for new ideas. Nothing goes to waste because I'll attempt to repurpose it. I try to tell a story through my clothing – there's a meaning and a message behind each design, which is authentic to who I am as a person. Even if only one person understands it, that's good enough for me. I'd like my garments to be perceived as authentic storytelling, high-quality, and timeless silhouette garments.
4. Four important focus areas for you are inclusivity, culture, sustainability and tailoring. Please talk us through each of those and why they're so crucial to your work.
I focus on inclusivity as there are so many pre-conceived stereotypes regarding how different genders, races, cultures, physiques, and body types should dress, and I wouldn't want to fit into that by having a specific target market as far as style is concerned. I'd like to believe I make garments that shine on everyone because each garment is tailor-made to fit everyone, the way they want it to fit – not the way it looks on the model, but how it should look on their body.
Culture is very important to me because where I come from it's everything – from the way we talk, dress, what we eat, what we drive, how we walk. However, it's never been documented or well-known to anyone outside of our culture. It's important to me that I try to draw outside interest into our culture by telling stories about our home through silhouettes that are irresistible.
I began thrifting when I was in high school and was amazed, not only by the prices or the absolute gems I could find, but by the endless amount of clothing going to waste when it could be re-worn, or repurposed to be worn in a different way. I began cleaning up thrifted pieces and reselling them to reduce the number of people who buy fast fashion. I became conscious of the fact that there are way too many clothing items in the world. It's wasteful. Hence my love for sustainability.
Tailoring is extremely important. I've always been smaller in size than the average person in my age group, so I'd always have to tailor my school uniform and personal items so they'd fit. I'd like to decrease the consumer's anxiety regarding how an item will look on them by offering custom sizes. The second they slip that garment on, it will bring them confidence.
5. Who and what inspires you, and why?
Simply everyone and everything around me. I spend almost all my time learning and researching, so I constantly find new sources of inspiration. As far as people are concerned, I'm inspired by Thebe Magugu, Rich Mnisi, Karabo Poppy, Lukhanyo Mdingi and Wanda Lephoto, Nasty C and Black Coffee. These are my heroes as they come from where I come from and they have produced art at such a high level. They set the standard for African excellence and that's what I strive for, for myself, my family and my people. They've shown me anything is possible and continue to break down doors for all of us to walk through.
6. What does creativity mean to you?
To me, it's the ability to turn the impossible into the possible; to turn raw ideas into something tangible, and to innovate existing ideas.
7. What are you working on at the moment?
I've recently begun exploring and performing graphic design for a luxury fashion company. This has provided me with the opportunity to learn about luxury garments and their make-up firsthand. I'm currently working on my AW 22 collection, entitled "Elevate". Elevate refers to compiling all I've learnt and continue to learn into a body of work that embodies the standard of garments I want to represent by improving in every aspect and not leaving anything to thought, as well as paying extremely close attention to detail.
The collection is currently in production while my team and I work on how we'd like to package it the public. It will be released towards the end of May.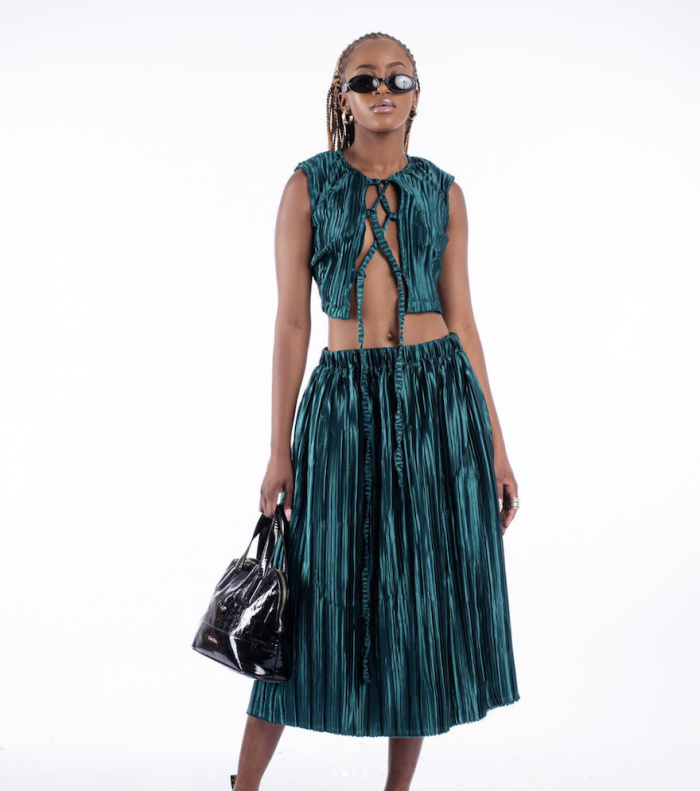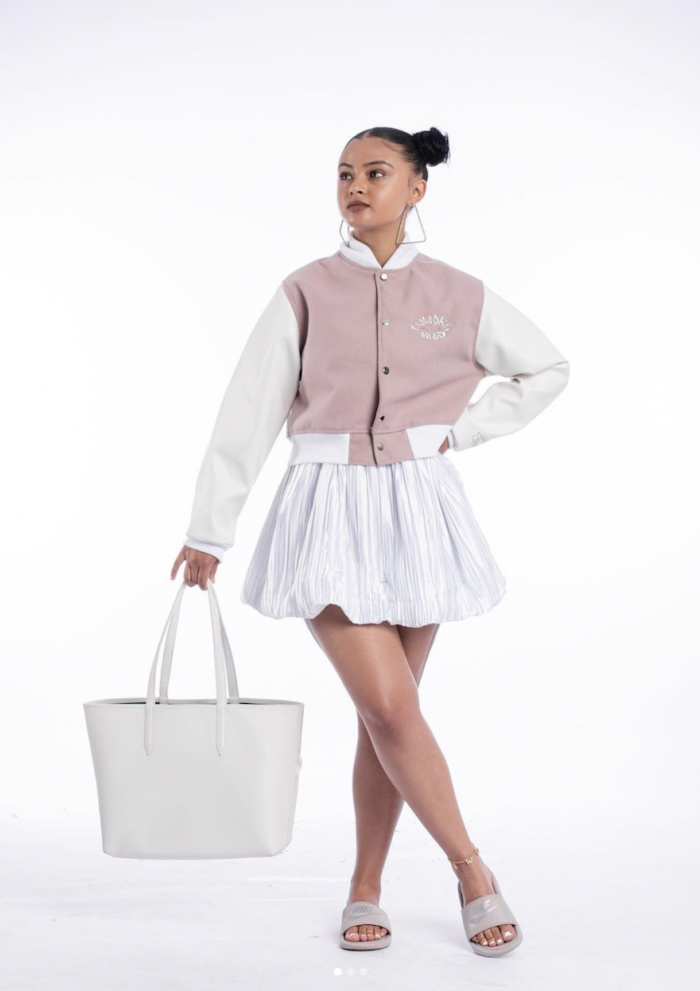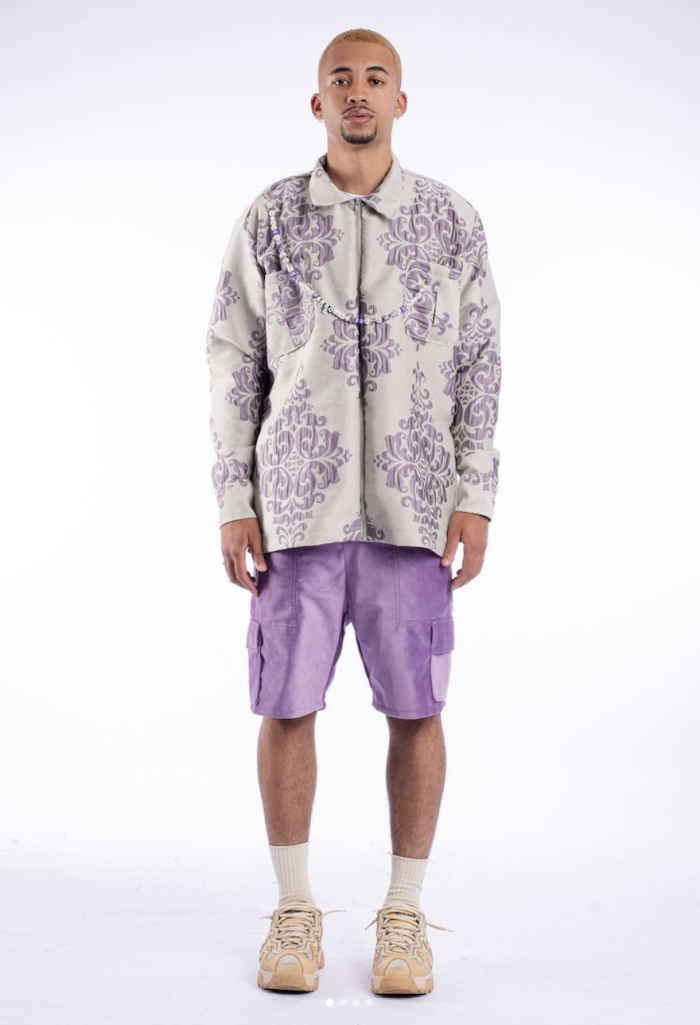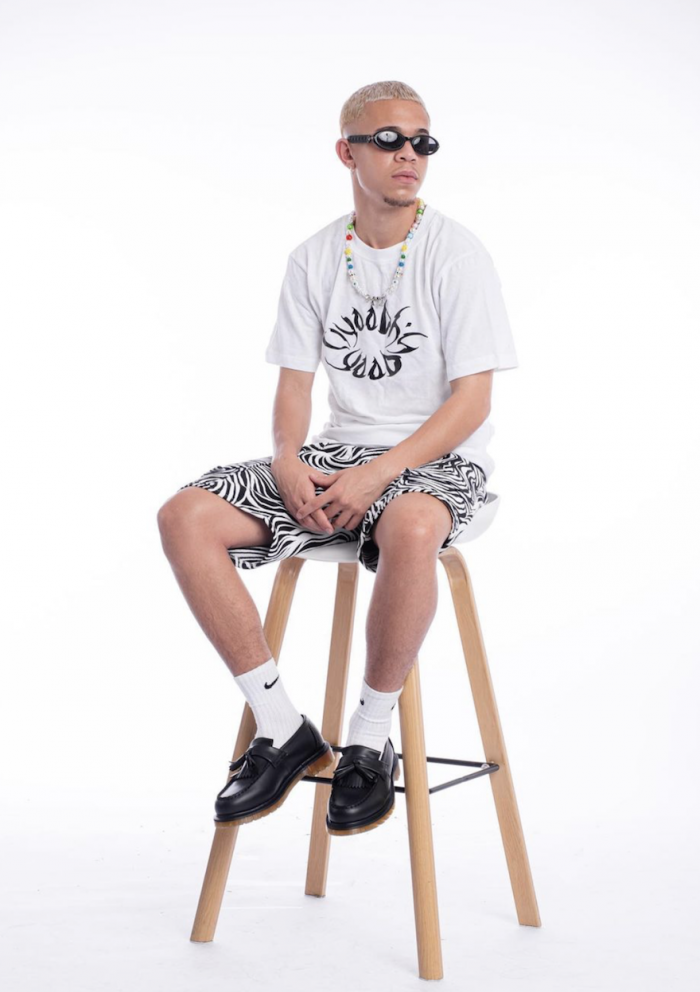 Read more:
Announcing Design Indaba's Emerging Creatives Class of 2022.
Smooth operator.
Credits: Supplied