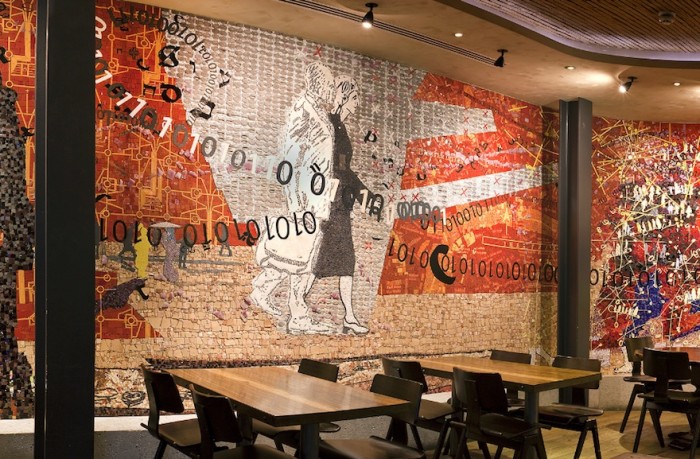 "Coming to the City" (2011), a site-specific mosaic artwork by Clive van den Berg in Nando's Kings Cross London location, is one of the most ambitious pieces in any of its international restaurants.
Now that he's built Nando's up into an international brand loved by Britons, Bangladeshis and chicken lovers in 21 other countries, Robbie Brozin wants to play. Mind you, being creative was always part of his business mindset, so his shift from running the business to steering its philanthropic and cultural activities has merely seen him amplify this interest.
There are three things about Brozin that are mentioned in almost every interview published about him: he's very down-to-earth, he's very South African and he swears a lot.
Authenticity is something that is infused throughout the Nando's brand too. And while its central offering is a spicy sauce derived from Portuguese colonialists in neighbouring Mozambique, Nando's has stuck faithfully to its South African roots in all its international incarnations. It's become something of a South African ambassador to the rest of the world, prompting US President Barack Obama to joke that "in America we see the reach of your culture . . . we've got a Nando's just a couple of blocks from the White House".
Each restaurant is considered an opportunity to showcase South African art and design. The company says it has more than 7 500 pieces in its art collection, with the artwork on the walls of its 243 UK restaurants forming the largest collection of South African art outside of the country.
But art is more than just the window-dressing to make its restaurants look good. The Nando's Art Initiative has established numerous programmes to develop the careers of talented artists through workshops, mentorships, installations and competitions.
Ahead of his presentation at Design Indaba Conference 2015, we spoke to Brozin about his philosophy on creativity, art and brand-building – and what the cluck these have to do with the world's most popular poultry dish.
What's your official title?
I don't have one. I do a lot of the philanthropic work and the culture side of things. My core role is that as the business grows, we have fun and make money. Are we doing things in a different way? Are we adding creativity to the business? The day-to-day grind is so difficult so it helps to have someone outside of that who can see things in a different light.
What's the best thing about your shift in focus?
Seeing people's eyes shine. When there's a high level of authenticity in what you're doing, people come alive. When you present a new idea or concept and see people engaging in what you're doing… For example, we've launched a range of culture merchandising – T-shirts with cheeky slogans like "Chicks rule" and "Is jy lus vir a bietjie voël?" ["Do you feel like a bit of chicken?" but "voel" also means "feel"]. Well-crafted ones, not cheap and nasty. The team I am working with on it have a sense of style and purpose. That's what I do: wrap a sense of purpose into the business. I'm at my happiest when I can incubate an idea and feel it soaking into the business. I love that, I absolutely love that.
Going back to the beginning, how involved were you with the tone and approach of Nando's ad campaigns?
I was very active. My natural leaning is more towards marketing and creativity than the financial and operational side. I was very active with the brand architecture in the beginning – and in a way I still am because the challenge now as we grow is not to be cookie-cutter. I need to ensure that we don't become formulaic even as we become more systematic.
So, for example, Nando's is involved in a spray programme in Mozambique through the Malaria Foundation. You might ask, what's the connection? Well, first of all our chicken is Portuguese and, second, it gets the people working with us to engage with people whom they would never get the opportunity to interact with, people who can't afford our chicken. It's a philanthropic adventure – it adds a huge amount to the business.
My role is the "soul" man – to make sure that the soul side of the business stays intact. That soul is an African soul. I'm always trying to bring people back. That's why we have South African art in our restaurants all around the world. It's about putting the soul in…
And we'll be announcing another new venture that takes this a step further at the Design Indaba Expo.
You hired Hunt Lascaris as your first agency. Why them?
They were an up-and-coming agency. There was something in John Hunt that we identified with. It was ultimately a decision made by our marketing director at the time. She felt they were the right agency because they were prepared to take risks.
Did you need a lot of convincing to go with their controversial approach?
It was part of our brief. We had no money. The brief to John and Reg [Lascaris] was two-fold: to make themselves famous on the back of the work they did for us; to use us as a client to strengthen their portfolio – and to shit themselves while doing so. We wanted them to take risks. The reality was we had no money so we had to be impactful. We needed to get publicity – not to shock, but to make people laugh, be irreverent and stand out. I wish I could say we thought it through carefully.
You've had some pretty blockbuster ads. "Last Dictator Standing" and "Diversity" are the ones that spring to mind. Which was your favourite?
A very unknown one, called "Bonking Chicken" about how Nando's chicken is made. It's a brilliant campaign. Of course it was banned immediately. We also did a series that included impersonations of Madiba and Jimmy Swaggart that was very controversial.
Any regrets about any of them?
No regrets! There were some shockers but I don't regret any of them. We took a chance. You never know what's going to catch on – some do and some don't. And when the shit hits the fan, it's going to come from somewhere you don't expect. When we ran the "Blind Lady" campaign, we thought we'd get hit by the Blind Association but we got hit from the Guide Dog Association.
As someone who has a clear passion for marketing, how come you never ended up working in it?
I love food. I love our product. I love being in the restaurant business and the people business. Being in business is such a privilege. If you try to do things differently, every aspect is so exciting. If you're not inspired when you do that job, you must fuck off.
If you take the principle of being really creative in every aspect of the business, it becomes very exciting. Nando's has been like another kid. It's a life cycle – the life of a child. I wouldn't want to do it for another brand. I love the attachment of a brand. We are the master of our own destiny so we can decide if we want to do something. When you've developed your own brand, you've got such control, responsibility but also flexibility in what you can do.
The restaurants buck the fast-food chain trend of keeping décor consistent. Each one has its own look and feel. Why? What are the advantages of this?
We want every restaurant to be interesting. We keep the food as consistent as possible. We don't want our people to be the same either – they are an eclectic bunch of people. We don't do boring.
You can't build restaurants for too much in South Africa – it doesn't make sense financially, so you have to be creative with how you spend your money.
The restaurants in the UK look, quite frankly, better, more design-driven than those here. Why is that?
The brand in the UK was based more on store design. Locally it was developed on the back of cheeky 30-second commercials. Airtime like that is prohibitively expensive in the UK. But we're slowly converting that… In the past two years the South African restaurants have become more design-minded, and Nando's UK is doing its first campaign shortly.
We actively want to promote South African manufactured design and furniture into the global market. We're very passionate about that.
Which restaurant is your favourite?
The one in Savoy [Johannesburg], the one I managed. It was the second one we opened. Twenty-five years later, it still makes the best chicken.
Nando's has done a lot to support art in SA. Where did the impetus come from?
From Dick Enthoven – he's passionate about art. He said art would make our chicken taste better. There's no scientific evidence for that but I can tell you when there's beautiful art on the walls, it makes a great impact for the restaurant – and for the artist. It's shared value. It's not a CSI project – it's part of our DNA.
What is it about art and Nando's – what do they have in common?
The energy, the creativity.
You say your goal has been to "change the world one chicken at a time". Clarify, for the skeptics out there?
It talks to humility. It's not going to be done as a quickie. I want to change the way the world thinks about chicken and to change people's lives one chicken at a time. Before Nando's, chicken was all about fried chicken. We've got a spicy grilled product that has been on trend for the past 25 years, and we think it will be for the next 25 years. When you go to our restaurants, you can see from the way they look that we're not competing with KFC.
We're about changing people's lives. Whatever level you interact with us on, we would like your experience to be a very positive one. It's something we try to inculcate in all the employees around the world. Right down to resolving conflict in our company. If you treat people the way you want to be treated; it's about being fair…
Lastly, lemon and herb, medium, hot, extra hot or extra extra hot?
Double extra hot! It's a secret that there's another option available.
Reserved for the boss?
Reserved for the brave.
Book for Design Indaba Conference 2015 which takes place from 25 to 27 February, 2015.
Watch the Trailer with Robbie Brozin