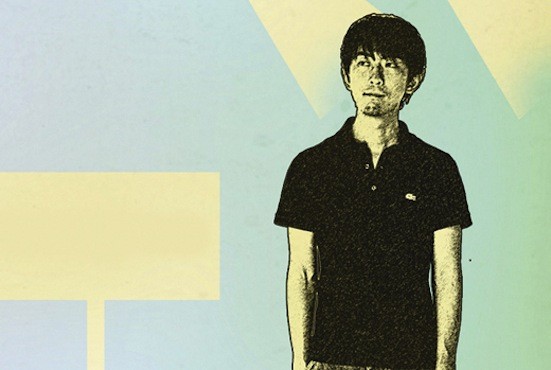 Masashi Kawamura. Image: adcglobal.org.
You'd expect some pretty rollicking design from anyone who names their creative lab PARTY.Tokyo-born designer Masashi Kawamura doesn't disappoint. He motion-captured sperm and used the footage to create animations for a TV commercial in response to the devastating earthquake and tsunami that hit Japan in 2011.
"I think nobody else has done that in history," he explains. "We wanted to do something fun, just to bring back the smiles to people."
The 60-second Sperm Dance, made for Space Shower TV's Music Saves Tomorrow campaign, uses sperm as a reference to the generation of tomorrow.
Kawamura has always believed that "new creations are born from new creative experiences". His studio, which has offices in both Tokyo and New York, is known for its experimental and playful approach to design.
We asked him some questions – and he replied with his trademark wit.
What is your design mission?
To create something that no one has seen before.
Was there anything you experienced growing up that steered you towards having a career in design?
Meeting my mentor, Masahiko Sato.
What was your lucky break?
None was by luck, but endurance and belief.
How do you juggle running a successful company with being creative?
You just have to believe that as long as you are making things that are truly innovative and fun, things will follow.
Do you prefer working alone or collaborating? Why?
Collaborating. It's boring if you are working by yourself and you can predict the output.
Describe your workspace…
Dirty.
Which of your fellow designers do you admire?
Andrew Zolty (cofounder and creative director of BREAKFAST, a physical-interactive digital agency) and Yuri Suzuki (sound artist and designer).
Which of your designs are you most proud of?
The music video "Hibi No Neiro". (Watch it here.)
What excites you most about the way the industry is changing?
I'm not too excited, and that's why I want to change it.
What is the most rewarding thing about being a designer?
Seeing your crazy imagination come to life.
And the most frustrating?
Sleepless nights.
Is there a design object you use everyday that you would like to redesign?
Notebook.
What are you most passionate about in your down-time?
Sleep.
What would you like to have written in your obituary?
Fought well.
Do designers ever retire?
No.
What are you currently working on?
That's a secret :)
Watch the Talk with Masashi Kawamura