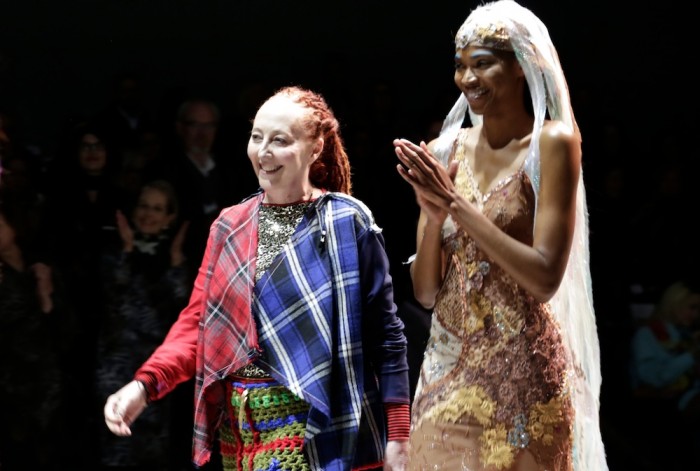 Marianne Fassler on the ramp at Mercedes-Benz Fashion Week Cape Town. Image: SDR Photo.
Often hailed as the doyenne of South Africa fashion, Marianne Fassler is synonymous with crafted couture that reflects the country's colours, textures and patterns – especially her signature use of leopard print.
She is a regular on the ramp at fashion weeks across the country and recently showed her 2015 Resort Collection at the Mercedes-Benz Cape Town Fashion Week (MBCTFW).
The most frustrating part of being a designer, she says, is never having enough time to do all the things she wants to do. But she spares a few moments to tell us about being a fashion designer here and now. We snuck in some personal questions, too.
What did you want to be growing up?
I honestly can't say that I always wanted to be a fashion designer when I grew up, but I certainly always wanted to make things.
What was your lucky break?
I am of the Gary Player school of thought… he has always said the harder you work (practise), the luckier you get. So, I doubt there was any one break and certainly my career has always been full of potential and opportunity.
Describe your workspace.
I have a beautiful workspace in Saxonwold, Johannesburg. I also live there, which is all the more organic. I am free to work at any time of the day and night.
Do you tend to come up with your best ideas on your own or when collaborating with others?
I work in a team and ideas are bounced around between us, but at its heart is our brand identity and our creative philosophy. I have done some collaborations with people who are in different fields and I have found those to be incredibly stimulating. Most recently, I collaborated with Robyn Orlin on a dance piece called Beauty Remained…
How do you juggle running a successful company with being creative?
I think creativity feeds on energy and isn't very compartmentalised. My most creative concepts come while I am working at what I do. I thrive under stress and recognise that I cannot be good at all areas of business, so I rely on financial managers and bookkeepers to tell me what the figures are actually saying, and on assistants to sort out the logistics of the larger orders. It is difficult to let go, but sometimes one has to let go and hand over. Having said all that, I intuitively know what our figures are saying and I can tell you, to within a small margin, what our turnover is.
What are you working on right now?
Right now I am consumed by my TED talk, which is probably the most difficult thing I have ever had to do, but we are also busy delivering on orders and manufacturing garments from our Resort collection MBCTFW July 2014. This week we are also delivering our first, large order to Spree (the premium online store in South Africa). Picasso said that he believed in inspiration, but when it came, it had to find him working… so hopefully our October Couture collection is also taking shape in my head.
What excites you most about the way the industry is changing right now?
The fashion landscape has never been more vast, diverse and mind-numbingly confusing. It is always a challenge to stay relevant and profitable, but I believe what Coco Chanel said all those years ago: "In order to be irreplaceable, one has to be different." I am excited about the freedom to explore the identity of my client and the reasons she keeps coming back to my brand.
Which of your fellow designers' and creatives' work do you admire?
This is always a minefield and in truth I am not really interested in fashion per se, but I am excited about creativity on many levels. I can't wait to hear Felix Laband's new album, to see what fabulousness Athi-Patra Ruga is going to come up with next, and more than anything I wish Faith47 could come and infect Joburg with some of her really awesome giant murals.
Which of your designs are you most proud of?
I never look back and relish any opportunity to reaffirm my vision and my identity as a designer.
What is the most rewarding thing about being a designer?
I resist the label "designer" because I also practise a craft. Designing stands apart from that really practical aspect of making clothes. I love it when a garment finds a body and starts owning it and radiating confidence. It is never about the object I have designed, it's about its relevance and context and fit and quality.
And the most frustrating?
Never enough time to do everything we really want to do.
Is there an object that you use every day that you would like to redesign?
Yes, I would like to design a tracking device for my favourite scissors and my personal stack of felt pens. They all go walkabout.
What are you passionate about in your downtime?
My kids and my kitchen.
Does your home reflect who you are as a designer?
Of course!
Do designers ever retire?
I hope not. I know that I will do something else if what I do stops being interesting. Life is too short to look forward to retirement!
What would you like to have written in your obituary?
It's for others to write and quite honestly if you have to live your life to please your biographer/obituary writer, you might as well be dead. They must be open and honest and write it as it is.