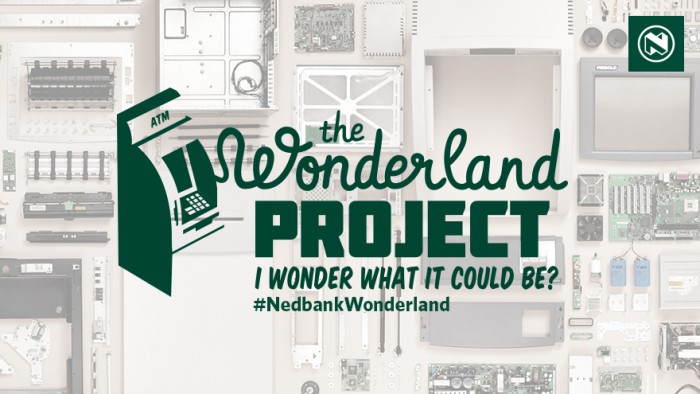 Nedbank is repurposing decommissioned ATMs into works of wonder and are calling the Design Indaba Conference and Simulcast delegates to share their ideas
Nedbank has always been highly involved in the wellbeing of communities and the environment, and our commitment to Make Things Happen is a responsibility that is firmly entrenched in our brand ethos. In fact, over the years we've become known as the "green" and "caring" bank.
To help create a brighter future for all, Nedbank is repurposing decommissioned ATMs into works of wonder that will make a substantial difference in communities across South Africa. And so we are calling on Design Indaba delegates to share their ideas on what these ATMs can become…
Image a mobile health hub. A place where community members can do a basic health check, take their blood pressure or even call a doctor, if need be. Or a mobile library, where school children can download or print much needed textbooks. All this can be done by utilising parts and components of unused, decommissioned Nedbank ATMs. It's the kind of innovation that starts with a simple idea, that combined with programming, front-end design and graphic design, can ultimately make a huge difference to the lives of the millions of people it touches.
Leading by example, Nedbank will host a Wonderthon activation at Design Indaba 2016, where a team of programmers, coders and designers will transform a decommissioned ATM into a repurposed solution to a problem that impacts thousands of South Africans every year. Design Indaba delegates will be able to visit the Nedbank Wonderthon and interact with the Wonderthon team on the first floor of the Artscape Theatre in Cape Town from 15 to 17 February 2016.
Then, to open delegates' eyes to the myriad of possibilities of re-creating and repurposing, the Design Indaba delegate (or simulcast delegate) who submits the winning idea for repurposing a decommissioned Nedbank ATM, will win an all expenses paid 2-week work experience at Google Creative Lab*.
Sometimes, it is the smallest idea that can make a massive difference in someone's life.
Make things happen. Nedbank.
*This competition is open to all Design Indaba 2016 delegates and Design Indaba Simulcast delegates.
WIN an all-expenses paid 2-week work experience at a Google Creative Lab.
Terms and conditions:
1. The promoter of the competition is Nedbank Limited ("the Promoter").
2. The competition will commence on the 17 February 2016 and will close on the 19 February 2016
Who can enter the competition?
3.1 Design Indaba Delegates attending the three day conference
3.2 Design Indaba delegates attending simulcasts in: Cape Town, Johannesburg, Durban, Potchefstroom and Port Elizabeth.
3.3 All participants in the promotional competition must be over the age of 18 and must reside in the Republic of South Africa.
3.4 The following person however are not allowed to enter into the competition:
3.4.1 the directors or members and employees of the Promoter, or their spouses, life partners, business partners or immediate family members;
3.4.2 the Promoter's agents, consultants, marketing service providers ; and
3.4.3 the company who has supplied the prize (where applicable).
4. PRIZE
4.1 By entering this competition you stand a chance to win a 1 x all-expenses paid 2-week experience, as a "visiting creative", at an international Google Creative Lab of the Promoter's choice.
5. HOW TO ENTER THE COMPETITION
5.1 To stand a chance to win participants must:
5.1.1 enter their ideas through Facebook , Twitter or Instagram platforms using #NedbankWonderland or;
5.1.2 enter their ideas at the Design Indaba Conference by physically placing their entry into the ATM entry box provided at Artscape Theatre.
6. SELECTION OF PRIZE WINNERS
6.1 The selection of the winner will take place on Friday, 19 February 2016 at the Artscape Theatre, D F Malan Street, Foreshore, Cape Town.
6.2 In the event of a dispute, the decision of the competition judging panel shall be final and binding on all aspects of the competition and no correspondence will be entered into.
6.3 The prize winner will be contacted telephonically in addition to the announcement on the last day of the conference in the Artscape auditorium, by the Promoter.
6.4 The prize must be redeemed by 31 December 2017.
6.5 The prize is not transferable and any prize not taken up for any reason will be subject to a separate draw and shall be allocated in terms of this competition to an additional winner. The prize shall not be exchanged for cash amounts.
6.6 The Promoter reserves the right to substitute the prize with another of similar commercial value.
6.7 The prize winner only qualifies to receive ownership of the prize once all the prize winner's details have been verified and confirmed, including compliance with the rules and satisfying the qualifying criterion set by the Promoter.
6.8 The prize will under no circumstances be handed over or paid to a third party and will only be handed or paid directly to the verified prize winner.
7.

GENERAL
7.1 By entering this competition participants:
7.1.1 warrant that ideas submitted have been designed by them and are owned by them;
7.1.2 consent to their ideas being used by the Promoter in future without further compensation to them; and
7.1.3 agree to assign all intellectual property rights in the design to the Promoter, should the Promoter so require.
7.2 All information relating to this competition and published on any promotional material shall form part of the terms and condition of entry.
7.3 The Promoter, its associated companies, its agents, contractors and sponsors assume no liability whatsoever for any direct or indirect loss or damage arising from an entrant's participation in the competition or for any loss or damage, howsoever arising.
7.4 The Promoter may require the winner (at no fee) to consent in writing to endorse, promote and/or advertise any service of the Promoter. The winner has a right to decline the invitation to use their image in marketing material or to participate in any marketing activities.
7.5 These competition rules can be found at www.Nedbank.co.za www.designindaba.com
7.6 By entering the competition, all participants agree to be bound by these competition rules.
8. FURTHER QUERIES
All queries in connection with this competition should be directed to 011 294 8140.