Architect Mariam Kamara, a 2019 Prince Claus Laureate, has known since she was about 12-years old that she wanted to be an architect. As a child, the Niger-born creative not only used to love drawing her friends but she was also interested in history, archeology, and heritage.
But growing up in a family of engineers and having gone to university during the internet boom years in the early 90s, Kamara decided to study something sensible to her at the time, which was computer science.
Only after working as a computer engineer (in the start-up scene in New York as well as in Seattle and Baltimore) for six years did she decide it was time to go to architecture school.
Going into architecture as a second career has turned out to be an advantage. Now, she works between hometown, Niamey in Niger, and Providence, near Boston in the the US.
"I am really happy that I did it [architecture] as a second career actually because by the time I went back to architecture school, I was 30. I was much more mature. I was thinking a bit more deeply about the continent, our history, our heritage and all the different things that are acting on us, both internally and externally."
Kamara, like one of her role models and former Design Indaba speaker Francis Kere, believes that African architects should stop trying to copy what already exists in the West but look to their own history and heritage to produce architecture that is reflective of the region in which the buildings exist.
For Kamara it is very important for her as an architect working with vernacular architecture to put real, tangible examples for the public to see so it makes it easier to make a case for why these type of buildings are as important as the ones people see on the internet.
"As designers it's really our responsibility. I feel that it is unreasonable to expect people to just come to us. You want what you know and at this point both colonisation and those things have happened such a long time ago that it's the only thing we know.
She adds: "If it's the only thing we know how can you expect someone to come to you and ask for something else. it's not possible. So it becomes our responsibility to put real examples out there. We cannot expect them to imagine and trust us. That's unreasonable because architecture is such an expensive undertaking. We have to understand and respect where people are coming from and why they aspire to the things they aspire to and not judge it."
In 2013, Kamara co-founded an architectural collective along with Yasaman Esmaili, Elizabeth Golden Philip Sträter called united4design.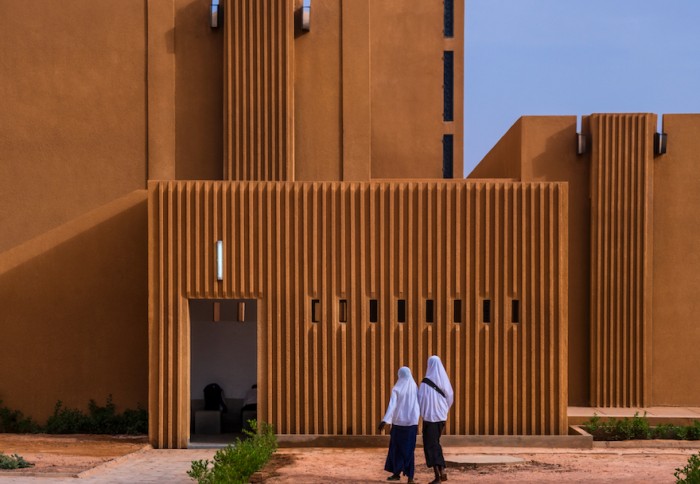 One of their first projects, Niamey2000 is a housing development for Niger's capital city. It became the launch project for Kamara's architecture and research firm, atelier masomi.
Kamara explained the Niger currently has the world's largest youth population. Around 80 per cent of the population is below the age of 25. The population is expected to double every 18 years.
So in looking at all these factors, the architects wanted the housing project to respond to social complexity and growth.
Because high-rise towers and apartment buildings are not culturally appropriate for the region, and don't respond to social norms in Niger, the architects simply added a storey or two to help with density.
The project took inspiration from pre-colonial cities in the region such as Timbuktu in Mali, Kano in Nigeria, or Zinder in Niger, which were all dense urban centres in their day.
Their organic layouts of intricately intertwined homes were often two to three stories in height, while still managing to maintain a sense of privacy and intimacy.
Niamey2000 also strived to be more than just an affordable and culturally appropriate housing project. The architects also used local material and passive cooling techniques to protect against Niger's heat.
Kamara says, for her, using local material or responding to the cultural or climatic needs of the region is about being respectful of the identity, climate and history of the region in which she works.
"There is always this scepticism. But the way they do architecture in Europe came from somewhere: their climate, geography and history. That architecture didn't happen magically out of some sort of superiority, nor is it a universal model...So, why is it that we can't think about our geography, climate, identity, culture, way of life and make space that honours that. For me, vernacular architecture is about understanding our traditional techniques and rebooting it so that we can make new things."
Design stands to open up new avenues for solving problems on the continent.
"As designers - whether it's fashion designers, architects, graphic designers or whatever - in Africa, where we're trying to change the discourse or trying to change our image of ourselves and also what we feed back to the world, it's our responsibility."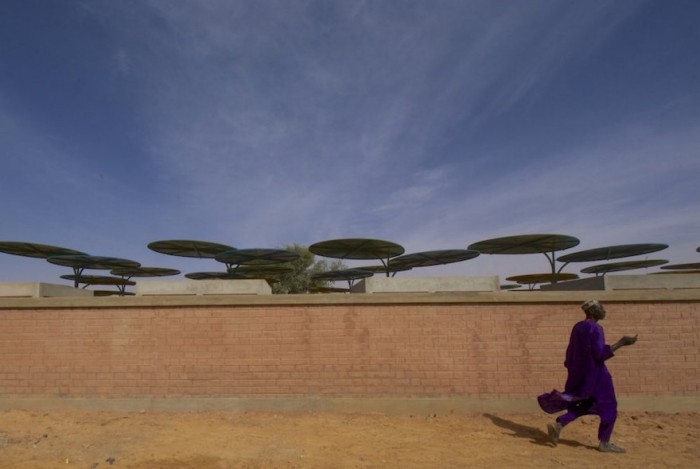 She says the internet and being alive in the time of social media gives one access to knowledge that can enable African designers to leapfrog and obliterate the extra steps the rest of the world had to take to get to where they are today.
"We need to stop looking for answers elsewhere, period. Design can be a powerful tool for subjugation, just like it can be a powerful tool for good. We can use design to represent ourselves. It's as crucial as politics and economic development because if you don't have the confidence through this image that you're projecting of yourself, of what your potential is, how are you supposed to develop? How are you supposed to tackle things from an economic point of view?"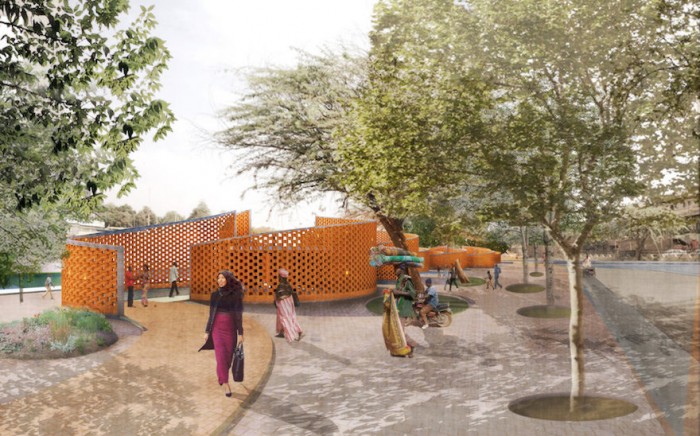 Kamara is currently focussing on coming up with a project together with her mentor under the Rolex Protege programme, David Adjaye. She says with the big youth focus in Niger, it will probably be a cultural centre but the two architects are still in the research phase.
At this year's Design Indaba Conference she announced another project project, The Artisan Valley, in Niamey. Set within the Gounti Yenna valley that currently divides the city in two, it is a whimsical promenade that incorporates spaces for artisans, while increasing their economic prospects.
Other speakers include:
Advertising maverick and Droga 5 founder and chairman, David Droga
Wanuri Kahiu, the Kenyan filmmaker and author behind the breakout film, Rafiki.
Alice Rawsthorn, design critic and author of critically acclaimed books, Design as an Attitude and Hello World: Where Design Meets Life
Watch the Talk with David Adjaye
Talks
• Duration: 00:43:07
•
9 May 19