The annual What Design Can Do conference was established in 2010 to encourage creatives from all over the world to seek out design solutions to the world's problems. This year, creative leaders from Africa and Europe will converge on the Muziekgebouw aan 't IJ. The music hall, nestled on the banks of the river IJ in Amsterdam, will host debates around three key themes: what Africa can do for Europe, what design can do for music and what design can do for refugees. Here's what you can look forward to from What Design Can Do's expert panel of speakers.
Humanitarian aid, relief strategies and design solutions have for decades been geared towards "saving" Africa. Civil war, poverty and inequality have through the mainstream media become indicative of the African experience. But, as African countries experience an economic upturn, we're seeing an emergence of designers, artists and creatives creating works that celebrate the African identity. At the same time, Europe has been embattled with an unprecedented refugee crisis, a war in the Ukraine, terrorist attacks, Greek debt, and more. The identity of the continent is under siege. By offering its platform to some of Africa's leading designers, What Design Can Do expects to bring a different perspective to the discussion on the identity of continents, social issues and international cooperation.
In one speaker, Kenyan technologist Juliana Rotich, the WDCD audience will be exposed to the ways technology has helped Africa. Rotich is known for her non-profit company, Ushahidi that specialises in free and open-source software. She also created BRCK, a self-powered mobile Wi-Fi device that connects to the nearest 3G network and runs on its 8-hour battery. A number of countries in Africa still struggle with rolling power cuts, making BRCK an essential solution to the interruption of the flow of information on the continent.
"One thing we have in African culture is a quest for mastery. Even if your thing is pottery or beadwork of whatever, we applaud and hold up people who aspire to mastery, do things that are not mediocre, that are world-class," explains Rotich.
Watch Rotich explain the importance of technology in Africa.
Storytelling is central to the African identity. For Senegalese fashion designer Selly Raby Kane, the creation of niche content will contribute to the rebranding of Senegal. "Powerful synergies and collaborations can help us tell the powerful stories that are yet to be told," she adds.
Kane launched her label, SRK in 2012. She has since become an icon of Dakar's alternative fashion scene. She defines SRK as "a future pop art brand that aims to dress young afropolitans across the continent and other citizens of the world."
Inspired by the juxtaposition of the surreal and the absurd, Kane's collections are taking Africa by storm. Her ambition is to show the alternative Senegal in western and southern Africa. Taking to the Design Indaba stage in 2015, Kane highlighted the burgeoning creative energy in the city of Dakar as being central to her work.
Here's a little of what you can expect from the enigmatic speaker.
Also taking to the WDCD stage is Design Indaba's founder Ravi Naidoo. The conference, founded in 1995 brings the world's creative leaders to a number of African cities, while the online platform highlights human ingenuity in the face of mounting odds. Naidoo's brainchild, Interactive Africa, is behind high-profile projects such as the "First African in Space Mission" as well as the marketing and pitch for South Africa's bid to host the 2010 Football World Cup.
Here, Naidoo speaks to Cape Talk's Bruce Whitfield.
As a developing continent, bespoke architecture is on the forefront of Africa's design solutions. By overcoming circumstances only present in Africa, architects like Christian Benimana and Kunlé Adeyemi have garnered international attention.
Rwandan architect, Benimana's dream is to nurture the future designers in Africa through the establishment of African Design Centres, a series of field-based apprenticeships. Eventually, Benimana wants to establish three centres across Africa in order to breed a generation of human centred African designers.
Watch Benimana talk on how architecture and design must go beyond the building.
Adeyemi, a Nigerian-born architect, designer and 'urbanist' grabbed the world's attention with his 'Makoko Floating School', a prototype for an innovative, floating structure located on the lagoon heart of Nigeria's largest city, Lagos. Described as a beacon of hope, a replica of the Floating School made it to this year's Venice Architecture Biennale, where it was reconstructed in the water basin of the Arsenale, earning the Biennale's Silver Lion Award. It was initially constructed in a Nigerian slum that is prone to flooding.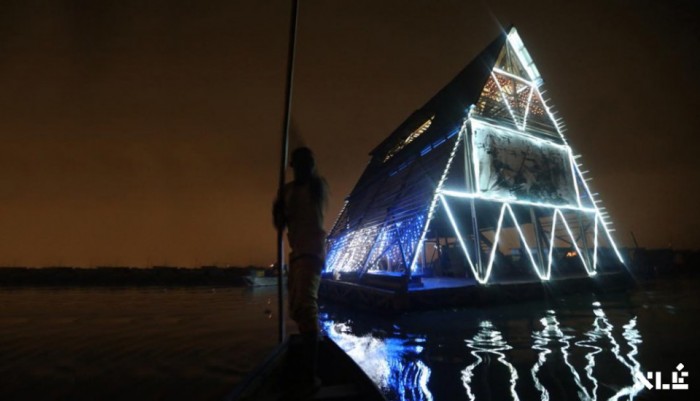 The final speaker hailing from the African continent is South Africa's cartoonist and political commentator, Jonathan Shapiro, better known as Zapiro. The satirist has published over 10 cartoon collections and held solo exhibitions in New York, London and Frankfurt, as well as participating in numerous international group shows. He was recently criticised for using a racist metaphor in one of his cartoons.
Because of its new venue, the second theme of the conference will deal with what design can do for music. Set to discuss this theme is Moroccan remix master Officerfishdumplings, graphic design legend Peter Saville, multimedia artist Floris Kaayk and music & light virtuoso Marcus Lyall. Dutch design duo Lernert & Sander and pianist Joep Beving will also take to the stage, among other performers.
The third theme will tackle the refugee crisis that has displaced over 65 million people. The What Design Can Do Refugee Challenge was launched in February in an effort to find solutions to problems facing refugees and their host countries. The competition has received over 600 entries from creatives in the Netherlands, USA, Sweden, Germany and Spain and more.
A shortlist of between 20 and 30 projects will be announced on 21 June 2016. Five winners unveiled at the annual What Design Can Do conference, which runs from 30 June to 1 July 2016.
The five winners will receive €10,000 and be given support to turn their ideas into real projects over a six-month period.
View some of the innovative ideas here.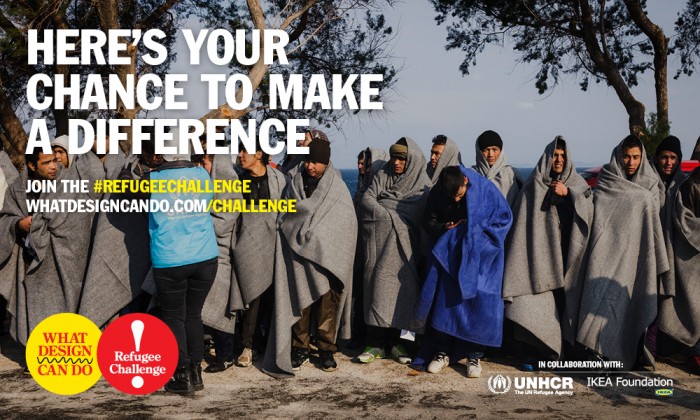 More information about the Refugee Challenge and a comprehensive speaker list is available on the What Design Can Do website. Tickets for the conference are also available online.