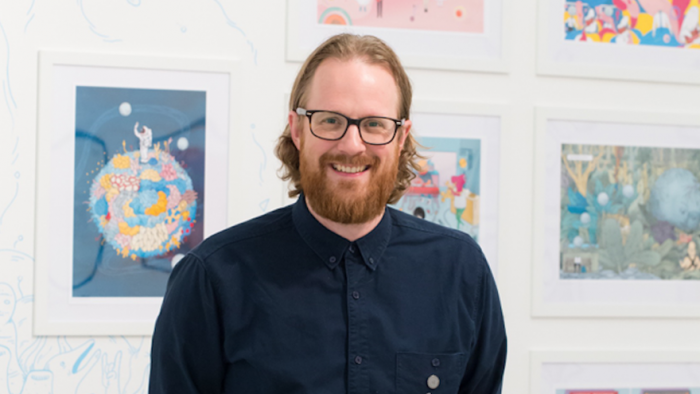 Illustrator and graphic novelist Andrew Rae
A recent new York Times Magazine cover titled, Trumplandia (for article called This Town Melts Down), features an array of symbols we've come to associate with the new American president including Twitter birds flying out of the White House and a helpless aide trying to catch them, people gathering outside including one with a sign saying "grab back". If you have been following news about the US president Donald Trump, you're likely to have gotten all the references.
Done by illustrator and graphic novelist Andrew Rae, the work is striking. Rae, who is also a member of the multi-disciplinary Peepshow Collective, uses simple hand rendered line and a combination of paper, felt pens, watercolour, as well as Wacom pads.
Describing the process behind the Trumplandia cover for It's Nice That, he said: "To get it all done I basically spent two weeks doing nothing but drawing or eating from the moment I woke until I slept again in the evening although I did get the weekend off to hang with my wife Chrissie and my baby Rita. By the end, my back was all cricks and my hand had turned into a claw but it was worth it as I've had loads of great feedback!"
Rae, whose work first gained recognition in the late 90s, has worked for publications such at The Guardian and Washington Post as well as an array of worldwide clients including Google, Nike, Puma, Nintendo and the London Science Museum. He directed the on-air identity for MTV Asia and has worked on numerous books including his graphic novel, Moonhead and the Music Machine. He also illustrated This is Warhol, This is Dali and Where's Warhol.
In a Wacom video on his process, Rae said that: "As an illustrator you're trying to create a kind of visual language, I suppose. So everything is a simplified version of the real world. So, I am trying to draw through the filter of my own brain as opposed to trying to replicate reality too much."
He added that Wacom's Intuos Pro worked for him because of the fact that you can draw on a piece of paper and it feels natural. "It allows you to sit and sketch in a comforble position. I guess when I am working on anything for a client, anything that speeds up the process is going to help. Basically what I want is a piece of paper that runs Photoshop and this is getting really close to that."
In this new series, Design Indaba partnered with Wacom to give our readers a glimpse into the creative processes of premiere artists and illustrators. Over the next few months, we'll be featuring a host of fascinating creative personalities - including Miss Led, Guy Shield and Alberto Montt - all of whom use Wacom's selection of professional artist tools to create their striking works. Watch our interview with Cape Town-based illustrator, Caroline Vos.