Continuing their investigation into improving life in informal settlements around the world, Urban-Think Tank reveal their 18 month research into expanding and furthering their Torre David project.
The exhibition, TORRE DAVID – Informal Vertical Communities is an adaption and evolution of the installation on Torre David that was presented at the 2012 Venice Architecture Biennale, where it was awarded the Golden Lion. The exhibition seeks to inform and offer insight to visitors on how informal settlements can be improved by showcasing an extended format for the project, including new research on the intersection between verticality and informal communities.
TORRE DAVID – Informal Vertical Communities presents new proposals on how existing structures in today's cities, such as parking garages, can be transformed to meet urgent needs, including housing and recreational spaces.
Arguing that the future of urban development lies in collaboration among architects, private enterprise, global population and slum-dwellers, the exhibition lays out a vision for practical, sustainable interventions for Torre David and similar informal settlements around the world.
Torre David – Informal Vertical Communities is on display at the Aedes Gallery in Berlin, Germany until 20 August 2013.
Torre David is a 45-story office building in Caracas, Venezuela. Almost completed, it was abandoned following the death of its developer and the collapse of the Venezuelan economy in 1994. Today, it is a squat of more than 750 families living in an extra-legal and tenuous occupation that some call a vertical slum.
Watch the Talk with Alfredo Brillembourg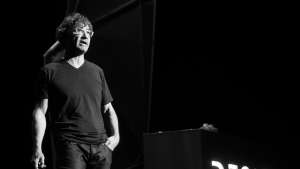 Talks
• Duration: 00:43:27
•
11 Nov 16