Urban-Think Tank (U-TT) and Justin McGuirk's Torre David has won the Golden Lion for the best project at the Venice Architecture Biennale.
The world's tallest slum has been transformed into a social space where people can meet, greet and enjoy each other's company while indulging in traditional Venezuelan cuisine.
U-TT collaborated with McGuirk to install an international exhibition and pop-up restaurant in the Torre David building in Caracas, Venezuela. For the past 20 odd years, this unfurnished building has been illegally occupied by homeless citizens of Caracas, turning it into a slum.
The 45-storey concrete corporate office building was never completed due to the death of its developer, David Brillembourg, in 1993 and the collapse of the Venezuelan economy in 1994. With the help of Hubert Klumpner and ETH Zurich, who spent a year studying the physical and social organisation of the skyscraper, U-TT and McGuirk have transformed it into an experimental platform for exploring informal housing.
The installation evokes a "common ground" theme through the direct interaction between the authentic social space of the restaurant and exhibition, and the community who occupy its space.
The installation is marked by neon lights at its entrance that give a vibrant feel on arrival. Inside there are pictures taken by Dutch photograper Iwan Baan, as well as sounds and videos of inhabitants of Torre David. With the café serving traditional Venezuelan food, it replicates the sights, smells and sounds of the environment, introducing visitors to the lively and chaotic atmosphere of the slums.
Photos: Francesco Galli. Courtesy: la Biennale di Venezia. 
Watch the Talk with Alfredo Brillembourg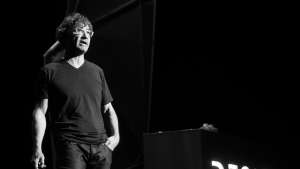 Talks
• Duration: 00:43:27
•
11 Nov 16