In some parts of the world, it's believed that people who are born with Albinism hold special powers within certain parts of their bodies. As a result, people with albinism have been persecuted, killed and dismembered. At the same time, people with albinism have also been ostracised and even killed for exactly the opposite reason, because they are presumed to be cursed and bring bad luck.
This complex issue, most prevalent in parts of Africa, is referred to as Persecution of People with Albinism (PWA). In Tanzania, the country with the highest number of Albino people born per year, photographer Marinka Masséus decided to use her craft to raise awareness, creating the award-winning series Under The Same Sun.
Based in the Netherlands, Masséus was named photographer of the year 2016 by Int'l photography awards (IPA). She is best known for her ongoing series Silent Voices, which draws attention to gender inequality from multiple angles. After hearing about the plight of Albino people in Tanzania, she focussed her lens on the issue, partnering with the Josephat Torner Foundation and 'Stichting Afrikaanse Albino's' to raise awareness about the circumstances of these vulnerable people.
What motivated you to document this issue?
Two years ago, I read an article about the horrible circumstances of people with albinism (PWA) in Tanzania. It described how in Tanzania when you have albinism, you are thought to be evil. There even is a price on the head of children with albinism because killing a person with albinism is considered to bring good luck.
The fears and superstitions surrounding albinism run very deep in Tanzanian society. So deep that many women who give birth to a child with albinism are told to kill the baby at birth. If she refuses, she and the baby will become outcasts and they will live in constant fear for their lives.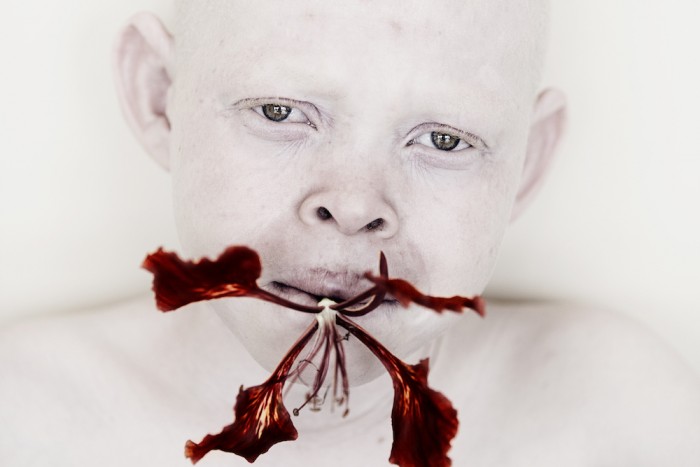 How did the collaboration come about? Where you approached or vice versa?
I approached "Stichting Afrikaanse Albino's" a Dutch foundation, committed to supporting PWA in Africa. I met with Bas Kreukniet, the country coordinator for Tanzania, a very dedicated man who visits Tanzania at least once a year to offer support locally and bring sunscreen and other sun protection like hats, long sleeved clothing and sunglasses and work with the Tanzanian government to further the albinism cause.
He put me in touch with Josephat Torner, a PWA himself and one of the leading activists for equality and social inclusion of people with albinism in Tanzania.
What was the most challenging part of creating the series?
Working mid-day in a small space in sweltering heat with windows facing the sun without any fan was very intense. The heat was so severe that within minutes I was as drenched as if I had taken a shower. Keeping my focus and especially my creative vision, under those circumstances, was challenging. In addition to that, we had started much later due to the fact that someone had forgotten the key to the little empty space we could use, so by the time we finally got started, many of the children had to leave again to catch the bus, so there was tremendous time pressure as well.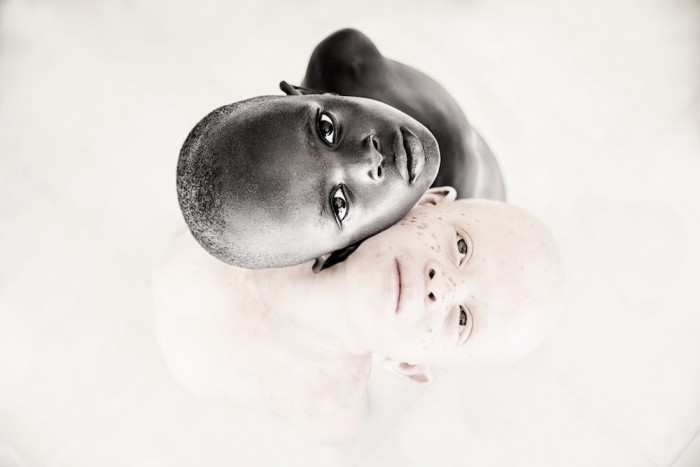 What techniques did you employ during the staging and then editing the photos? Can you tell me a bit about your creative process?
Explaining my creative process always feels like trying to grab air, because, for me, inspiration is not a linear or even tangible process. It just comes when I open myself up to a certain series and its concept. And because I completely emerge myself in the project mentally – one could say I am living and breathing it for a period of time – my mind becomes a channel in which ideas materialise. An important part of this process is to visualise the ideas in my mind, especially the feel and concept of the eventual series.
But in the moment, during the actual shoot, it all disappears and I just go with the flow. By then, I know that the ideas have anchored themselves inside of me and I trust that they guide my actions.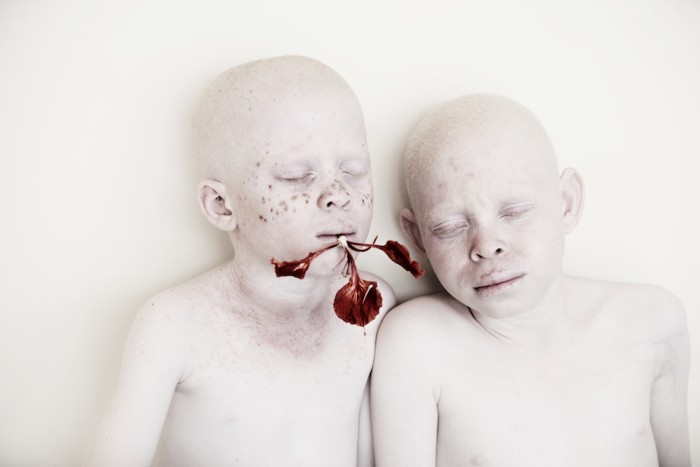 The series has been recognised in a number of awards. Do you believe it has a tangible impact in Tanzania? Explain, if possible.
I truly hope so. I have received many emails from people telling me that they didn't know about the situation of children with albinism in Tanzania and thanking me for sharing the plight of these extraordinary children. Some of them asked me how they could help and I referred them to organisations in their home country.
I believe awareness is always the first step towards change.
The more exposure to this cause, the more incentive the Tanzanian government has to actually change things through effective policies. The Tanzanian government is actively trying to reduce the influence of the so-called Witch Doctors, the main force behind the superstitions and the attacks. Also, the new government is working with Bas Kreukniet on a program for high-quality Sunscreen to protect PWA from skin cancer.
Real changes are being made, but not nearly enough. Many children, especially in rural areas where superstitions still run high, still live under deplorable circumstances in government camps. Rejected by and cut-off from their families, they live separate from society in order to keep them safe. In some of the camps, the living circumstances are horrible, with even basic care lacking. And this separation doesn't solve the problems. It doesn't help with integration. It doesn't give them a chance to grow into valued and respected members of society. They are secluded, kept apart, hidden, often mistreated and shamed. That's why the mission of Josephat Torner is social acceptance and inclusion.
What was the most rewarding part of creating this series?
Meeting the children was definitely the most rewarding part, both in Dar es Salaam and in Maladi, where we visited Mary Mother of God Center run by Sister Helena.
This centre is a loving place with happy, healthy children, such a difference from many of the government camps. When we arrived there after a long journey, we were greeted by singing voices to welcome us. Angelic voices from behind the biggest concrete wall and thickest, largest steel door I have ever seen. To keep them safe. We spent the day there, went with Sister Helena to buy food for the children and gave them the sunscreen and long sleeved clothes that we brought. And all they wanted to do was cuddle and be hugged. They have such a need to be loved.
I didn't take photos there for the project. Somehow it didn't feel like the right thing to do. I just wanted to be there for the children and spend time with them. I felt very sad when we left, wishing I could have stayed longer.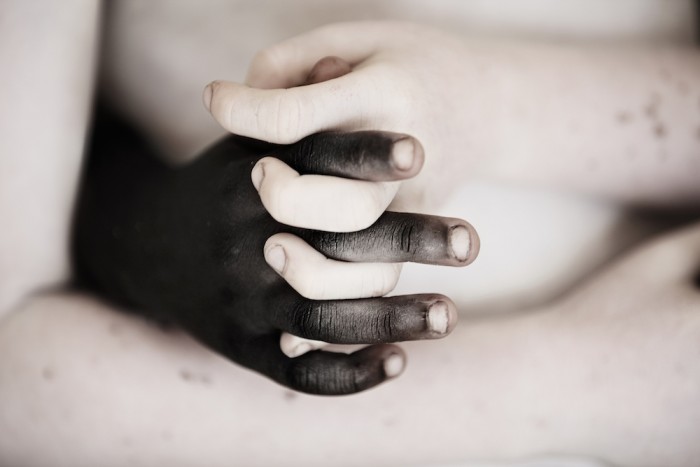 A number of series focussing on the plight of Albino people has already been created. Was this a concern to you? How did you set yours apart from the rest?
To be honest, when executing my project, I wasn't aware of any other series. Luckily so, because that kept me intrinsically focussed and not distracted and/or influenced by what other might be doing.
My goal was to create something visually appealing, to show the beauty of children with albinism, to send a positive message, a message of hope, acceptance and inclusion.
So often nowadays, images are shocking, and although that has much value in creating awareness, it also runs the risk of people instinctively looking the other way. My goal was to create images that people would be drawn to, to touch their hearts and in the meantime get the message across.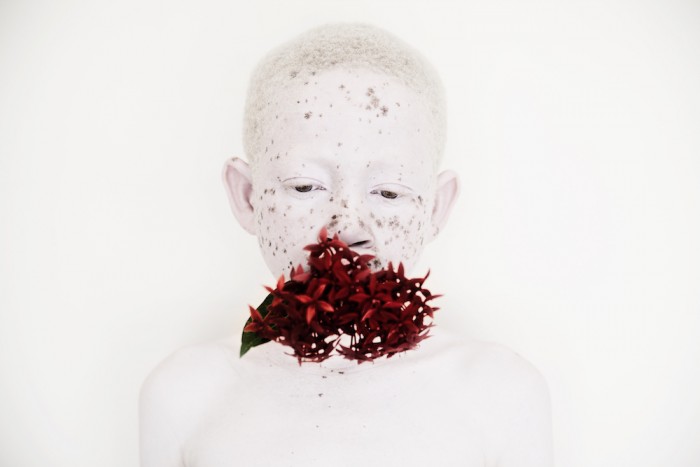 According to Masséus, the albino children of Tanzania still need support. Anyone who would like to support the cause can contact Gabrielle de Graaf from the Dutch Foundation Inside the Same or visit the Facebook page Mary Mother of God Center in Lamadi, Tanzania.
Other foundations for helping the cause of albinism are:
Canada: Under the Same Sun
The Netherlands: Stichting Afrikaanse Albinos