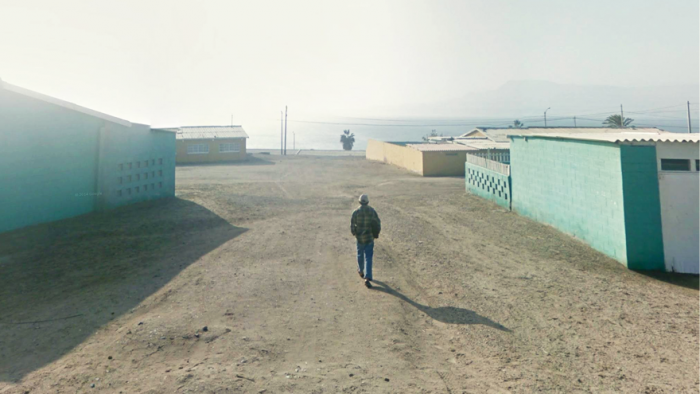 Agoraphobia, translated from the Greek for "fear of the marketplace", is an irrational fear of anticipated places or situations from which escape may be difficult. People who suffer from this anxiety typically avoid enclosed spaces, crowded areas and many forms of public transit, often choosing to stay housebound. Naturally, this disorder limits one's ability to see different parts of the world.
One such individual, Jacqui Kenny, has not let her agoraphobia stop her from seeing far-flung parts of the globe. Known as the Agoraphobic Traveller, Kenny takes viewers on a virtual tour of remote and secluded parts of the world in beautiful style, using a service that is available to anyone – Google Street View.
Kenny curates oddly captivating shots from this automated image system, whose sole purpose is to develop GPS maps accurately. She collects screen shots that seem as though they were carefully composed photographs of towns and arid landscapes. The Agoraphobic Traveller is a proponent of the notion that unintentional beauty is beauty nonetheless, all the while challenging the norms of travel photography in this age of Instagram and the accessibility of Google.
Speaking to National Georgraphic, Kenny says that her appreciation for travel photography led her to research fascinating places and subjects visually (from the comfort of her own home) through the Google Street View system. After collecting images from these searches, Kenny realised she was developing a certain perspective. She is drawn to stark, dusty landscapes with pastel-coloured backdrops, capturing tranquil moments among the residential areas of Peru, Arizona and Mongolia among others.
"After exploring the world for a while, I started to realise that the Google Street View camera was helping me discover and develop a certain aesthetic and point of view, as well as giving me the ability to curate the world as I see it," she says, "It has taken me a while to find my style, but 25,000 screenshots later, it feels like I'm getting there. I'm also very interested in technological advances and new ways of looking at things, so it seems like the perfect combination."